Destination: Belize
Turneffe Atoll, Turneffe Island, Belize | Full-board from $356++/ppn

---
Turneffe Flats Quick Pitch
Turneffe Flats is Belize's one-stop shop for scuba diving and saltwater fly fishing, offering superior surface on a remote island in the Turneffe Atoll.
Quick Information
No of Rooms: 11
Dive Center: On-site
Amenities: AC, pool, valet dive service, nitrox (fee), transfers, kayaks, internet access, gift shop
WiFi: Guest internet is provided through a satellite connection
Nearest International Airport: Philip S. W. Goldson International Airport
Airport shuttle: Yes
How to Get There
Located in the Turneffe Atoll. The boat trip to Turneffe Flats takes approximately 90 minutes. You will travel through several offshore cayes, the Barrier Reef, across open ocean and then through the interior lagoon of Turnfffe Atoll to Turneffe Flats.
Dive Overview
All dive packages include trips to the Blue Hole and Lighthouse Reef without any additional fees! Belize offers stunning reef diving with a wide and colorful variety of life.
[Read More: Belize Dive Travel Guide]
Accommodations
Types of Rooms, Amenities and Photos

---
Turneffe Flats Room Overview
11 total rooms comprised of 8 beach cabanas, a 3-bedroom reef villa, a 3-bedroom garden villa, and a spacious oceanfront two-bedroom villa.
Beach Cabana
The eight spacious, air-conditioned Cabanas are located on the beach with a wonderful view of Turneffe's coral reef and the Caribbean beyond. A small oceanside deck ideal for morning coffee or evening relaxation has recently been added in front of the cabanas.
Wonderful view of the "Home Flat" and the reef
2 Queen beds
Air Conditioned
Tastefully Appointed
Large Bathrooms
Walk-in Shower
Double sinks
Double sliding glass doors Oceanfront veranda
Deck in front of Cabanas
Garden Villa
The Garden Villa is a three-bedroom villa, featuring vaulted ceilings and a common area which is ideal for larger groups or families. It is Turneffe Flats' largest of accommodations.
Common Area
Satellite Television
Small Refrigerator
Spacious sitting area
3 Bedrooms
1 Queen bed
1 Extra-long single bed
Private Bathroom
Lower level rod rack
Reef Villa
The Reef Villa is a three-bedroom villa with common area which is ideal for small groups or families. The Reef Villa has a large beach area in front and perhaps the best view of all accommodations.
Common Room
Screened veranda
Satellite television
Small refrigerator
3 Bedrooms, all with private bathrooms
Room 9 and 10 have 1 Queen bed
Room 11 has 2 Queen beds
Pelican VILLA
The new Pelican Villa is a direct oceanfront, two-bedroom/ two-bath villa featuring an additional living room area that overlooks Turneffe's reef. Ideal for families or two couples, it is Turneffe Flats' newest and most deluxe of accommodations. The Pelican Villa has a large beach area in front and among the best views all accommodations. The common area is set up as a living room with a flat screen television, small refrigerator and kitchenette/bar. This luxurious villa includes one bedroom with a King bed, and one bedroom with a Queen plus a Twin bed. The two bedrooms can also be configured separately, each with it's own private entrance. All accommodation are air-conditioned and all bedrooms have private baths.
Common Room
Large oceanfront veranda
Flat screen television
Small refrigerator
2 Bedrooms, each with private bath
Room 17 has 1 Queen + 1 Twin bed
Room 18 has 1 King bed
Resort Facilities

---
Turneffe Flats Features
Lodge featuring beautiful mahogany bar, spacious sitting area and the dining room
Infinity pool
Massage
Gift shop
Direct dial telephone service readily available 24 hours per day in the office area of the Lodge Building
Guest internet is provided through a satellite connection
Conference area
Exercise room
Turneffe Flats Food & Drinks
Meals are a delicious combination of Belizean and International dishes. Fresh seafood, local produce and home-baked pastries are standard fare. Depending on your plans and your preference, you have the option to take a packed lunch or return for lunch each day. Following hors-d'oeuvres and refreshments in the evening, dinner is comprised of soup or salad, entree and a delicious dessert.
Entrees vary among seafood, chicken, pork and beef and they will try to accommodate special dietary needs.
The bar is located in the Lodge just adjacent to the dining area with plenty of open space to gather after a day of fishing, diving and adventure.

Turneffe Flats Activities
Fishing
Diving
Snorkeling
Eco-adventures
Belizean Cooking Class
Kayaking
Packages & Rates
Turneffe Flats Rates

---
2023 Rates
All rates are per person based on double occupancy except as noted for the Single Supplement Fishing Package. Taxes not included. Holiday Weeks (Dec 23 - 30, 2023) will be at Peak Season Rates. Valid from January 01, 2023 until December 31, 2023.
7 Night / 6 Day Packages
| | | |
| --- | --- | --- |
| Package | Dec 31-Jun 24 | Jun 24-Dec 30 |
| Fishing | $5,290 | $4,590 |
| Single Supplement Fishing (Single Boat & Private Room) | $7,290 | $6,590 |
| Diving | $3,490 | $3,190 |
| Atoll Adventure | $3,290 | $3,090 |
| Rest & Relaxation (Use of resort amenities only) | $2,990 | $2,790 |
| Combination (Fishing & Diving) | $5,490 | $4,790 |
4 Night / 3 Day Packages
| | |
| --- | --- |
| Package | Rate |
| Fishing | $3,090 |
| Single Supplement Fishing (Single Boat & Private Room) | $4,390 |
| Diving | $2,190 |
| Atoll Adventure | $2,090 |
| Rest & Relaxation (Use of resort amenities only) | $1,790 |
| Combination (Fishing & Diving) | $3,390 |
3 Night / 2 Day Packages
| | |
| --- | --- |
| Package | Rate |
| Fishing | $2,090 |
| Single Supplement Fishing (Single Boat & Private Room) | $2,790 |
| Diving | $1,490 |
| Atoll Adventure | $1,390 |
| Rest & Relaxation (Use of resort amenities only) | $1,290 |
| Combination (Fishing & Diving) | $2,290 |
Package Inclusions
Saturday & Wednesday airport transfers
Lodging at Turneffe Flats
Daily guided activity as per Package booked
Three meals daily plus hors d'oeuvres
Use of on-site amenities including pool, internet, sea kayaks and the gym
Package Exclusions
Additional transfers on days other than Saturday and Wednesdays
Park entrance fees and fishing licenses
Belizean taxes
Bar tab, gratuities, & equipment rental if needed
Can't find the information you need?
Drop us an email at bookings@bluewaterdivetravel.com or call us at 310-915-6677 and we will gladly help you plan your dream dive vacation!
Dive Information

---
Dive Overview
While diving throughout the Turneffe Atoll, you will see a variety of hard and soft corals as well as all of the Caribbean tropicals, eagle rays, sharks, turtles, dolphins, moray eels, and occasionally a whale shark in addition to large schools of permit, horse eye jacks and dog snapper.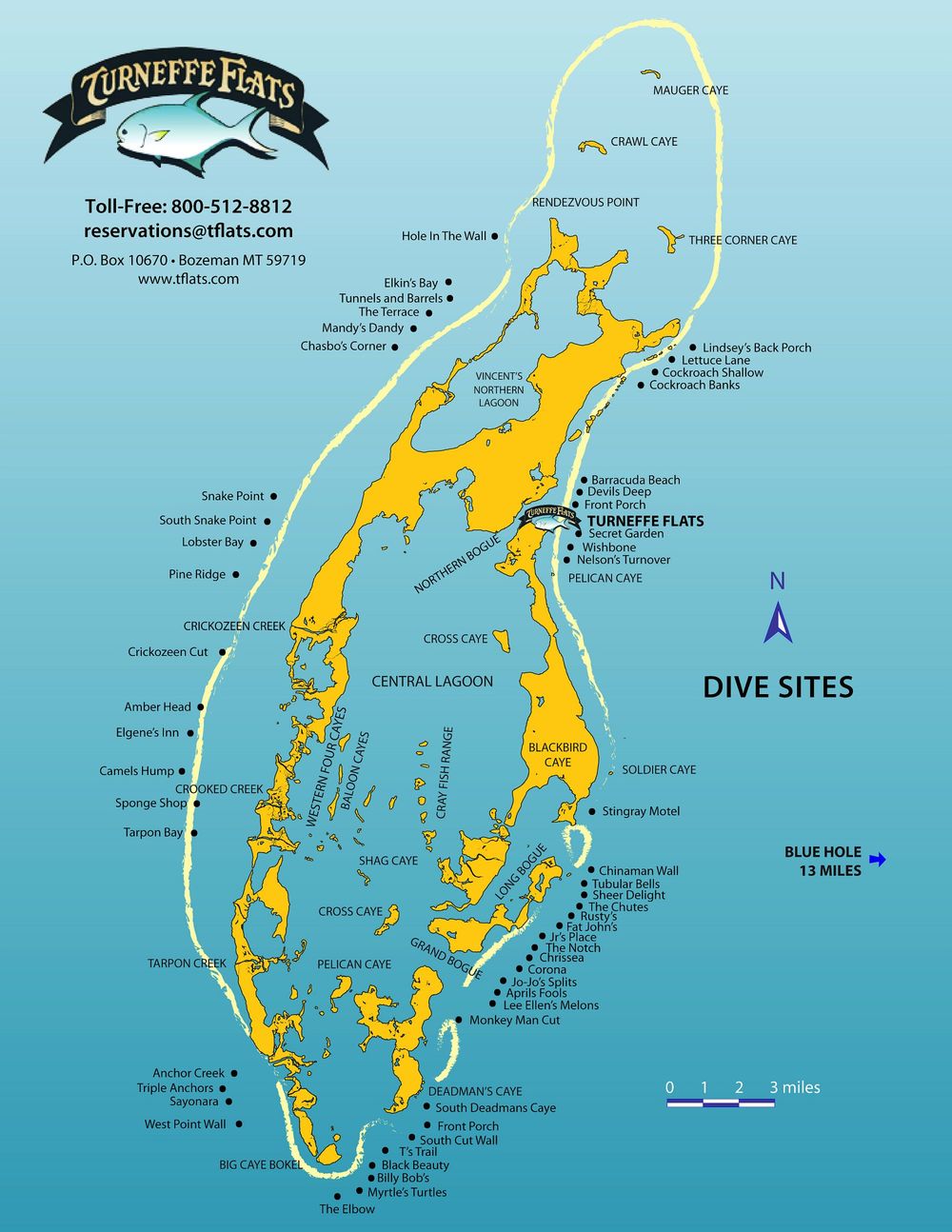 Typical Diving Day
Following a delicious breakfast, a typical dive day begins at 8:00 AM and includes three boat dives. Depending on the dive location, we either return to the resort for lunch or pack a lunch. Traveling to the dive sites takes from ten minutes to an hour, with the longest trip being to the Blue Hole. On Blue Hole day we leave between 7:00 and 7:30 AM which often makes us the first boat there. The weekly night dive is usually on Wednesday evening. We generally dive the Elbow, at the Southern tip of Turneffe, later in the week. On Fridays, we do two or three dives depending on divers flights the following day.
Dive Center Information

---
Turneffe Flats Dive Center Overview
Turneffe Flats emphasizes personalized service and maximum flexibility. Dive groups, led by the excellent, service-oriented dive team, are generally kept at eight divers or less. Turneffe Flats offers three dives daily including a weekly trip to the Blue Hole and Lighthouse Reef - weather permitting. PADI Dive Instruction is available with a range of courses including Open Water Referrals, Advanced SCUBA Diver Certification, Discover Scuba Diving and various Specialty Courses.
Dive Center Features
On the dive boat, towels, cold drinks and fresh fruit, as well as a fresh water rinse tank for camera equipment, are provided. Unless you request otherwise, you do not have to handle your dive equipment during your stay. The staff will change all tanks and rinse your dive gear daily before storing it.
Your dive safety is of the utmost importance to Turneffe Flats. For this reason, and to ensure that you see the best of the marine life, a qualified Divemaster and/or Instructor is in the water at all times. They use the buddy system, conduct safety stops on every dive and plan adequate surface intervals between dives. The staff is First Aid & Oxygen First Aid trained and we are affiliated with Subaquatic Safety Services which operates the Hyperbaric Chamber in Belize.
Tanks, weights and weight belts are provided by Turneffe Flats. Rental equipment is available at the Turneffe Flats including BCD's, regulators, and dive computers. They do not stock wetsuits or dive skins at Turneffe Flats but can make arrangements for rentals in Belize City with advanced notice. Cylumes are provided for your night dive, but you will need to bring your dive light
Nitrox is available as is Nitrox Certification.
Other Information

---
Practical Information
Electricity: 110 Volts
Time zone: UTC-6
Languages: Spanish & English
Accept Credit Cards?: Yes, MasterCard, VISA, and Discover
Underwater Gallery

---
Coming soon!