Destination: French Polynesia
Tuamotu Archipelago (7 & 10 nights) | From $625++/night

---
The French Polynesia Master has halted operations in French Polynesia. Please stay tuned for further announcements on their operation locations.
French Polynesia Master Quick Pitch
French Polynesia Master is a spacious dive liveaboard yacht launched in 2016, with itineraries that take divers to the best sites between Fakarava, a UNESCO Biosphere Reserve and Rangiroa in the Tuamotu Archipelago.
Location
French Polynesia Master embarks and disembarks at Rotoava Dock in Fakarava, Quai D'Ohotu in Rangiroa, or at Port Autonome, the waterfront in Papeete, depending on your chosen cruise.
Dive Overview
French Polynesia Master's itineraries take you through the Tuamotu Island Chain from Rangiroa to Fakarava (7 or 10 nights) and Fakarava to Fakarava (7 nights). Some trips may end or start in Papeete.
The highlights of scuba diving in these areas include beautiful coral gardens, world-class shark diving and pelagic action, the annual grouper spawning (seasonal, around June/July).
Learn more on diving in French Polynesia or see more details on French Polynesia Master's itineraries.
Check Out This Awesome Video!
Cabin Information
Cabin Types, Amenities and Photos

---
French Polynesia Master Cabin Overview
Guests may choose between Lower Deck and Upper Deck cabins, each equipped with en-suite and individual air conditioning units.
General Facilities

---
French Polynesia Master Boat Features
Indoor lounge area
Camera set up station
Guest storage drawers
Comfortable bench seating
Plasma screen
Extra shaded outdoor lounging area
Sundeck
Jacuzzi
French Polynesia Master Dive Facilities
Individual set up station for guests
Under bench storage for masks, fins, and other personal items
Camera table
Rinse tanks
On deck shower hoses
Port side deck heads
Food & Drinks Aboard French Polynesia Master
All-inclusive western & local food served in buffet style. A selection of wines and beer are available.
French Polynesia Master Deck Plan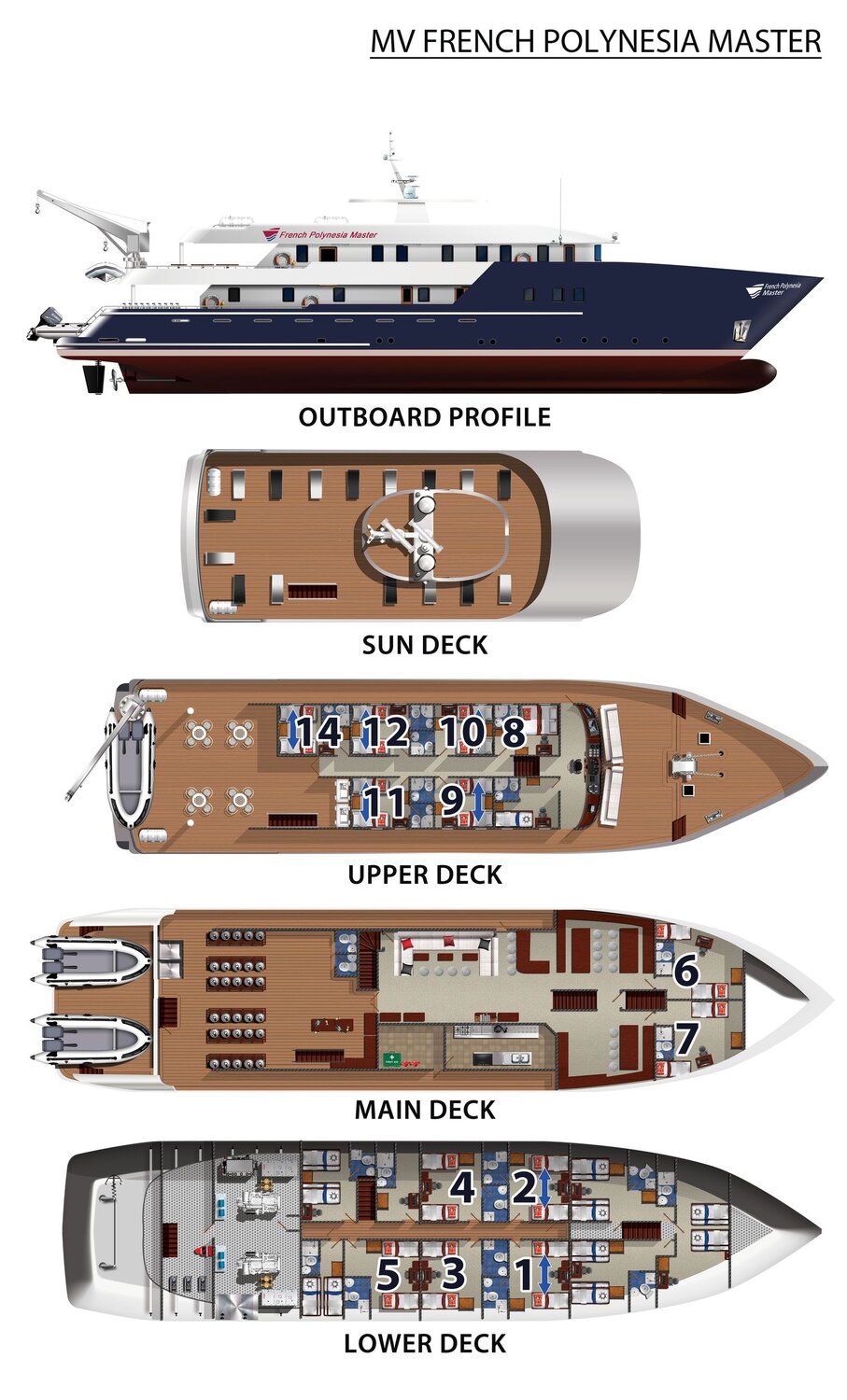 Schedule, Rates & Availability
French Polynesia Master Schedule & Rates

---
Prices are in USD, per person and do not include fuel surcharge and part/port fees.
[See also: Inclusions & Exclusions]
INCLUSIONS
Full board meal plan, including water, tea, coffee, snacks between meals and after dives
Island tours
Diving and dive guides
Airport transfers
Exclusions
The costs indicated below are subject to change without prior notice:
Full dive equipment rental (from US$25 per dive day)
Nitrox (US$100 for 7 nights and $150 for10 nights)
Alcoholic beverages (prices vary, with beer starting at US$3)
Satellite internet
Mandatory: marine park, port fees and fuel surcharge (to be paid in advance). Additional surcharge applies to cruises that start/end in Papeete.
Master Liveaboards merchandise (prices vary)
RATES & AVAILABILITY
For more information on other departure dates, rates, and on availability email us at info@bluewaterdivetravel.com or call us at +1-310-915-6677 and we will gladly help you plan your dream dive vacation!
Dive Information & Itineraries

---
French Polynesia Master's ItinerarIES
Subject to change depending on weather and sea conditions.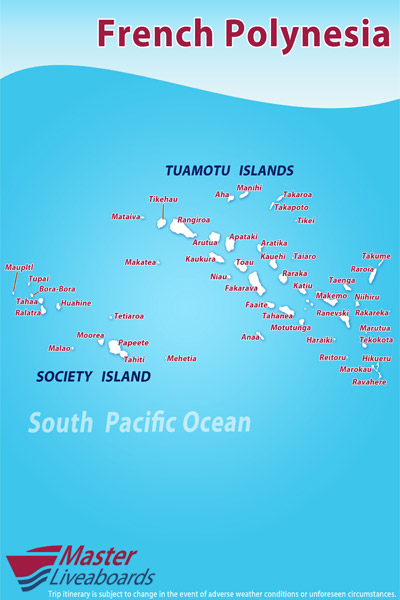 Starts/Ends In: Rangiroa to Fakarava, Fakarava to Fakarava. Some trips may start/end in Papeete.
Arrival: Embarkation time in Fakarava is at 3pm, in Rangiroa 2:30pm and 12.00pm in Papeete. We recommend that you arrive in French Polynesia one day before cruise departure so you are well rested before the start of the cruise. There are 6-7 flights per week from Tahiti to Fakarava and Rangiroa (depending on the season), which take approximately 1 hour.
Departure: Disembarkation at the end of the cruise will be at 9am in Fakarava and Rangiroa, and at 12pm noon when disembarking in Papeete. If you are not remaining in French Polynesia for additional nights after your cruise, please allow plenty of time for the transfer to the airport and check-in.
Duration: 7 to 10 nights
No. of dives: Up to 3 per day. The 3rd dive might be substituted for a sunset or night dive when the boat is anchored.
Highlights: Channel or "Pass" dives around the Tuamotu Island Chain from, pelagic fish action, plenty of sharks, plateaus, coral gardens, migrating humpback whales (July to November), the spawning of marbled groupers (June/July) and more.
Water Temperatures: Range from 24-28°C (60-82°F) with January to March as the warmer months and July to November the cooler months.
Currents: Could be strong, especially at dive sites with plenty of big fish and shark action.
Recommended Skill Level: Min. 50 dives and Nitrox-certification recommended.
Typical Schedule ABoard
Light Breakfast, followed by a briefing and Dive 1
Full Breakfast, relaxation period, briefing and Dive 2
Lunch, relaxation period, briefing and Dive 3
Dinner
Other Information

---
Boat Specifications
Year built: 2016
Length / Width: 46 m (150ft) / 10 m (32ft)
Material: Steel
Cruising Speed: 11 knots
Engines: 2x TBC
Capacity: 25 divers
Number of cabins: 13
Number of bathrooms: 13
Tenders: 3
Practical Information
Time Zone: UTC-10
Local Currency: CFP (French Pacific Franc)
Language Spoken: English
Payment Onboard: All legal bank notes, international credit cards and traveler's check
Underwater Gallery

---