By bettyr | Date: 29 Dec' 2019
French Polynesia 2019 recap
WORDS & PICTURES BY Tim Yeo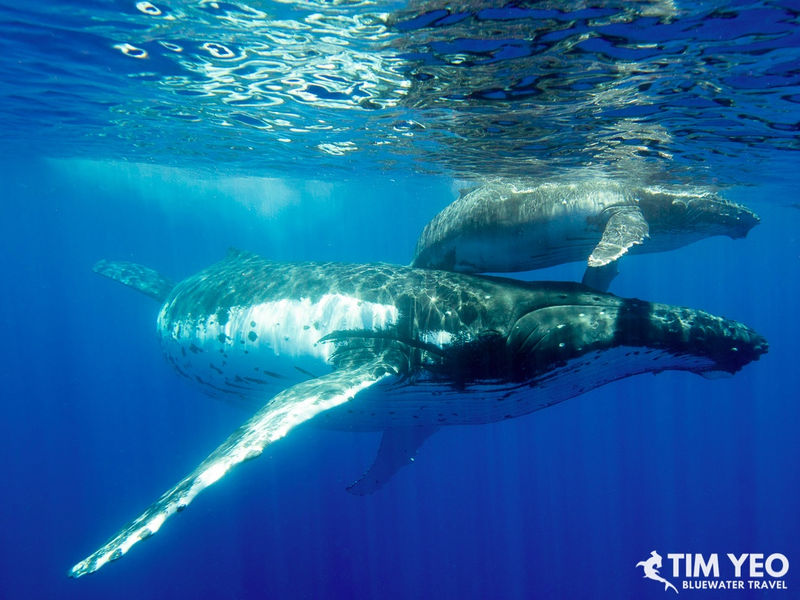 Saturday, September 28, 2019
After an easy 8-hour solo direct flight aboard Air Tahiti Nui from Los Angeles, I was greeted by a Polynesian band and dancer upon arrival in Papeete. Immigration and customs were both seamless. There were money changers and ATMs right as you exit the arrivals hall. Top Dive picked me up and brought me directly to their dive shop at the Intercontinental Hotel, where I joined the rest of my group.
Diving was good with a lot of sharks at the White Valley dive site. The dive operators used to feed the sharks at the dive spot, but that has since been outlawed. We swam over a large reef of healthy hard coral. Even though it was not a shark feeding dive, we saw many sharks, including blacktip reef sharks, whitetip reef sharks, nurse sharks, and large lemon sharks. After lunch, we headed to the ferry terminal and took the Terevau ferry over to Moorea. A short taxi ride later, we arrived at the quaint Hotel Kaveka, checked-in to our rooms, and had dinner in the restaurant.
Sunday, September 29, 2019
The light winds from the night before continued to build, resulting in pretty strong winds this morning. Regardless of the wind, we headed out on the boat and had a mind-blowing time. Right out of the lagoon, we landed on a humpback mother and calf that came right up to us and did a couple of passes before heading off. The visibility right outside of the pass wasn't great, so we headed East and found another mother and calf that stayed with us for over 2 hours. The mother was very inquisitive and kept swimming up to the group to check us out whenever she came up for a breath. The calf had to breathe more often and every time it came up, it would treat us to a show of playful maneuvers.
Humpback whales have 4 behaviors: feeding, resting, moving and socializing. The whales do their feeding in Antarctica, as those waters are rich with krill. The whales then migrate to Moorea to give birth and begin teaching their newborns' whale survival techniques. The best interactions with humpback whales are when they are in resting mode. The mother humpback rests about 30 feet underwater and comes up to breathe about every 20 minutes. Being a baby, the calf has to come up to breathe every 2-3 minutes before heading back down to join its mother. Like most babies, the baby humpback is quite inquisitive and will often come close to check out snorkelers in the water. It is a real treat when the mother comes up for air, stays on the surface, and is comfortable enough to swim with her baby to the snorkelers. As the mother and calf swim by, you can see both whales eyeing you with their massive eyes. The 50-foot, 30-ton mother is so aware of where divers are in the water that she is able to swim incredibly close without hitting anyone with her massive pectoral fins.
Monday, September 30, 2019
Today was our flexible day off as the winds had picked up from yesterday. Some of us chose to stay at the hotel. Some rented cars and scooters and went to the Belvedere Lookout with an amazing view of Moorea and Cook's Bay. We then rode all around the island on our scooters, stopping at a gorgeous beach with turquoise blue waters for lunch.
Tuesday, October 1, 2019
We woke this morning to strong winds again but 10 minutes after we left the dock we came upon a mother and baby humpback who seemed to be spending a lot of time on the surface. We slid into the water and were surprised to find 2mothers with 2 babies interacting on the surface. This is a rare occurrence and we were extremely grateful to have been a part of this.
Because the rest of the day was a little slow, we headed down to Stingray City and were able to see stingrays and blacktip reef sharks in about 5 feet of water. After spending about 30 minutes snorkeling with them, we saw another mother and calf and got in the water with them. It was extremely choppy, but the calf was very playful and did multiple twists and turns when it came up for air.
Wednesday, October 2, 2019
There were no winds today but the swells were large and that made finding whales tricky. Tahiti Private Expeditions has hydrophones—devices that detect acoustic signals underwater—that they bring on the boats to help look for singing whales. Adult males have a repertoire of 6-7 themes in their songs, and the entire song typically lasts about an hour. Younger males have about 2-3 themes and their songs are a lot shorter. One can tell the age of a male humpback whale by listening to the number of themes he sings. With the help of the hydrophones, we managed to find a couple of male humpback whales and experienced them singing underwater while hovering tail up about 30 feet down. The singing was so loud that we could feel the vibrations of their vocalization in the water.
After a delicious lunch on the boat in the lagoon, we headed out to a mother and calf humpback whale and tried to get in the water with them. However, the calf was very energetic and kept doing multiple breaches. This made it a little dangerous for us to get in the water with it, so we just enjoyed the show from the boat.
Thursday, October 3, 2019
Another great day in the water. The morning was a little slow but we still managed to get in the water and witness a large male singing. There were also 2 adults hanging out on a reef, which was impressive. After lunch at the lagoon and snorkeling with stingrays and blacktip reef sharks, our patience was rewarded by an hour-long interaction with 3 humpback whales both on the surface and in the water. The whales were moving and breaching and fin slapping for a while. When they stopped for a breather, we jumped in the water and saw them socializing with each other. Two were nosing each other on the surface and when the third one swam over, one of them started singing, and all 3 started swimming vertically in a spiral-like 3 ballerinas doing a pirouette. There were high fives for everyone after that experience.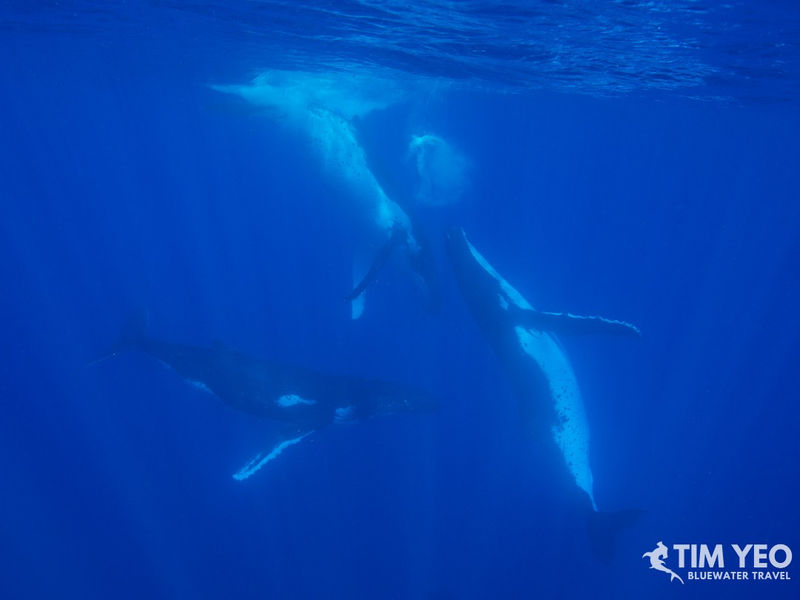 Friday, October 4, 2019
We had the best water conditions today. There were no wind and swells, so we took the opportunity to circumnavigate the island. Along the way, we saw a male singing, and a couple of adults together — 1of the adults made a full breach about 20 feet from us. We ended the day and unforgettable week with a female, calf, and male escort all together. They let us stay with them for an hour and made a couple of close passes.
Saturday, October 5, 2019
Our whale watching adventures for the season complete, we said our goodbyes. Some of us headed to Rangiroa for diving, some headed home,and others continued on to other adventures in French Polynesia. I went with the Rangiroa group,so we boarded our flight, and arrived at the gorgeous Hotel Mai Tai in the early afternoon. Some of us opted to take a dip in the infinity pool overlooking the ocean, while others went snorkeling over the flat calm reefs right in front of the resort. We all had an excellent dinner in the restaurant and those with extra energy made it over to the Te Mao lounge for drinks.
Sunday, October 6, 2019
The first 2 dives in Rangiroa were a little underwhelming. We had expected tons of sharks but the only school we saw was just off in the distance. On the second dive, we went looking for great hammerhead sharks, but only our divemaster saw one. We did see 2 massive 5-foot-long tuna that swam slowly by us. 2 guys in the group opted to go out fishing instead of diving, and they came back with a cache of fish that the restaurant cooked up for our dinner.
Monday, October 7, 2019
This morning we tried diving the Avatoru Pass. Apart from seeing a school of African Pompano, it was a relatively uneventful dive. For the second dive, we headed back to the famous Tiputa Pass where most of the dives in Rangiroa are done, and we asked for something a little more exciting. Since it was an incoming current (from the ocean to the atoll), we dropped right in the middle of the pass and flew through all the way. It was exhilarating. Our third dive was a sunset dive and the sharks were out in the evening, including grey sharks and some large silvertip sharks.
Tuesday, October 8, 2019
Sticking to Tiputa Pass, this morning provided an outgoing current. Since the outgoing current created conditions with poor visibility, we stuck to the reef instead. The highlight of this dive was the dolphins. A school of about 9 bottlenose dolphins usually hang around the Tiputa Pass, and they tend to be friendly with divers. As we backrolled off the boat, we could see the dolphins on the surface. Visibility was excellent, over 100 feet, and we could hear the dolphins squeak. But after 10 minutes in the blue, they were nowhere to the seen. As we began heading back to the reef, they appeared, albeit keeping their distance. We viewed them for a couple of minutes and then continued to make our way onto the reef. Out of the blue, 1 bottlenose dolphin (about 15 feet long) swam over to the group of divers and decided that it wanted to get scratched. We gladly obliged.
Wednesday, October 9, 2019
We were once again visited by the same school of bottlenose dolphins on the first dive of the day. This time they stayed around much longer for more scratching. A couple of dolphins even came back a few more times to check us out. Highlights of our last day of diving included a wall of grey reef sharks, lots of barracuda, eagle rays, and flying through the Tiputa Pass.
Thursday, October 10, 2019
Today is departure day and as we left the beautiful islands of French Polynesia, we knew that the memories of unforgettable experiences with humpback whales and dolphins will entice us to come back to French Polynesia again soon. -Tim Yeo