Scuba Diving in Bali, Indonesia

---
Bali diving highlights
Scuba diving in Bali is exceptionally diverse. Unique critters, interesting wrecks, beautiful corals, schools of tunas and barracudas, and bigger animals like mola molas and manta rays - Bali scuba diving has it all. Bali divers flock to the island of Nusa Penida to dive with manta rays and mola molas. On the east and north coasts, Bali dive sites include many easy shore dives such as the world-famous USAT Liberty shipwreck, interesting macro life, and great reefs and walls.
The diversity of scuba diving in Bali combined with a friendly local population, relatively low cost, and a myriad of topside activities make Bali one of our favorite places in Indonesia to visit, for scuba divers and non-divers alike.
Intro to scuba DIVING Bali
Bali is a small island in the country of Indonesia, and the only island where the population is primarily Hindu instead of Muslim. Bali is well known for extremely friendly people, excellent food, a wide range of accommodations at all price levels, and a significant number of specialized craftspeople making instruments out of materials such as teak, gold, silver, and bamboo.
Bali's fascinating cultural experiences and impressive natural landmarks include temples, traditional dances, volcanoes, beautiful rice patties, waterfalls, and countless other attractions. Underwater, you can find a plethora of big and small animals, ranging from mola molas and manta rays to tiny macro subjects. It is rare for a diver to visit Bali with a camera and not come home with many great photos.
If you enjoy mixing diving with a cultural vacation, check out our guide to diving Papua New Guinea or Zanzibar, Tanzania & Kenya diving.
Bali Liveaboards & Dive Resorts
Scuba diving in Bali can be done from a Bali dive resort, some liveaboards, or a Bali dive safari. Some divers choose a liveaboard option that does not just include Bali but extends their itinerary to other nearby destinations like Komodo. This way you can really get a taste of the Indonesian underwater world. If you prefer to stay put, then there are countless Bali dive resorts to choose from. You can stay in one location and make day trips to other nearby Bali diving areas or embark on a Bali dive safari to move around the island and experience all the best scuba diving in Bali.
Check out our Komodo Liveaboards, some of which also include Bali on their itinerary.
Interested in liveaboards? Let's help you get started with our Guide to Liveaboard Diving. You may also want to check out our list of the Best Liveaboard Destinations for Beginner Scuba Divers.
For other great dive resort areas, check out Cozumel, Mexico and Roatan, Honduras.
Diving Information

---
Bali Marine Life & Photography Subjects
The question is not what can you see when diving in Bali, but what can't you see? Located in the Coral Triangle, Bali has impressive marine biodiversity, with robust populations of reef fish, pelagic fish, turtles, macro life, and corals. Bali is not known for whale sharks or schools of hammerheads, but there is so much else to see while scuba diving in Bali to satisfy every diver.
Bali is one of the world's top destinations for mola mola and manta rays. While the manta rays are consistently spotted at nearby Nusa Penida, mola mola are more elusive and are sought by Bali divers during specific months when the water is colder.
Diving Alor is also a great place to spot mola mola.
Going to the right Bali dive sites at the right depths can consistently produce larger animals such as Napolean wrasse, tuna, reef sharks, and schools of jacks, great barracuda, and giant trevally. Tulamben, Pemuteran, Menjangan Island, and Nusa Penida are great spots for encountering these animals.
There are very few Indo-Pacific macro critters that have not been found in Bali. Anilao and Lembeh offer slightly better critter diving, but with the right guide it can still be very good in Bali, and there are good critter sites in all of the major Bali diving regions.
Here is a list of some of the marine animals you can likely see in Bali:
Cuttlefish
Many nudibranchs
Seahorses
Octopus
Bobbit Worms
Frogfish
Ghost Pipefish
Sweetlips
Manta Rays
Reef Sharks
Mola Molas
Eels
Variety of Shrimp
Schooling fish
For another great macro destination, check out diving in Anilao.
Diving Conditions
Water temperature: Bali waters are usually in the low 80 F (27 C), and a full 3mm wetsuit is recommended. In Nusa Penida and Padang Bai, there can be thermoclines that drop the temperatures to 70F (21C) or lower.
Visibility: Generally 30 – 70ft (9-21 meters), sometimes more at Nusa Penida and Menjangan Island.
Depth Range: 5 - 40+m
Typical Bali Dive
Bali dive sites are almost always along the shore or along one of the close smaller islands such as Tepekong, Mimpang, Biaha, Menjangan Island, Nusa Penida, or Lembongan. Boat sizes range from tiny jukungs that hold 2-3 divers, to larger speedboats that can hold 8-12 divers.
Diver-to-guide ratios are generally small, and the guides are usually local Balinese divers. Dive sites in Bali range from walls to slopes, sandy to rocky, and include wreck dives, rubble, reef, black sand, and hard coral. Most Bail dive sites gradually drop in depth to well past 120ft deep, with prolific marine life at that depth and deeper. Since Bali has a large amount of marine life between 50 and 90ft depth, it is the perfect place to use nitrox, which is offered by many dive operators.
For more information, check out the recap of our trip to Bali and Lembeh here.
Shore Diving
Bali diving offers some of the best shore dives in the world, particularly in the northeast areas of Tulamben and Amed and the northwest areas in and around Pemuteran. In fact, there is in general excellent diving all along the entire northern and eastern coasts, resulting in many new and unexplored dive sites.
If you like shore diving, check out scuba diving in Bonaire or Bonaire's top dive sites.
BALI's DIVE REGIONS & Best BALI Dive Sites
There are many different areas to choose from for scuba diving in Bali. Some of the best dive spots in Bali are located off the east coast of the main island, and of the two small Bali islands called Nusa Lembongan and Nusa Penida. The northwestern coast of Bali, where Pemuteran and Menjangan Island are located, is also well worth checking out, and some of the best diving in Bali is done at the spectacular walls of Menjangan Island. In the following section, we have rounded up some of the best dive sites in Bali, in both east and northwest Bali.
BALI'S BEST DIVE SPOTS
The best scuba diving in Bali. Pick a dive spot or read the entire list:
TULAMBEN - Tulamben is home to the Liberty wreck, one of the most famous wrecks in the world. This is no ordinary wreck dive – it is a very large wreck, easily dove from shore, very shallow (20ft) at the top, deep at the bottom, with an amazing variety of big and small animals including resident bumphead parrotfish, a resident school of jacks, and a resident great barracuda. Other nearby dive sites are also excellent, including the famous "drop-off", and the world-famous muck site "Seraya secrets", in front of Scuba Seraya.
Liberty Wreck: The liberty wreck is enormous, and definitely deserves several dives. It is usually dived by the shore. Super-strong Balinese women will carry your tank for you on their heads, sometimes even with a child being held in their other arm. Once near the wreck, you enter the water over rocky pebbles. If you are wobbly with a big camera, your dive guide will often carry the camera in/out of the water for you. Sunrise dives at the wreck are the absolute best, and well-deserving of an early wake-up call.
GILI ISLANDS - Not to be confused with the Gili Islands of Lombok, The Gili islands (in Bali) consist of Tepekong, Mimpang, and Biaha. Fish life is prolific, and currents can be fierce, including dangerous down currents. Tepekong can have exception fish life and visibility, and when the current picks up the schooling fish are quite a show.
AMED / GILI SELANG - Amed is 30 minutes from Tulamben. Along the road from Tulamben to Selang, there are numerous dive sites with muck, macro, walls, and healthy corals. Selang is a strong-current drift dive where hammerheads have been spotted before. Because of the currents, and where they can take you (far away), do not dive Selang unless you really trust your guide.
NUSA PENIDA - Nusa Penida is an island surrounded by fantastic dive sites full of healthy corals and healthy currents. Expect lots of fish and some occasional big animals. One of Bali's top dive sites, Crystal Bay is here, home to the Mola mola cleaning station. Currents can get strong, and divers have died here before.
PADANG BAI - Padang Bai is a quaint little village, and is also where you get the ferry to Lombok. Visitors looking for more upscale accommodation can stay in nearby Candidasa, but Padang Bai has a much more local feel to it. The local dive site has a great variety of fish and macro, and the Gili Islands and Nusa Penida are short to medium length speedboat rides away.
Secret Bay: This dive site is in Gilimanuk, the harbor crossing to Java, and is a shallow muck diving site with many good critters such as bobbit worms and pipefish.
MENJANGAN ISLAND: Part of the West Bali National Park, Menjangan Island is dived only by boats departing from Pemuteran, Sumberkima, and Pejarakan. The uncrowded dive sites have very healthy reefs, plenty of fish, and the most stunning coral walls in Bali. Divers enjoy consistently warm water year-round, spectacular topography, and critters ranging from electric clams to reef sharks.
PEMUTERAN: A village on a quiet bay off the beaten tourist track, Pemuteran is home to a host of dive sites and coral restoration projects. All dive sites are within a ten-minute boat ride and offer a huge variety of nudibranchs, ghost pipefish, sea moths, and lots of fish. Night dives from shore provide the opportunity to see mandarinfish, frogfish, and more.
Top dive sites in Bali
1. USAT Liberty Wreck - The liberty wreck is enormous, and definitely deserves several dives. It is usually dived by the shore. Super-strong Balinese women will carry your tank for you on their heads, sometimes even with a child being held in their other arm. Once near the wreck, you enter the water over rocky pebbles. If you are wobbly with a big camera, your dive guide will often carry the camera in/out of the water for you. Sunrise dives at the wreck are the absolute best, and well-deserving of an early wake-up call.
2. The Drop Off - Anyone interested in muck diving should not miss this dive site in Amed. It gives a great photography opportunity having black sand at the bottom and some unique-looking critters lurking around. You'll likely to spot some Pygmy Seahorses, ghost pipefish and lots of nudibranchs. The dive site also has generally easy conditions.
3. Seraya Secrets - Also located in Amed, this is another great muck diving site with similar conditions as the aforementioned Drop Off. Seraya Secrets, though, is amazing for night dives. All the creatures become more alive and give you a magnificent underwater show at night.
4. Manta Point - Imagine yourself peacefully floating in the water while being surrounded by gentle curious manta rays. That's what you'll get when diving the Manta Point located in Nusa Penida. Mantas come here due to the cleaning station and closely pass by the divers. The dive site itself is shallow but sometimes can have strong currents.
5. Crystal Bay - Mola Molas are the main highlight that attracts scuba divers around the world to visit this dive site. The high season for seeing Mola Molas is from July to mid-November. Sometimes they are also spotted outside the season but generally, mola molas stay deep and don't come close. Because of this and the strong currents, this dive site is recommended for experienced divers.
6. Temple Garden - Many divers claim this as their favorite dive site in Northwest Bali, Pemuteran. The main reason is the unique underwater structures that are brought there for coral restoration. The structures are in all shapes and sizes and you can see many ancient underwater Balinese monuments. Soft coral has started to grow on the structures that also attract much fish to the location.
7. Blue Lagoon - This is a great site for beginners, who have obtained their open water certificate, as the bay is protected and the coral is closer to the shore in shallower depths. Thus, the dive site has great conditions with no current and amazing visibility. Sometimes the Spanish Dancer Nudibranch can be spotted here among squids, frogfish, rays, and many other colorful marine animals.
8. Eel Garden - This stunning wall at Menjangan Island drops to 160 feet (50 meters) and boasts healthy coral, massive sea fans, and loads of marine life. Pygmy seahorses, nudibranchs, frogfish, electric clams, and orangutan crabs are just some of the critters to spot on the wall. When currents are right, thousands of garden eels dance in the shallower sandy bottom at the end of the wall, and divers can enjoy schools of barracuda, mackerel, and fusiliers in the blue.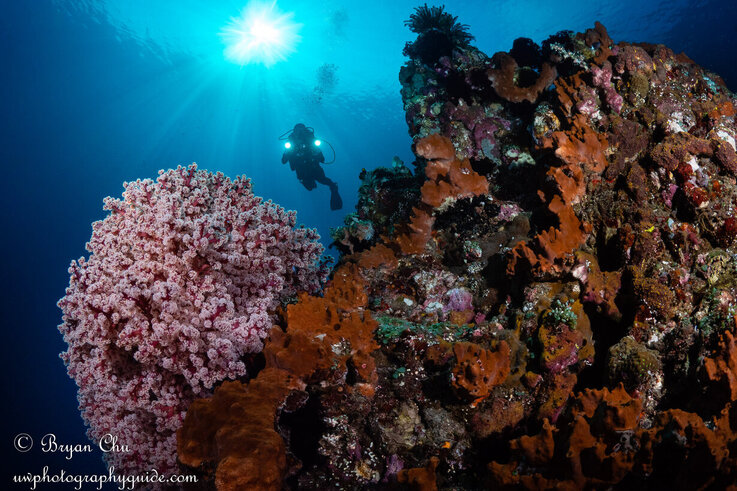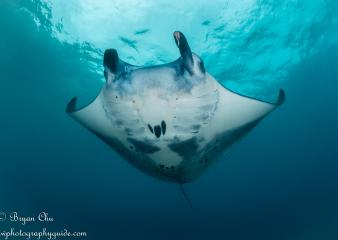 Images by Bryan Chu
Travel Information
Travel Information for Scuba Diving in Bali

---
How to Get to & AROUND Bali
From the United States: There are many international flights into Bali's Ngurah Rai airport (DPS) available with a stop in major Asian cities like Tokyo, Hong Kong, Taiwan, Singapore, Bangkok, and some cities in China.
From Europe: The most common hubs for international flights from European countries are located in the Middle East. Some of the more popular air companies with flights into Bali are Emirates, Qatar Airways, Etihad, and Turkish Airlines.
Once you land and get through customs, you can be in Tulamben in 3 hours or Pemuteran in 4 hours and it's best to arrange a private driver through your resort or travel agent for the most comfortable option for reaching these destinations. It's easy to get an official airport taxi upon arrival in Bali to reach nearby areas, but most dive resorts also offer to arrange an airport pick-up, either free of charge or with an additional cost.
Getting Around: Most locals and long-term tourists are accustomed to riding a motorbike or scooter to get around. However, driving a scooter in Bali can be dangerous if you're not used to the local way of driving. Note that you are required to hold a motorcycle licence and international driving permit to drive a scooter in Bali and you should check your travel medical insurance coverage in case of an accident. Grab, a similar service to Uber, is available in Bali but they are restricted in certain areas such as Ubud. We recommend sticking to the transfer options recommended by your dive operator or get an official taxi.
How to scuba Dive Bali
A popular term in Bali is "dive safari", which means you stay in at least 2 different hotels in different regions to experience the best scuba diving in Bali. In our experience, your trip to Bali should involve at least 3 hotels – one in the Pemuteran area, one in the Tulamben area or the east coast, and one in South Bali (such as Ubud or Seminyak) where you can stay for at least one night before your departure flight. Aquamarine is one of the major tour operators with plenty of Bali dive safari options to choose from.
Most dive resorts in East Bali offer dive tours/day trips to many of Bali's top dive sites, so it's a great option to look into.
Moving hotels in Bali is painless, and you often don't have to lift a finger. In addition, any drive in Bali is usually just a few hours in the comfort of a private air-conditioned vehicle and is extremely picturesque. If you feel compelled to visit another location after Bali, Komodo would be the best choice, either by land or liveaboard.
Find out more about dive resorts in Bali.
For another destination with gorgeous coral reefs, read about Cozumel here.
Best Time TO scuba DiVE Bali
Bali diving conditions are excellent all year round, but we believe that the best time to dive and visit is March-mid June and September-November. Bali gets crowded in the summer months, and December to February is the rainy season which may affect visibility at some of the dive sites.
Tulamben and Pemuteran get less rain than other places in Bali and the visibility at Menjangan Island is typically unaffected during rainy season.
August to September is the typical season for mola molas (sunfish) in Nusa Penida. (2023 update: mola mola season varies depending on the year. Contact us for the latest update on the best time to dive for mola mola).
We think a great time to visit Bali is during their low season when there are fewer tourists. This corresponds to the months of March-May & October-November
Topside & Non-Diving Activities in bali
What else can you do besides diving in Bali? Here is a list of ideas:
Spend a day hiking through unbelievably photogenic rice paddies.
Spend several days or more in Ubud eating at fabulous restaurants, and going to inexpensive spas. There are also some excellent cafes in Bali that should not be missed!
Surf in the little beach/surf town called Canggu, 1 hour north of the airport, or if you're more of an advanced surfer head to the south of Bali in an area called Uluwatu, where surfers from around the world flock to catch the world-class waves.
Stay in a beachfront cottage in a small village where you get to know all the locals within a few days and look forward to their morning greetings of "Selamat Pagi!".
Buy a sarong, visit some temples, have a fisherman take you out at sunrise to see the fantastic colors of the fishing fleet boats. Do a night hike up a Volcano so you arrive at the top at sunrise.
Hire a driver to take you around the island.
One word of advice – I often find that the further I get from the airport, the more I enjoy my time in Bali. For many people, the area near the airport including the touristy town of Kuta can be skipped entirely.
Do some snorkeling in Bali. Especially, if you have some non-diving family members, then snorkeling together is another option to enjoy Bali's beautiful marine life.
Other Useful Information

---
Practical Information
Currency: Indonesian Rupiah (IDR)
Language: Most Balinese are bilingual if not trilingual (Indonesian, Balinese, English).
Main Airport Code: DPS (Ngurah Rai Internation Airport)
Time Zone: UTC +8
Electricity: 230 V 50 Hz
Vaccines: The CDC and WHO recommend the following vaccines for Indonesia: typhoid, hepatitis A, hepatitis B, cholera, rabies, Japanese encephalitis, and influenza.