By bettyr | Date: 05 Jan' 2022
Cabo Marine Life Safari
Words and Pictures by Tim Yeo
Add a touch of adventure to your dive vacation and discover even more wildlife on our marine life safaris and expeditions around the Baja Peninsula. This fresh take on Cabo's rich megafauna introduces various species rarely encountered during dives.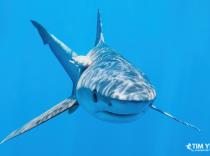 While Cabo San Lucas is a popular holiday destination, most visitors neglect to explore the wealth of marine life available just minutes offshore. Located at the southern tip of the Baja Peninsula, boats departing from Cabo San Lucas Marina have the choice of two equally exciting bodies of water to explore. Head left into the Sea of Cortez, famously named by Jacques Cousteau as the "Aquarium of the World", or turn right and discover what treats the wild Pacific Ocean has in store.
Each season offers different wildlife encounters, all of them equally exciting and with the chance of unexpected encounters and marine life surprises. The best thing about a safari here is that you never quite know what will show up!
safari trips & expeditions
Shark Encounters - February to July
One of our favorite expeditions is a trip to one of the deep offshore pinnacles to chum the water and draw in pelagic sharks. This attracts elusive species like the extremely cute blue shark and the shortfin mako, known as the speed demon of the ocean. Guests enter the water in snorkeling gear and get close enough to photograph these awesome predators, an opportunity rarely encountered while scuba diving. There is also a good chance of spotting other pelagic shark species such as silky sharks and smooth hammerhead sharks.
While a combination of fish blood and guts are dropped into the water to attract the attention of these curious sharks, the goal is not to feed the sharks or to change their natural behavior. Once they arrive, a tuna head is added to the mix to keep their interest so that snorkelers can spend some time in the water with them. The sharks arrive of their own accord and leave whenever they want.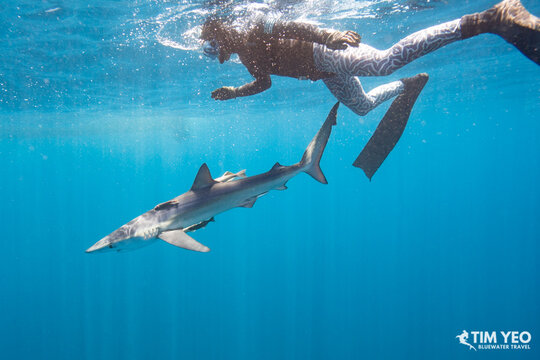 Mobula Ray Encounters - June and July
Another fantastic experience is swimming with the huge schools of mobula rays that frequent these waters. If there are reports of mobula rays in the area the boat will head out specifically to look for them. Mobula munkiana, also known as Munk's devil ray, typically swim in schools ranging from dozens to hundreds and are often spotted when they leap out of the water! Because the schools don't typically travel very fast, snorkelers can easily spend time in the water free diving and photographing them.
Whale Watching - December to April
Every year, thousands of humpback whales migrate past the Cabo San Lucas and into the Sea of Cortez. The winter months are the perfect time to watch these awesome mammals as they near the end of their journey.
Open Ocean Exploration - Year-round
Throughout the year, other marine animals that are regularly encountered in this wild and unpredictable environment include four turtle species (olive ridley, green, leatherback, and hawksbill) and pelagic fish such as mahi mahi, tuna, and marlin. There is also a high chance of encountering some of the many marine mammals that regularly travel into the Sea of Cortez. Dolphins, orcas, and sea lions are regular visitors, while humpback, grey, beaked, minke, and even sperm whales have been known to make an appearance.
how it works
Trip Duration
Trips range in duration from 1 or 2 days up to 6 days, depending on what you would like to see and do. We can be flexible and tailor your experience to suit your budget and timeframe. These trips are perfect for clubs or groups of friends looking for a unique adventure.
The Boat
Our safaris take no more than six guests at a time to ensure the most intimate marine life encounters. An experienced wildlife and snorkeling guide will share their passion and energy for the local wildlife whilst advising on best practices and conservation issues that affect the species you discover.
All you need to bring is your snorkeling gear and camera. Everything else is taken care of to allow you to focus on the wildlife. The boat provides towels, snacks and refreshments, and lunch. They can also provide snorkeling gear if you prefer to travel light.


Accommodation
Accommodation is not included in the marine safari to keep trip duration flexible. However, we suggest staying at Tesoro Los Cabos Hotel which is located at Cabo San Lucas Marina and is a very short walk from the boat pick-up point. The hotel is at the heart of the modern marina district, offers a wide range of dining options, and has a great view of Arch Land's End at the tip of the peninsula. Ask us about preferential rates at Tesoro Los Cabos Hotel.
Group Trip Extension
For guests joining our La Paz, Explore Baja, and Socorro Group Trips, we can offer a 2-day, 3-night marine life safari as an extension to your trip.
Day 1: Depart group trip and transfer to Los Cabos. Check in to Tesoro Los Cabos Hotel.
Day 2: Full day safari on the water
Day 3: Full day safari on the water
Day 4: Check out and transfer to the airport for the return flight
Prices for the 2-day safari plus accommodation at Tesoro Los Cabos Hotel in a single room start from $685 per person.