Gorilla trekking in Rwanda and Uganda

---
Gorilla trekking highlights
Imagine sitting quietly in the midst of the jungle as you observe African mountain gorillas in their natural habitat, only a few feet away from where you rest. Encountering these rare and majestic creatures is one of the world's most sought-after wildlife experiences, and meeting them will create personal memories that will stay with you for a lifetime.
African mountain gorillas have never been successfully kept in captivity and can only be encountered in mountain forests such as those in Rwanda and Uganda. This makes our gorilla trekking experiences all the more special.
Introduction to Rwanda
Visitors from around the world choose Rwanda for its renowned gorilla encounters, however, the country has far more to offer those wishing to explore further afield. Offering unique biodiversity, stunning scenery, and some incredible wildlife living around the country's volcanoes, Rwanda is known as the land of the thousand hills due to its endless mountain landscape. Visitors can explore the amazing inland beaches on the shores of Lake Kivu or learn about the 13 different species of primate living in Nyungwe National Park.
The mountain gorillas live in Volcanoes National Park in the Virunga Mountains, an area in the north of Rwanda that consists of five volcanoes deep in the rainforest.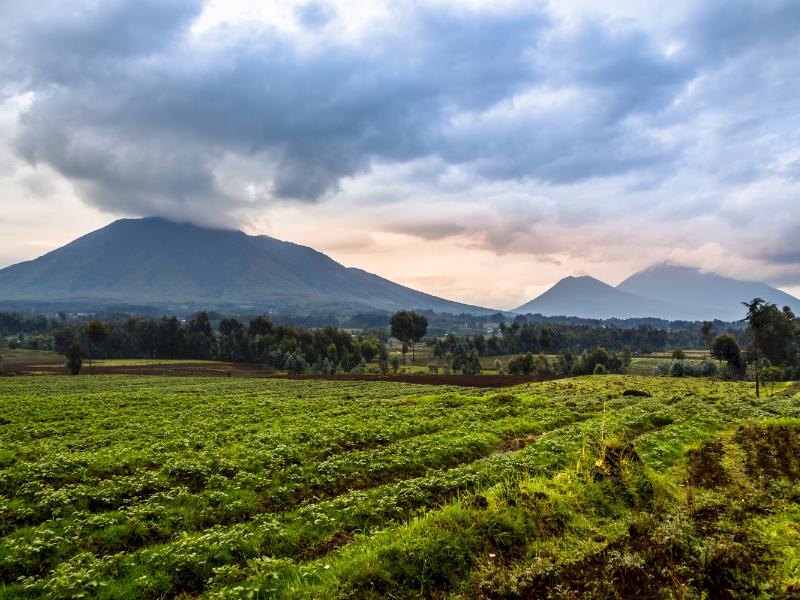 Uganda is regarded as a biodiversity hotspot, with an incredible variety of wildlife founds throughout its ten National Parks. The country is also home to the highest point in Africa which lies within the UNESCO World Heritage Site, Rwenzori Mountains National Park. Moreover, you can visit the longest river in the world, the Nile, for some stunning waterside views and exciting whitewater rafting.
The best place to see mountain gorillas in Uganda is the Bwindi Impenetrable Forest National Park, home to almost half of the world's surviving African mountain gorillas.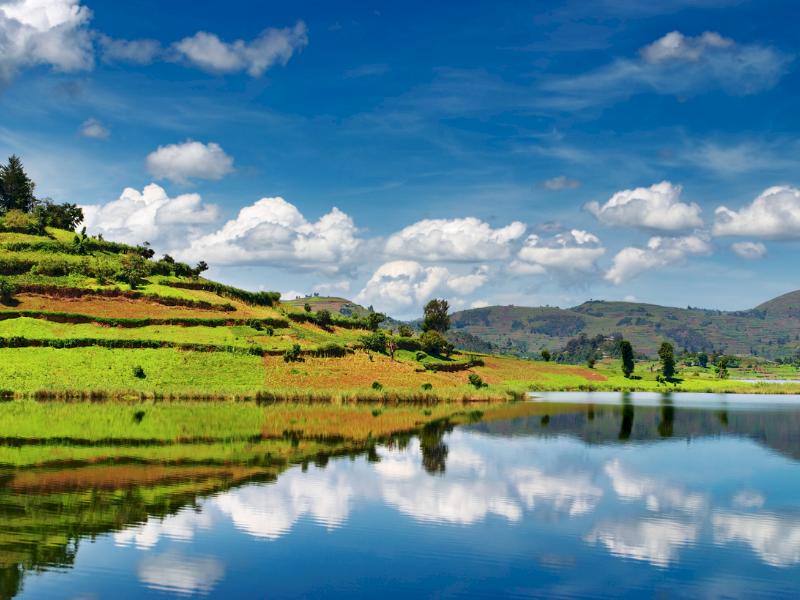 Rwanda or Uganda
Visiting the gorillas in Rwanda is generally more accessible and the trekking less strenuous, however, because of this the accommodation and gorilla permit costs are at a premium.
The costs involved in Uganda are more affordable, but the hikes can be more challenging than those in Rwanda.
when to go
Gorilla trekking in Rwanda and Uganda is available all year round. The dry season in Uganda is in January and February and from June to September, while in Rwanda it is from mid-May to mid-October.
TRAVEL INFORMATION
PLANNING
Book your trip well in advance, as only a limited amount of permits are given out each year and there is a very high demand for these trips.
CLOTHING
Wear comfortable clothes and dress modestly. Preferably in khaki colors with long sleeves and trousers to protect you from any scratches during the hike. Take a rain jacket with you in case of showers as well as a hat to protect you from both the rain and the sun. Sturdy hiking boots are recommended as the trails can be slippery and challenging. Lastly, bring thick gloves for protection from any scratches while trekking through dense vegetation.
FOOD & WATER
It is hard to plan the exact length of a day of gorilla trekking. You might get lucky and see gorillas within the first hour of your trip, or may walk for several hours without spotting any. Thus, be prepared to take water and snacks with you.
ELECTRICITY
Rwanda and Uganda both run on 240V power. In Rwanda, you will need an adapter for Type C and J plug sockets and in Uganda, the sockets only work with Type G adapter.
LOCAL CURRENCY
The local currency in Rwanda is the Rwandan Franc. Most places take cash, but there is a growing number of places that accept cards. ATMs are available in major cities and near airports. Some places also accept US Dollars.
The local currency in Uganda is the Ugandan Shilling. Some upscale facilities and tour operators accept US Dollars and card payments as well. ATMs or banks can be found in most smaller towns.
How to get there
In Rwanda, Kigali International Airport (KGL) is the main airport located nearby the capital.
The main airport in Uganda is Entebbe International Airport (EBB), which is located near the town of Entebbe, around 29mi (46km) away from the capital Kampala.