By bettyr | Date: 13 Jan' 2020
BLUEWATER TRAVEL Nov - Dec 2019
raja ampat TRIP REPORT
By Erik Lukas
I am often asked to name my favorite place to dive. I answer 'Indonesia'. It is a specifically vague answer for a reason. Indonesia consists of over 17,500 islands; it stretches out in excess of 3000 miles from east to west and over 1000 miles from north to south. There is so much diversity and so many places to explore. When given the chance to lead a photo workshop in Raja Ampat, easily the crown jewel of Indonesia and perhaps arguably the crown jewel of any place on the planet, I jumped at the chance, knowing in advance that Raja Ampat would only deepen my love of Indonesia.
The trip from the west coast of the United States to Raja Ampat is generally done over the course of several days. Most travelers make at least one overnight stop to break up the long voyage and adjust to the 16-hour time zone difference. My itinerary took me directly from Los Angeles to Singapore to Jakarta to Makassar to Sorong. Once at the airport in Sorong, I was greeted by Jing, who was serving as the assistant cruise director on the Damai I, the liveaboard that would be home for myself and twelve guests for the next eleven days. Jing informed me that I was the final arrival as we made the short 15-minute drive directly to the harbor. We boarded a small boat for the transfer to the Damai I whose engines were already idling and got underway as I was boarding the boat.
Our itinerary would take us through Northern Raja Ampat for the first half of the trip, followed by Southern Raja Ampat for the second half, and then we would work our way back to Sorong. After meeting and greeting the guests, it was only a matter of two short hours before we would suit up for the first dive of the trip. I had started to question my decision to make the trip directly with no more than a few hours to regroup and rest before it was time to dive. Adrenaline took over and the excitement of getting into the waters of Raja Ampat quickly caused those concerns to fade.
The check out dive took place at a site called Matan in the Warir area, and while the opening dive didn't provide any highlight moments, it did give us a taste of what was sure to be an amazing upcoming week. The remainder of the first night provided everyone the chance to get acquainted with each other over the first of many amazing meals before getting to bed on the early side to catch up on a few hours of much-needed sleep before things kick into high gear.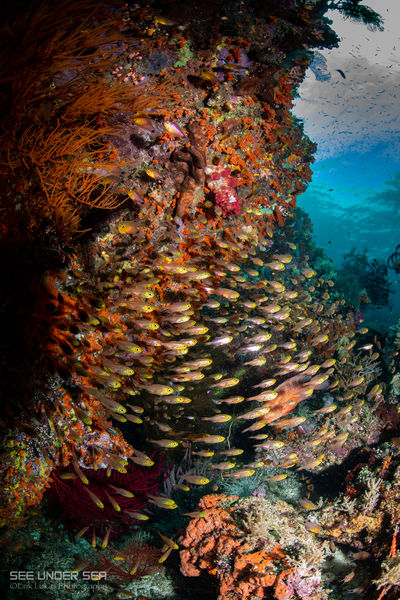 Days two and three, our first full days of diving would be a chance to explore the Dampier Strait and Mansuar areas. We did dives at Cape Kri, Blue Magic, and Mioskon. Day three continued in the north as we did a full day of jetty dives, visiting two of Raja Ampat's better-known sites, Sawandarek Jetty and Arborek Jetty. It took only a matter of minutes before guests were treated to several of Raja Ampat's highlight subjects, Wobbegong sharks, schooling jacks and for the eagle-eyed spotters, multiple species of pygmy seahorse. It felt that we would continue to see them on most dives as we continued to explore North Raja Ampat.
As we began to make our way towards the south, we made stops in Kawe and Aljui to dive sites such as Black Rock and Eagle Rock, both of which were amazing. What stood out the most to me was the health and overall density of the corals at both of these sites. It was almost difficult to take it all in. A highlight dive site for many of the guests turned out to be Edi's Black Forest in Aljui, which is a beautiful sloping reef and a deeper wall. We did an afternoon and a night dive on this site, and it was a treat to be able to do this site twice. Highlights included a Wobbegongshark during the first dive and multiple Blue Ringed Octopus on the night dive.
As great as the northern Raja Ampat dives were, everyone was looking forward to getting to the south and visiting sites in the Misool area. After checking in with the Misool Eco Resort to request dive times at some of the premier sites in the south, we spent time exploring sites such as Melissa's Garden, Two Tree Island, Puri's Pinnacle and others. Many of the guests took the opportunity to shoot macro at these sites and spent a good portion of the dives searching for and photographing pygmy seahorses, which seem to be present on most, if not all of the sites we visited.
The following morning was set for us to dive Magic Mountain, Boo WIndow and Four Kings, all of which are among the most famous sites in Raja Ampat. Magic Mountain delivered multiple manta rays, which were high up on everyone's wish list for the trip. The afternoon dive at Four Kings turned out to be beyond any expectations though. The site was teeming with baitfish, pulsing in waves as they escaped the attacks by massive schools of larger hunters. All of this is set in and around the immense pinnacles that themselves were covered in dense and healthy corals.
Everyone returned to the boat with ear-to-ear smiles after the dive at Four Kings...including our cruise director Mika, who said it was one of the best dives he had ever done on that site. It worked out that we were able to request permission to dive both Four Kings and Magic Mountain again on the following day. Both again proved to be highlight dives and confirmed the reputations of both sites. As most visitors to Raja Ampat know, there are at least a few excursions available during a dive trip.
No trip report would be complete without mentioning the outstanding service that the 12 guests were treated to by the 19 crew members of the Damai I. The food was made to order and no request was met with anything but a smile at each meal. Being that the workshop took place over Thanksgiving, the chefs made a special buffet-style dinner for us which showed their interpretation of a traditional Thanksgiving dinner. The crew provided fresh towels and turndown service each day. The dive deck team provided warm and cold drinks at the end of every dive, dry towels, and neatly organized dive stations for each diver. Massages were available for those who wanted them on a daily basis. It is simply hard to overstate just how hard the crew worked to make sure that every need was met for the guests. Raja Ampat certainly delivered, and it did reaffirm my love for Indonesia. I hope to have the opportunity to revisit this amazing destination in the future.
---
Interested in joining Bluewater Travel's trips to Raja Ampat?
Our next trip is in December 2021 on the beautiful Damai I.
Or let Bluewater Travel help you plan and book your own trip to Raja Ampat by contacting us here.


About the Author
Erik Lukas is an active diver and photographer based in Los Angeles, CA. He is a volunteer scuba diver at the Aquarium of the Pacific in Long Beach, CA. You can expect to find Erik diving many of the amazing Pacific Ocean sites of Southern California, camera in hand, at any chance he can get.
See more of Erik's photography at www.seeundersea.com or on Instagram @seeundersea.
"I am passionate about underwater photography in general and have a special love for macro subjects. For me the things that are hardest to spot hold the most interest. Documenting the commensal and symbiotic relationships is for me the most interesting…the smaller and more bizarre the better. I also have a passion for sharing my knowledge with others. My goal with all of my workshops is to ensure each guest leaves with a group of images that they are proud to share."
Join our upcoming trip to Anilao, the Philippines in April and May 2021