By AgnesA | Date: 27 Aug' 2020
Three hours south of Manila, in one of the best macro dive locations in the world, Aiyanar Beach & Dive Resort is perfectly located on Anilao's stunning coast. Sixteen stylish rooms are tucked into the mountainside amongst lush jungle and tropical gardens, affording guests stunning views across the Philippine Sea. The resort itself boasts luxuriously modern facilities, with an open-air clubhouse, infinity pool, and well-equipped dive center providing the ultimate relaxing and hassle-free vacation. As a Preferred Partner of Bluewater Dive Travel, we know our guests at Aiyanar will experience the best in Filipino hospitality alongside excellent diving to create the trip of a lifetime.
DIVING
Anilao is, without a doubt, one of the world's best macro destinations. Famous amongst underwater photographers for its huge diversity of beautiful nudibranch varieties, the rocky seabed and healthy reefs hide a multitude of unusual and extremely rare critters. Juveniles from the full catalog of Southeast Asian fish species can be spotted here, as well as huge amounts of cuttlefish, shrimp, and other crustaceans, wunderpus, mimic, and blue-ringed octopus, frogfish, pipefish, and numerous seahorses. And those are just the commonly sighted creatures; oddities such as the extremely reclusive Rhinopius and the bizarre hairy frogfish can be spotted on occasion in the deeper soft coral forests.
Aside from the macro, Anilao also boasts rich and diverse wide-angle opportunities, with stunning reefscapes home to plentiful sharks, rays, and large schools of pelagics. Shallow inshore sites festooned in beautiful hard and soft corals, gorgonians, and sponges offer relaxed diving for novices, while blackwater diving is becoming increasingly popular as a niche skill.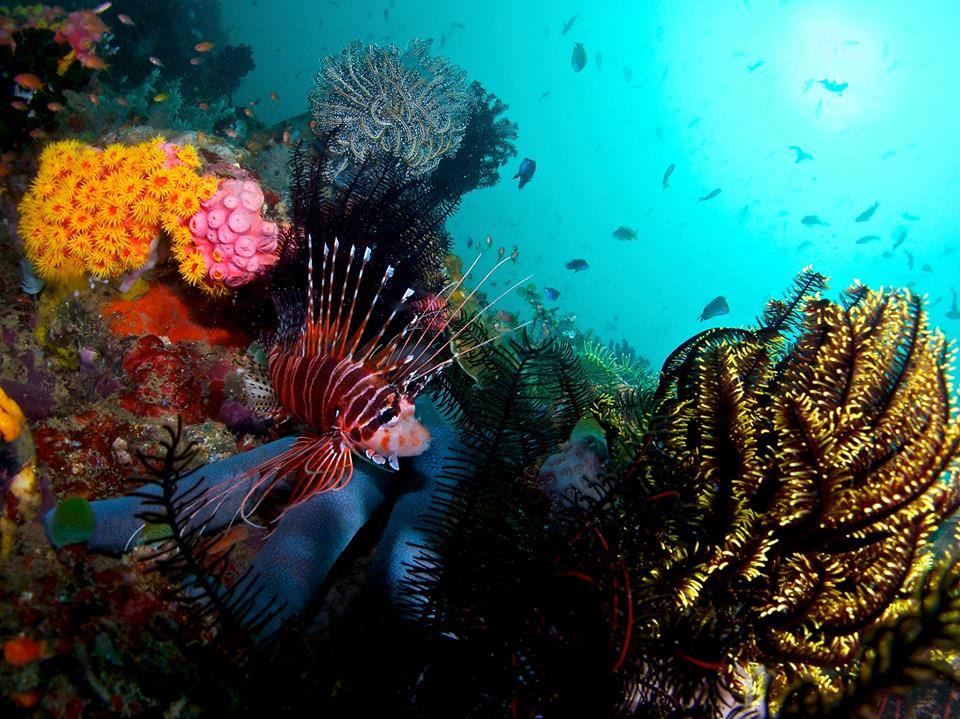 DIVE CENTRE
Aiyanar's on-site dive center is ideally placed to support macro enthusiasts and muck divers get the most from their Anilao visit. The spacious and well-appointed kit room allows for large groups of divers to manage their gear without feeling crowded, and rental and repair facilities ensure a dive is never missed. An 18 station camera room, and provision for double this amount if required, includes air hoses, repair tables, and storge - arguably one of the best of its kind in Anilao.
The resort runs four custom-designed boats built with divers and underwater photographers in mind, and as well as visiting the local reefs and muck sites, they also run trips further afield to Verde Island and Puerto Galera. They teach a range of dive courses, taking advantage of the on-site training pool.
For the ultimate scuba diving vacation, look no further than Aiyanar Beach & Dive Resort. We feel confident that your diving and your stay will be one to remember.
VISITING ANILAO
Anilao is approximately 3 hours' drive from Ninoy Aquino International Airport (MNL) in Manila. Several major Asian airports run flights into Manila and serve as layovers for visitors from the US and Europe. After clearing customs with checked bags, divers walk outside and take a tunnel down to the left where resort shuttle drivers are waiting with signs. The drive out of the city is exciting and you can catch glimpses of the colorful Manila city life as you leave the airport.
October to early June is the main diving season in Anilao, and the best months to dive are November/December and April/May. Although the monsoon occurs during July and August, the dive sites remain accessible. Water and air temperatures tend to hover around 81oF (27oC) year-round, although water temperatures can drop a couple of degrees in January and February.