By AgnesA | Date: 16 Apr' 2021
Galapagos Trip Report
December 2020
WORDS BY MAYA HANNA AND PICTURES BY TIBURON EXPLORER
Galapagos is indisputably one of the best places to dive in the world, especially for divers who love to encounter big animals. Experiencing the Galapagos aboard the Tiburon Explorer takes a once in a lifetime trip to another level. The Tiburon is the newest and nicest boat in the region.
It is instantly apparent how invested the crew is in making sure that everyone is happy and comfortable.
I have been fortunate to dive all over the world and I've never seen anyone work so hard to make sure my belly is full and my dives are perfect!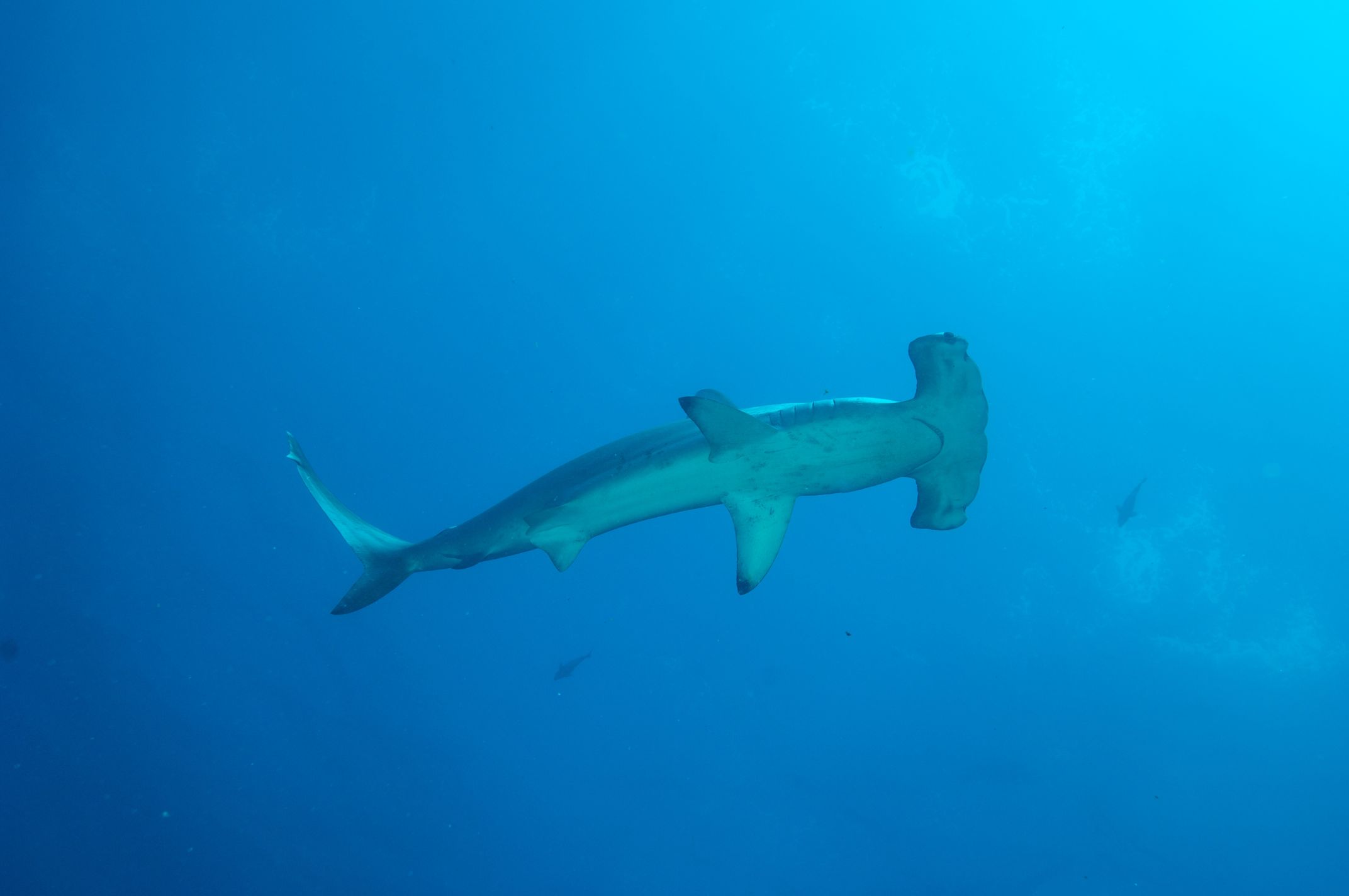 Here's what I loved about the Tiburon:
The upper deck cabins have big windows in the bedroom and in the bathroom. The lower deck cabins are much larger but do not have windows. They have portholes and are super spacious and comfortable. Every cabin has a large flat-screen TV and tons of closet space.
The boat has two dining areas - one in the main deck (inside) by the common area & TV, and one on the upper deck (outside) by the jacuzzi. Breakfast is typically served inside every morning, right after the dive briefing. There is an omelet station where you can choose your own ingredients and "cuisson", always a large fruit tray, and a variety of foods that change daily - pancakes, sausages, waffles, etc.
Dinners happen mostly on the upper deck outside area, unless the boat is on the move. The chef prepares lavish meals every day such as lobster, filet mignon, turkey etc.
No matter when you are eating, you can always expect your meal to be followed by the most delicious dessert!
The dive deck is the most well-designed I have experienced. Each person gets a large bin and 2 tanks, and at the very back is the camera station - a large table for cameras and cubs for charging batteries.
Every morning we woke up to a dive briefing on the main deck. The two dive guides gave very detailed descriptions of the sites. Dive briefing was followed by breakfast then gearing up for the dives.
Diving in the Galapagos is not for the faint of heart. You can expect strong currents, turbulent water, and most dives require a negative entry. Your dives will often end with a very fast drift, where you let the current take you where it will and the panga driver meets you where you ascend. The Tiburon panga drivers are some of the best. Wherever we ascended, they were right there waiting.
Itinerary:
Day 1:
Embarkation in Baltra
What was supposed to be an evening of just settling in and getting to know each other became the precursor to an incredibly successful trip when it came to marine sightings.
As everyone was unpacking, the captain spotted Orcas about 1000 feet away. The Panga drivers rapidly prepared their dinghies and took everyone out to within 3 feet of them.
Day 2:
North Baltra + Seymour
We did a check out dive in North Baltra. Sightings included hammerheads, white tip reef sharks, and reef fish.
In the afternoon we did a land excursion on Seymour and saw sea lions, blue footed boobies, and frigatebirds.
Day 3 and 5:
Wolf Island
The real highlight of the trip, in my opinion, was undoubtedly Wolf Island. The two days spent there each had 4 dives. Our dives were peppered with large schools of hammerheads, silkies, Galapagos sharks, and rare sighting of bull sharks. The richness in marine life makes the experience a real spectacle. You get in the water, find your position on the platform, and just wait for the parade to happen. After about 40 minutes, you make your way to the big blue and surround yourself with the schools of hammerheads and silkes while the current takes you.
On two different occasions, we had a pod of dolphins come around and swim with us for about 10 minutes.
On the fifth day, when we were already done with the 4 dives, we spotted more dolphins from a distance, so the panga guys had us grab our snorkeling gear and drove us to them. They really wanted to make sure we all had the trip of our lives.
Day 4:
Darwin Island
One of the most impressive rock formations I've seen top side. Here we saw the largest whale shark I have seen to date. We were a little past the season which usually runs until November, but we got very lucky. Darwin Island is also home to a ton of eagle and mobula rays.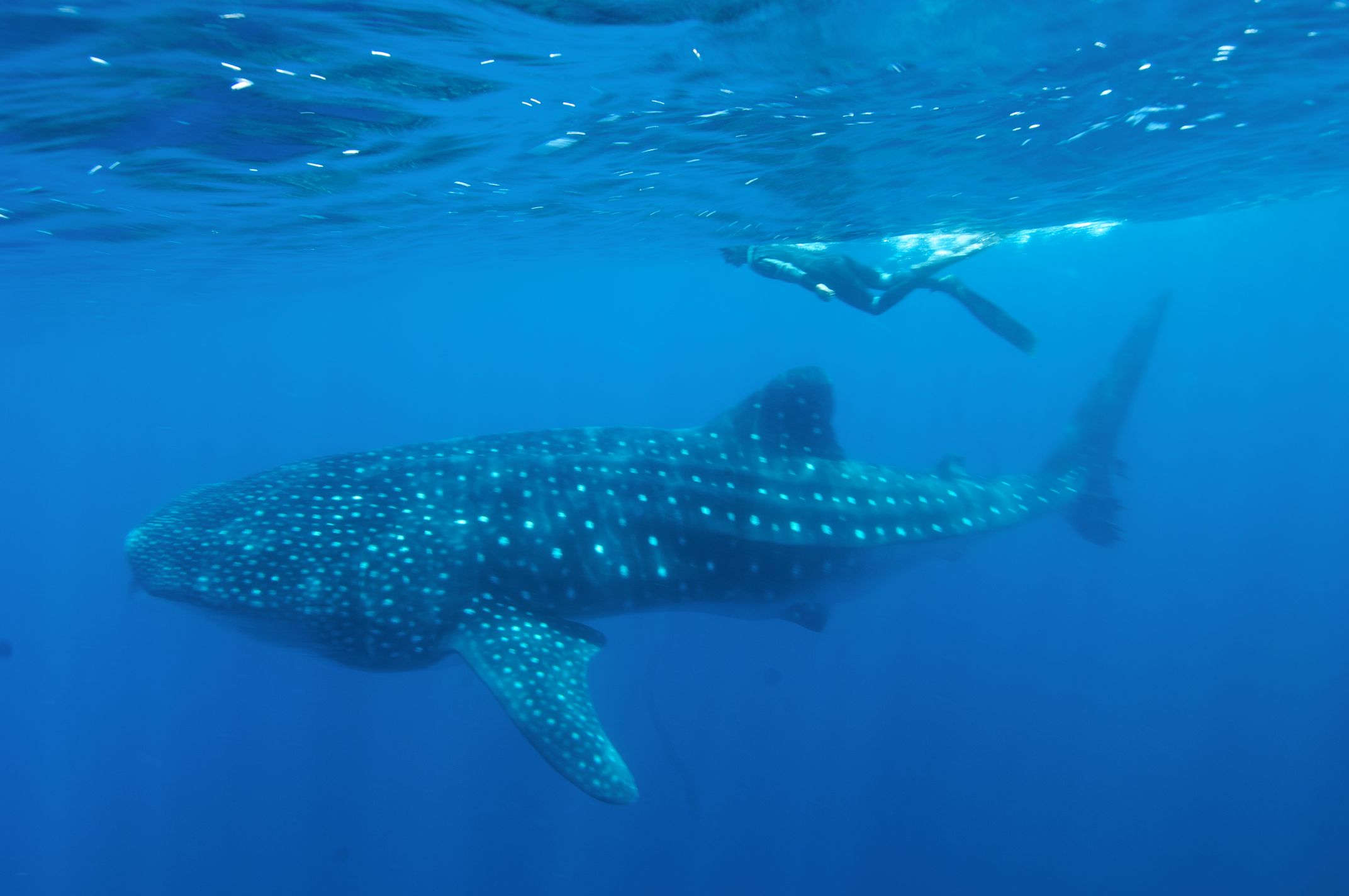 Day 5:
Fernandina Island and Isabela Island
As we were ready to go diving, a very large wahoo jumped inside our panga. Watching the panga driver kill it was one of the most entertaining performances I'd ever seen.
Dive 1: Cabo Douglas @ Fernandina
Marine iguanas and sea lions. Water is a far colder here and visibility is murky, but experiencing the iguanas underwater is a real highlight.
Dive 2: Punta Vicente Roca @ Isabela
We sadly did not see mola molas here but we did see penguins. The panga ride inside the cave was stunning.
When we got back to the boat, the tuna from earlier was turned into a massive platter of fresh sashimi and sushi. We ate it watching the sunset and drinking an endless supply of wine, while celebrating the crossing of the equator. It was magical.
Day 6:
Cousin's Rock + Santa Cruz & Puerto Ayora
Going on your last dive knowing that the trip is over is a difficult realization. We had seen so many sharks, rays, schools of fish, nudibranchs, dolphins, we thought nothing was going to impress us anymore.
We were wrong. Diving Cousin's Rock was another reminder that a nice easy reef dive with octopus, blennies, reef sharks, and the occasional mobula ray is splendid in its own way.
In the afternoon we saw the big tortoises. You get a reminder that things aren't too bad topside and that it's okay if you have to wait another few months or maybe years to go back to Wolf, Darwin, Isabela, and Fernandina. (or you just tell yourself that).
After the land excursion in Santa Cruz, we all had dinner in Puerto Ayora which is a very charming little town.
Day 7:
Disembarkation
You are ready, your gear is rinsed, your stuff is packed, and all you need to do here is really fight the urge to not give the crew your entire life's savings. They really do a fantastic job and if you are ever booked on the Tiburon, be prepared to bring cash because you will feel compelled to reward them for such a fantastic trip..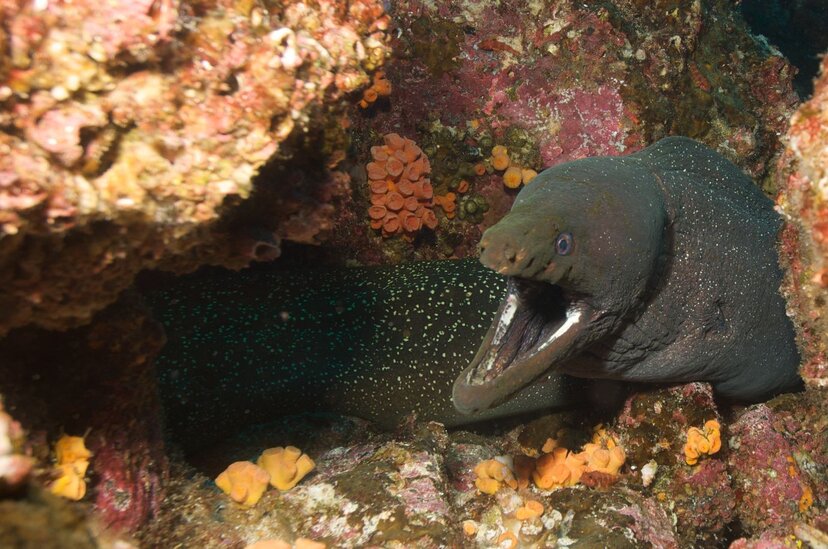 If the Galapagos is your bucket list trip, you will definitely be able to cross it off the list if you do it aboard the Tiburon. My liveaboard motto is "never skip a dive, never skip a meal" and never have I been more rewarded for this than on the Tiburon.