Espirito Azul, Azores
Pricing varies

---
Espirito Azul quick pitch
Espirito Azul is a dive operator taking guests all year round diving the amazing Azores. They do at least two dives a day and besides diving, offer also snorkeling programs and boat rentals. Divers can have unique experiences diving the volcanic reefs, arches, underwater caves, and wrecks.
ESPIRITO AZUL FEATURES
Equipment available for rent
3 compressors
Nitrox, trimix & oxygen fillings
Rebreather friendly services and storing
3, 7, 12, and 15 L tanks
Rinsing and storage area, toilets, and shower with hot water
Multilingual staff
HOW TO GET THERE
Esiprito Azul is located in Marina de Vila Franca do Campo in São Miguel, Azores. It is a 30-minute car ride away from the João Paulo II Airport on São Miguel. Many international airports fly directly to São Miguel.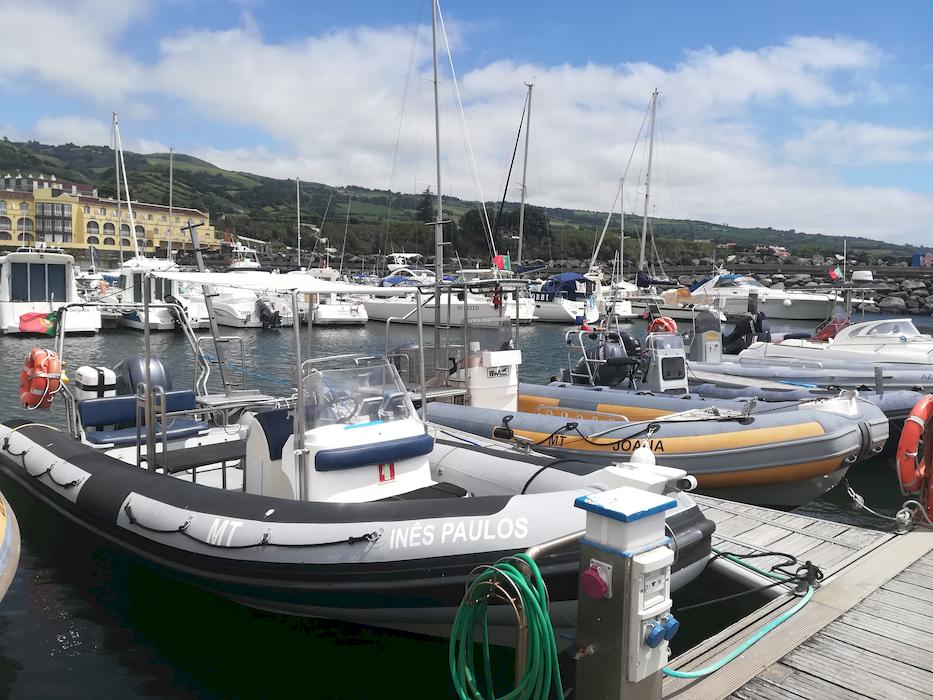 Dive information

---
DIVE OVERVIEW
Azores diving offers scuba divers unique topography, diverse dive sites, and encounters with exciting marine life. Huge Mobula rays can be encountered on the offshore dive spots and some days even around the coast during July until the end of October. Occasionally manta rays and whale sharks pass by the offshore sites. The Mediterranean parrotfish, big stingrays, large grouper, triggerfish, rainbow wrasse, ocean sunfish, devil rays, and sea turtles are just a few of the hundreds of coastal marine species thriving in this rich environment. These waters are also home to several species of nudibranchs and other macro subjects. Some lucky divers have also spotted sharks, like the mako and blue sharks, while diving the Azores.
[See: Azores Dive Travel Guide]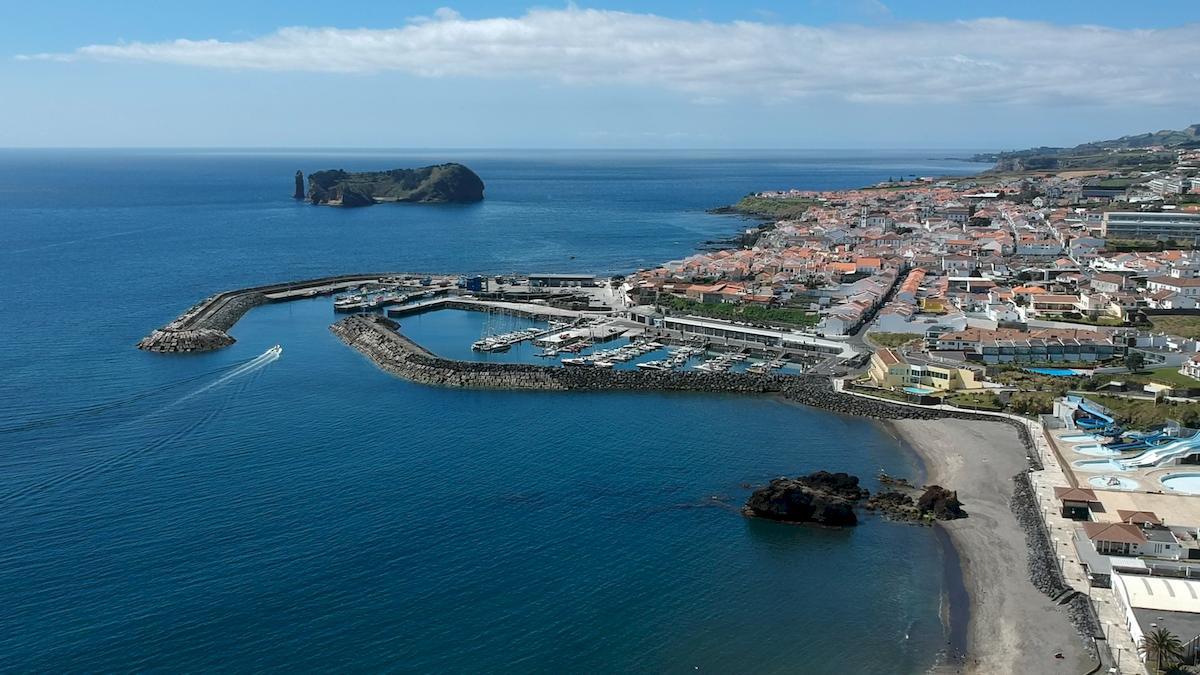 Dive sites
Coastal Dive Spots
Cozinha - All levels from Open Water, max. depth: 18m
The dive site is located on the East Side of Ilhéu de Vila Franca do Campo. Huge boulders forming an underwater scene which easy to explore. Impressive Canyons and swim-throughs on your way back. Here, you can expect to have a nice relaxing time, spotting Seabreams, Guinean Pufferfishes, Striped Red Mullet, Groupers, Damsels, Madeira Rockfish, Flounders, Grey Triggerfishes, Morays, Nudibranchs, Barracudas, and maybe a Sting or Eagle Ray if you are lucky!
Cracas - All levels from Open Water, max. depth: 24m
Located on the South-East part of Ilhéu de Vila Franca do Campo. The flow of lava formed an interesting underwater landscape. Lots ́s of cracks and holes where you will find various marine life and around in the blue you spot a lot of pelagic fish like Jacks and Barracudas. Seabreams, Grey Triggerfish, Wrasses, Hogfish, Parrotfish, Groupers, and even Rays sometimes will let you enjoy this dive.
Ilhéu de Vila Franca Oeste

- All levels from Open Water, max. depth: 20m

The West Coast of the Islet of Vila Franca do Campo forms a wall with huge canyons leading deep towards the inside of the island. Besides pelagics and several reef fish, you might have the chance to spot huge stingrays down on the sand. This dive is mostly done as a drift dive.

Âncoras

- All levels from Open Water, max. depth: 20m

Come dive into the history of Vila Franca! In the past, there were no harbors in Vila Franca or Ponta Delgada, the big ships had to anchor between Vila Franca and Ilheu because this area was protected from the big waves and wind. But the reef down there is very dense and some boats lost their anchors at the time. There are big broken rocks in a rectangular shape area. And at the end of the area, you will see a few big anchors. Don't be surprised to see huge Dusky Groupers or Hogfish. Some inhabitants of the reef here include also Madeira Rockfishes, Nudibranchs, and Flounders.

Arcos da Caloura

- All levels from Open Water, max. depth: 17m

Situated in front of the beautiful village of Caloura, the dive site is only 300 meters from the coast and 15 minutes by boat to the Marina of Vila Franca. The top of the reef is at about 6 meters and the dive site is composed of amazing big arches, come and enjoy the swim-throughs and little caves. This is the perfect place to improve your buoyancy! You will be able to observe a multitude of moray eels, nudibranch, starfish, and scorpionfishes on the walls and in the halls of the reef. Be aware of triggerfish that will check you out closely.

Baixa das Castanhetas

- Advanced Open Water or higher, max. depth: 40m

It will take around 15 minutes by boat to arrive at the dive site. This huge underwater seamount starts from 12m where you can observe a great number of damselfish. The reef top is composed of lots of caverns, caves, and tunnels. At 30 meters and more, you might have the chance to find the swallowtail seaperch only found at this depth. You might spot some slipper lobsters and beautiful nudibranch inside them. The reef wall drops to a depth of 40 meters and if you keep an eye into the blue you might see schools of barracudas, jacks, or even devil rays!

Tufo

- All levels from Open Water, max. depth: 16m

4 massive rock formations are building this dive spot and in between, you will find some canyons to pass through. It is a very beautiful spot with lots of cracks and holes. You will find morays and conger eels sharing their homes with several rockfish. As well huge spider crabs love to hang out in the cracks. As the whole dive spot is surrounded by sand it attracts often huge black stingrays.

Ship Wreck DORI - All levels from Open Water, max. depth: 20m
The shallowest parts are the bow and stern at a depth of only 8 -10m. The 134,4-meter-long and 11,3-meter-wide wreck is one of more than 2,750 Liberty Ships built in the United States during World War II to provide assistance to the Allies. It sunk in 1964 while transporting the steel. Because of a leak, the crew decided to go off the ship close to the shore. A lot of different species use this wreck as an artificial reef. You can spot octopus, moray eels, nudibranch, jacks, barracudas, seabreams, and a lot of triggerfish.
Offshore Dive Spots
Formigas - Advanced Open Water or higher, max. depth: 40m
The nature reserve of Formigas Banks is situated in the middle of the Atlantic Ocean. It will take around 2 hours from São Miguel to reach there. This trip is offered as a full-day trip with 2 dives. It's an exceptional trip where you have a better chance to spot big pelagic fish in greater quantities. Thanks to the offshore location, the visibility is generally amazing (25metres +). The reefs can drop up to 70 meters, with shallow platforms at 12 meters, ideal to observe schools of pelagic fishes like Jacks, Trevallies, Tunas, or Barracudas. Many big groupers are living around the reef and can get very close to you. The best chance to spot oceanic Mobulas or mantas is between August – October. Apart from the exceptional visibility and the variety of species we can observe, we can say that the marine reserve of Formigas Islands, is one of the best diving spots in the Azores. Don't miss it!
Ambrosio - Advanced Open Water or higher, max. depth: 40m
This seamount is a well-protected dive site and only accessible with pre-booking. Only one dive boat is allowed to moore at the spot for a limited time. Diving at this site is offered during the season from July – October in combination with one Offshore Dive spot at the Formigas Banks if weather conditions are suitable. The distance from Formigas to Ambrosio is 25 nautical miles and it will take around 2h to reach the spot. It attracts oceanic Mobulas, Mantas, Schools of pelagics, and even Whale Sharks. The dive is a blue water dive and there is only a rope to hold on to as the min. depth of this seamount is 43m. Due to some strong currents, strict safety procedures will be announced during the dive briefing.
Dollabarat - Advanced Open Water or higher, max depth: 40m
This dive site is offered in combination with one of the reefs around Formigas Islets on the full-day trip. The reef actually belongs to the nature reserve of the Formigas Banks and is named after captain Pierre Dollabarats because his small boat wrecked on Marck 7th 1788 here. It is situated cr. 3 nautical miles south-southeast of the Formigas Islets, on the Formigas Ban in the Azores Archipelago. The reef is about 800 m long and forms a great wall to drift along. The shallowest parts are 3m on the reef top and the walls are dropping in between 20-40m. Most likely you will encounter a great variety of pelagic fish schools appearing from out of the blue.
Packages & rates
Espirito Azul Packages, Details and Rates

---
Prices displayed in Euros and valid throughout 2023. Dives include skipper, underwater guide, boat, fuel (within 6 miles from the base), activity insurance, full tank (12L air) and weight belt. Fuel surcharge may apply depending on the market prices.
| | |
| --- | --- |
| Dive Packages | Price |
| 1 Single dive | €50 |
| Pack of 2 dives | €90 |
| Pack of 6 dives | €240 |
| Pack of 10 dives | €360 |
| | |
| --- | --- |
| Off-Shore Reefs | Price |
| Formigas and/or Dollabarat, full day, 2 dives included (min 4 pax) | €240 |
| Formigas and Ambrosio, full day, 2 dives included (min 4 pax) | €270 |
| "D. João Castro", full day, 2 dives included (min 5 pax) | €290 |
| Shark Diving Program, 1 dive included (min 4 pax) | €170 |
| | |
| --- | --- |
| Pre-booking Special Offers | Price |
| Renting complete gear for 3 days | €75 |
| Renting complete gear for 5 days | €120 |
| Air 15L tank for 6 dives | €25 |
| Air 15L tank for 10 dives | €35 |
| Nitrox 32 (12L) for 6 dives | €25 |
| Nitrox 32 (12L) for 10 dives | €40 |
| | |
| --- | --- |
| Equipment Rental | Price per day |
| Complete gear per dive (Excl computer, knife, torch) | €25 |
| BCD | €8 |
| Regulator | €8 |
| Wetsuit | €8 |
| Fins | €5 |
| Mask and snorkel | €3 |
| Boots | Gloves | Hood | Skin Vest | Knife | €3 |
| Torch | €8 |
| Diving Computer | €8 |
Need more information? Contact us about snorkeling options, night dives, courses, and more!
PRACTICAL INFORMATION
Currency: Euro
Language: The official language in the Azores is Portuguese, but you can expect English to be spoken by most people involved with tourism
Time Zone: UTC-1
Electricity: 230 V 50 Hz
Underwater gallery

---