Destination: French Polynesia
Fakarava, French Polynesia | Full-board from $185/ppn

---
Motu Aito Paradise Quick Pitch
Motu Aito Paradise is a charming, isolated eco-resort that takes its commitment to long-term sustainability seriously. This island paradise is located in the protected UNESCO Biosphere Reserve of Fakarava, French Polynesia. Because of the area's Biosphere Reserve status, all construction at Motu Aito Paradise is done in the traditional Polynesia way using natural materials such as wood. This is a genuinely authentic escape from the hustle and bustle of modern life.
Quick Information
No of Rooms: 8
Dive Center: Pick up and drop off at the pier can be arranged
Amenities: Beach and lagoon for snorkeling and swimming, restaurant, games room, evening entertainment
Nearest Airport: Fakarava Airport
Airport shuttle: Yes
How to Get There
This paradise is only a 45-minute flight from Rangiroa in the Tuamotu and a one-hour flight from Tahiti, French Polynesia. The resort provides transport from Fakarava Airport.
Dive Overview
Fakarava is home to a massive amount of marine life in its warm waters; many dive sites are easily accessible by boat from Motu Aito Paradise, which can easily be arranged. Fakarava is the second biggest atoll in French Polynesia and is known as one of the best places to scuba dive in the world. Famous for the diversity of shark species, you can expect to see grey reef, lemon, blacktip and whitetip sharks, and many schools of fish, barracuda, and eagle rays.
[Read More: French Polynesia Dive Travel Guide & Fakarava Dive Travel Guide]
Check Out This Great Video!
Accommodations
Types of Rooms, Amenities and Photos

---
MOTU AITO PARADISE Room Overview
In total, there are eight bungalows at Motu Aito Paradise made up of two Lagoon bungalows, two Garden bungalows and four Suites.
Each Lagoon bungalow has one double bed and a maximum capacity of two people.
The Garden bungalow has one double bed and one single bed and has a maximum capacity of three people.
And each Suite has one double bed and one to three single beds with a maximum capacity of five people.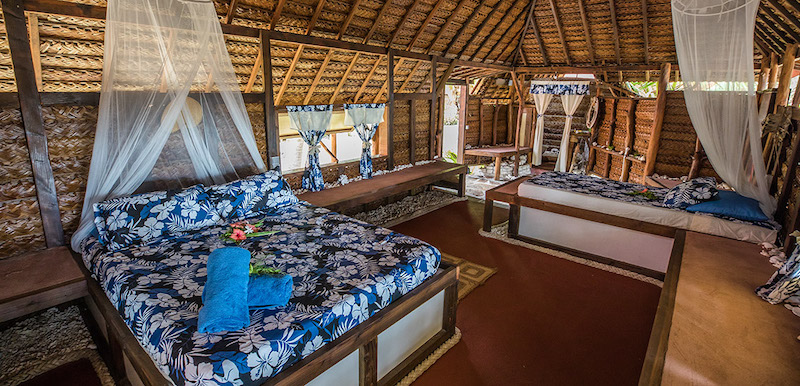 RESORT MAP
Resort Facilities

---
Motu Aito Paradise Facilities
Motu Aito Paradise has a restaurant set on the water's edge so you can enjoy breakfast, lunch and dinner in perfect paradise with a view out across the ocean. There is a natural lagoon and tropical gardens to explore, home to traditional guest bungalows that allow you to immerse yourself in their surroundings. You'll also be able to enjoy yoga classes, local shows, the pink sand beach, and the world-class snorkeling and scuba diving around the atoll.
Motu Aito Paradise Food & Drinks
All meals will be taken care of by Motu Aito Paradise.
A range of options available for breakfast, lunch and dinner.
MOTU AITO PARADIS Activities
Lagoon fishing
Snorkeling
Island excursions
Boat excursion upon request
Diving
Packages & Rates
The actual rates are based in XPF. The starting price indicated above may vary based on the current exchange rate.

---
RATES & AVAILABILITY
For information regarding rates, availability, and packages drop us an email at bookings@bluewaterdivetravel.com or call us today at +1-310-915-6677 and let us help you plan your dream dive vacation!
Dive Information

---
Fakarava Dive Overview
Fakarava, a major destination for divers today with Rangiroa at a distance of only 267km. At the South pass of Fakarava, the dive sites are practically virgin while remaining accessible to novice divers. Visibility allows you to see at a great depth, fauna and rich flora.
Fakarava Dive Sites Overview
The Tumakohua Pass where Tetamanu Diving Center is located, is packed with hundreds of fish and sharks. Let yourself be enchanted by the beauty and richness of the underwater wildlife of Tumakohua pass, with the pit to 500 sharks, the cave napoleons, countless of barracudas, perches, groupers and many others. The south pass of Fakarava is renowned for its variety of fish and according to a well-known specialist in the world of scuba diving, Henri Pouliquen "is one of the most beautiful passes of French Polynesia.
[Read More: French Polynesia Dive Travel Guide]
Dive Center Information

---
Top Dive Diving Center Overview
Diving at Motu Aito is organised with Top Dive, one of the leading dive centers in French Polynesia. They pick divers up from the pier and visit the best local dive sites around Fakarava. Divers of all levels are welcome for fun dives as well as to brush up on their skills with a wide range of courses available.
Other Information

---
Practical Information
Electricity: 220V and 24V
Timezone: GMT -10
Languages spoken: French, English
Payment methods: cash, traveler's check or credit card
Underwater Gallery

---
Coming soon!