Destination: French Polynesia
Fakarava, French Polynesia | Full-board from $185/ppn

---
Motu Aito Paradise Quick Pitch
Fakarava is one of the best places in the world to dive with sharks, primarily due to its remote location and lack of human influence on the environment. Motu Aito Paradise is a charming, basic, and isolated pension that takes its commitment to long-term sustainability seriously. This remote island paradise is located in the protected UNESCO Biosphere Reserve of Fakarava, French Polynesia. Because of the area's Biosphere Reserve status, all construction at Motu Aito Paradise is done in the traditional Polynesian way using natural materials such as wood. Experience diving the world-famous 'wall of sharks' from a genuinely authentic and rustic escape from modern life.
Quick Information
No of Rooms: 8
Dive Center: Onsite
Amenities: Beach and lagoon for snorkeling and swimming, restaurant, games room
Nearest Airport: Fakarava Airport
Airport shuttle: Yes
How to Get There
This paradise is only a 45-minute flight from Rangiroa in the Tuamotu and a one-hour flight from Tahiti, French Polynesia. Motu Aito provides ground transport from Fakarava Airport.
Dive Overview
Fakarava is the second biggest atoll in French Polynesia and is known as one of the best places to scuba dive in the world. It is home to a massive amount of marine life in its warm waters, and famous for the diversity of shark species including grey reef, lemon, blacktip and whitetip sharks, and many schools of fish, barracuda, and eagle rays.
[Read More: French Polynesia Dive Travel Guide & Fakarava Dive Travel Guide]
Check Out This Great Video!
Accommodations
Types of Rooms, Amenities and Photos

---
MOTU AITO PARADISE Room Overview
Motu Aito is considered a "pension" in French Polynesia, which is a local Tahitian guesthouse and is not in the same category as a resort or hotel. The accommodation options range from large ocean facing bungalows with up to 4 beds to small over water bungalows with a small queen bed for a couple. All bungalows are built of wood in traditional Tahitian style. While they do not have air conditioning, each of the bungalows faces the ocean and the fresh sea breeze flows through large windows. Some bungalows do not have doors, instead, a curtain hangs in the doorway for privacy. Beds are equipped with sheets and mosquito nets to keep insects out.
Most bungalows have an ensuite shower and toilet in a separate room, however, Suite Rai, Lagoon Bungalow Kaha, and Lagoon Bungalow Teanuanua contains the ensuite within the main room and is separated by only a curtain. Therefore, we recommend these for only solo travelers or companions who are comfortable with an extra layer of "closeness". The ensuites are equipped with Western-style sit-down flush toilets and a basic shower consisting of a hose attached to a spicket. While there is no hot water, the cool shower water is pleasant in the hot weather.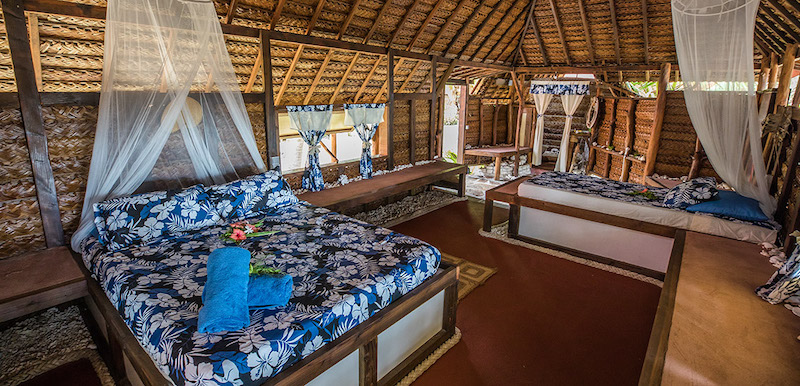 RESORT MAP
Resort Facilities

---
Motu Aito Paradise Facilities
Motu Aito Paradise has a restaurant set on the water's edge so you can enjoy breakfast, lunch and dinner in perfect paradise with a view out across the ocean. Breakfasts at Motu Aito typically consist of bread, butter, jam, and a small selection of cold-cut meats. Eggs are sometimes available. Lunch and dinner are simple group meals served family style, with a simple dessert usually offered at dinner. Examples of the meals served include pasta with marinara sauce and grilled fish or grilled chicken and rice.Sometimes there is a pizza or BBQ night. Dietary restrictions can be accommodated. Local beer and a small selection of wine are available at an additional cost.
There is a natural lagoon and tropical gardens to explore, home to traditional guest bungalows that allow you to immerse yourself in their surroundings. You'll also be able to enjoy the pink sand beach, and the world-class snorkeling and scuba diving around the atoll.
Cellular signal is good if the cell tower is not affected by storms. The resort does not have WIFI available, however, it can be accessed from another resort about 5 minutes away. There is electricity available 24 hours a day.
Motu Aito Paradise Food & Drinks
All meals are include and will be taken care of by Motu Aito Paradise.
A small selection of basic options available for breakfast, lunch and dinner.
MOTU AITO PARADISE Activities
Lagoon fishing
Snorkeling
Island excursions
Boat excursion upon request
Diving
Packages & Rates
The actual rates are based in XPF. The starting price indicated above may vary based on the current exchange rate.

---
RATES & AVAILABILITY
For information regarding rates, availability, and packages drop us an email at bookings@bluewaterdivetravel.com or call us today at +1-310-915-6677 and let us help you plan your dream dive vacation!
Dive Information

---
Fakarava Dive Overview
Fakarava, a major destination for divers today with Rangiroa at a distance of only 267km. At the South Pass of Fakarava, the dive site is practically virgin while remaining accessible to novice divers. Visibility allows you to see at a great depth, fauna and rich flora.
Fakarava Dive Site Overview
The Tumakohua Pass where Tetamanu Diving Center is located, is packed with hundreds of fish and sharks. Let yourself be enchanted by the beauty and richness of the underwater wildlife of Tumakohua pass, with the pit to 500 sharks, the cave napoleons, countless of barracudas, perches, groupers and many others. The South Pass of Fakarava is renowned for its variety of fish and according to a well-known specialist in the world of scuba diving, Henri Pouliquen "is one of the most beautiful passes of French Polynesia.
[Read More: French Polynesia Dive Travel Guide]
Dive Center Information

---
Top Dive Diving Center Overview
Diving at Motu Aito is organised with Top Dive, one of the leading dive centers in French Polynesia, located onsite at Motu Aito. Divers of all levels are welcome for fun dives as well as to brush up on their skills with a wide range of courses available.
The onsite dive shop has complete sets of rental equipment available, which is included in the dive price. All tanks are 100 cubic feet or 15-liter aluminum tanks. Nitrox is currently unavailable, but when it becomes available it is complimentary for Nitrox certified divers.
Other Information

---
Practical Information
Electricity: 220V and 24V - available 24 hours.
WIFI/Cellular: No wifi onsite; cellular reception is good but can be affected by storms.
Timezone: GMT -10
Languages spoken: French, English
Payment methods: cash, traveler's check or credit card
Underwater Gallery

---
Coming soon!