DESTINATION: EGYPT
Price Varies p.p.p.n

---
The Reef Oasis Blue Bay Resort is a beautiful and welcoming 5-star property, ideally situated on the beach overlooking the amazing Red Sea. Appealing to couples and families alike, the hotel offers a wide variety of services and facilities, which include a range of sports activities, numerous restaurants and cafes, evening entertainment, a diving center, a spa center, 5 swimming pools, and Aqua Park. With its dive operations run by the Reef Oasis Dive Club, guests are also sure to experience quality scuba diving and PADI courses which are available for guests of all experience levels.
Quick Information
No of Rooms: 696
Dive Center: On-site
Amenities: Ensuite bathrooms, private beach, spa, multiple pools, water park, restaurant and bar
WiFi: Yes
Airport shuttle: Yes, surcharge
How to Get There
International guests can book a flight to the Sharm El Sheikh International Airport and opt to take the shuttle bus service provided by the hotel. For guests bringing their own vehicles, the hotel also offers free parking.
Dive Overview
Enjoy the pristine beaches and dive sites of Sharm El Sheikh. Declared to come almost head to head with the marine beauty of some of the greatest diving destinations such as the Great Barrier Reef and the red sea.
Check out this amazing video from the Reef Oasis Blue Bay Resort.
Accommodations
Types of Rooms, Amenities and Photos

---
REEF OASIS BLUE BAY RESORT
There are 696 rooms and suites well spread out throughout the hotel grounds, offering views over the beautifully landscaped gardens, pools, or breathtaking sea. Guests can choose among the Superior Rooms, Executive Rooms, Family Rooms, and Deluxe Rooms. All the rooms come complete with a refrigerator, coffee maker, and LCD TV. Other amenities such as minibars and room service are also available.
Resort Facilities

---
reef oasis blue bay Resort Features
Infinity and Outdoor pools
Water park
Hot tub
Restaurant
Bar/lounge
Fitness Center
Spa
Sauna
Table tennis
Tennis court
Kids club
Meeting rooms
Gift shop
Salon
In-house dive center
reef oasis blue bay Resort Food & Drinks
Guests can enjoy their free breakfast, as well as other meals, at the on-site restaurant; or grab a refreshing drink at the bar. Restaurants such as Fleur De Lis, Casa Mia, and House of Spice are also conveniently located near the hotel.
REEF OASIS BLUE BAY Resort Activities
Swimming
Scuba Diving
Snorkeling
Fitness classes
Children activities
Aerobics
Packages & Rates
Reef Oasis Blue Bay Resort Rates

---
room rates
All rates are in USD and per night. Rates are also all-inclusive and include service charge and all applicable taxes.
Room Type

Jul 25-Aug 31

2021

Sept 1-30

2021

Oct 1-Nov 19

2021

Nov 20-Dec 27

2021

Dec 28-Jan 10

2022

Jan 11-Mar 1

2022

Mar 2-Apr 12

2022

Apr 13-20

2022

Apr 21-30

2022

Superior Garden Double
$148
$142
$144
$134
$192
$144
$154
$163
$154
Superior Garden Single
$118
$113
$115
$108
$154
$115
$123
$131
$123
Superior Garden Triple
$214
$206
$209
$195
$278
$209
$223
$237
$223
Deluxe Double
$157
$152
$154
$144
$202
$154
$163
$173
$163
Deluxe Single
$126
$121
$123
$115
$161
$123
$131
$138
$131
Deluxe Triple
$228
$220
$223
$209
$293
$223
$237
$251
$237
Family Double
$222
$213
$216
$202
$288
$216
$230
$245
$230
Family Triple (03 Adults )
$255
$245
$249
$232
$331
$249
$265
$281
$265
Family Quad (4 Adults)
$277
$267
$270
$252
$360
$270
$288
$306
$288
Premium Double
$157
$152
$154
$144
$202
$154
$163
$173
$163
Premium Single
$126
$121
$123
$115
$161
$123
$131
$138
$131
Premium Triple
$228
$220
$223
$209
$293
$223
$237
$251
$237
Executive Double
$167
$161
$163
$154
$211
$163
$173
$182
$173
Honymoon Suite
$632
$620
$624
$605
$720
$624
$643
$662
$643
Executive Suite
$718
$707
$710
$691
$806
$710
$730
$749
$730
This offer is valid for booking date from 01/07/2021 - 31/07/2021
inclusions
Breakfast, lunch, and dinner, offered in a Buffet Restaurant as a served buffet
'Al Dente' Italian A La Carte Restaurant: Some items are with an extra charge (reservation is required)
Beach Bar: Snacks are served at selected times of the day
Horizon Pool Bar: Serving pizza after the lunch service
'Paino Bar' open with extra charge
Waterslides are open at selected times during the day
Gym: Open at selected times during the day
Spa & Wellness Center with charge
Sports Activities: Only individual activities are permitted, any activity with a gathering is not permitted
Limited entertainment activities
Mini club activities are not permitted
Can't find the information you need?
Drop us an email at bookings@bluewaterdivetravel.com or call us at +1-310-915-6677 and we will gladly help you plan your dream dive vacation!
Dive Information

---
DIVING IN SHARM EL SHEIKH
Sharm El Sheikh is well known for its wonderful dive sites, rich in different coral types and many fish species, amazing Flora and Fauna, with water temperature ranging between 20°C in February 27°C from July to October, and outstanding visibility ranging between 20-30 meters! You only need a long wetsuit from November to April, for the rest of the year, it's enough to wear a short wetsuit. More Europeans learn to dive in Sharm El Sheikh than anywhere else in the world and diving is ideal for beginners.
All divers can join the weekly diving schedule. If you are on a family holiday but you cannot live without diving, Reef Oasis organizes two shore dives daily at 11.30 am and 2.30 pm at beautiful house reefs Temple and Far Garden. The boat trips are organized every day to the best dive sites of the famous Ras Mohamed National Park or to Tiran Strait. We leave from the jetty (Sharm el Sheikh or Shark's bay) at 8.00 am. During the trip, we complete two dives and for those interested, there is a possibility of the third dive. During breaks, we enjoy the sun and sea and have a lunch break with soft drinks on the board.
DIVE SITES
In general, Sharm El Sheikh is divided into three main areas: The Straits of Tiran with its Dive Sites, The Ras Mohamed National Park with its Dive Sites and the Local Dive Sites in Sharm El Sheikh that lies in between Tiran Island and Ras Mohammed National Park.
Ras Mohammed - South of Sharm el Sheikh the coast is totally deserted, with no shelter for more than a mile, up to the small bay named MARSA GHOZLANI, where the RAS MOHAMMED NATIONAL PARKbegins. This is followed by another bay, MARSA BAREIKA which is much larger and deeper. It penetrates the land for 2.8 miles, forming the RAS MOHAMMED peninsula, which extends south-eastwards into the Red Sea for almost 5 miles and separates the Gulf of Aqaba from the Gulf of Suez. Because of its geographic position the Ras Mohammed peninsula is a privileged area that benefits from strong currents that transport large quantities of plankton and other food that give rise to an extraordinary growth of hard and soft corals and attract large schools of both reef and pelagic marine fauna. With the great abundance of food, barracuda, jackfish, tuna and sharks swarm in these waters, especially between June to August, offering divers the chance to make extremely interesting and exciting dives.
Strait of Tiran - The Straits of Tiran lies at the mouth of the Gulf of Aqaba and are bordered on the west by the coast of Sinai and on the east by the island of Tiran. In the middle of this channel are four reefs lying in a northeast-southwest direction that were named after the 19th century English cartographers who drew the first nautical map of this region: JACKSON REEF, WOODHOUSE REEF, THOMAS REEF and GORDON REEF. These reefs divide the straits into two canals, to the east is the so-called GRAFTON PASSAGE, which is used exclusively by ships going northwards, while to the west is the ENTERPRISE PASSAGE for ships heading south. The strong currents that characterize the Straits of Tiran transport great quantities of plankton and other nutrient material every day, thus supplying a great deal of food to the corals and hence to the reef fish which in turn are eaten by the large pelagic predators such as barracuda, jackfish, tuna and above all sharks which are always in this zone. Consequently, scuba divers in the waters of Tiran are sure to see not only an infinite number of corals but also rich fauna, both reef and pelagic.
Far Garden - Far Garden is situated in the northernmost part of a splendid bay just north of Naama Bay. Because of the many coral formations and their configuration, Far Garden is considered a veritable underwater hanging garden. It differs from the other localities in the bay, since there is a series of large coral pinnacles located between the ledge along the reef and the drop-off, which becomes gradually steeper in an eastward direction. Here you can make either a drift dive or shore dive. The current, which generally runs eastwards, tends to get stronger closer to the headland. Do not dive too deeply, especially in the vicinity of THE CATHEDRAL. You can look out for Gorgonian, porites, lionfish, fusiliers, glassfish, scorpionfish, and in the summer months, many larger pelagics swimming past.
The Temple - The Temple is located on the north side of Sharm El Sheikh Harbor. It is a group of three pinnacles that rise up from 20 meters below to the surface. This is a flat, sloping reef with two major, and a few minor, pinnacles adding contour to the reef face. The largest of the pinnacles is 'The Tower'. Its bulk is split by two major fissures, one of which can be swum through. The second should not be entered, to avoid damaging the delicate gorgonians growing along its sides. All the pinnacles hide a surprisingly rich variety of reef animals.
The pinnacles are rather close to each other and have sand channels between them. The pinnacles have sheer walls which are covered with soft and hard corals, fan corals and reef fish. Coral growth throughout the site is good, with a density and mix of species difficult to match in the immediate area. They are a blanket of color. The fish are as pleasant a surprise as the coral, with a truly amazing range of species colonizing the reef. There are lionfish all about, as well as stonefish that do not move and are camouflaged.
Around the pinnacles are schools of glass sweepers that move together.
Because The Temple is so close to Sharm El Sheikh and Na'ama Bay, it is a very popular night-dive site. At night the basket stars create the illusion of a curtain in the light current as they feed. As the basket stars are hit by your dive light, they tend to withdraw into a ball. As the light moves away, they expand back out and continue feeding. The feather stars and soft corals have many colors that are very beautiful in the dive lights. You can find parrotfish in the crevices with your dive lights. Some may even have their cocoons around them.
The typical depth range of the Temple is 5 to 20 meters deep and is accessed by our Shore.
Ras Nasrani - The name of this locality means Christian cape in Arabic.
The diving is done from a small sandy plateau that begins at a depth of about 6 meters, where a sand flow originates then you head northwards towards the cape, taking advantage of the current, which ranges from weak to moderate and tends to get faster near the headland. After you have passed some large gorgonians located at about 20 meters' depth, you will come upon large colonies of mushroom-shaped Porites coral heads; These become even more numerous beyond the cape. The dive goes through the zone between the reef slope, which has many small shelters studded with multicolored Alcyonarians, and the drop-off situated about 30 meters away. Ras Nasrani has the best shallow coral available to snorkellers in Sharm.
Thistlegorm Wreck - THE THISTLEGORM, its Gaelic name meaning BLUE THISTLE, was a British transport ship belonging to the Albyn Line shipping company, is 126.5 meters long, a capacity of 4,898 tons and had a `three-cylinder steam engine developing 1,860 HP that gave the vessel a speed of around 10 knots. The Thistlegorm was built to transport refurbished wartime materials for the British troops. In May 1941 with a crew of 39 men it had left the port of Glasgow, Scotland, with a cargo of munitions, bombs of different kinds, anti-tank mines, Lee Enfield MK III rifles, hundreds of BSA, BSA W-M20, Matchless G3L and Norton 16H motorbikes. Bedford, Morris and Ford trucks. Four light Brengun Carrier MK II tracked vehicles. Two steam Stanier 8 F locomotives complete with two coal tenders and water tankers. On the night of the 5-6 October 1941 two German Heinkel HE III bombers, coming from their base in Crete, sighted and attacked the ship. It was hit by two bombs on hold no.4 where the munitions deposit amongst other things was situated. The Thistlegorm sank in an upright position on a flat, sandy seabed 30 meters deep at 1.30 am on the 6th October 1941. Jacques Cousteau discovered the wreck in 1955 and mentioned it in an article published in February 1956 in the monthly National Geographic Magazine. Jacques Cousteau did not reveal the position of the wreck, thus it went forgotten for almost 40 years until 1991 when it was rediscovered by an Israeli skipper. In a short time, the Thistlegorm has become a great favorite with scuba divers from all over the world and is now the most visited wreck in the whole Red Sea.
Dahab - The small city of Dahab lies 80 KM north of Sharm el Sheikh and has seen considerable tourist development in the last few years. The number of scuba divers visiting its diving sites has risen amazingly, yet many of these divers are not clients of the over 30 local dive centers here but come from Sharm looking for different dives in a more relaxed and calm atmosphere. In contrast to Sharm el Sheikh where scuba diving is mainly by boat, in Dahab the sites are easily accessible by land and boats are rare. THE BLUE HOLE and CANYON representing the most beautiful and interesting diving sites for the underwater marine life and crystalline water.
Dive Center Information

---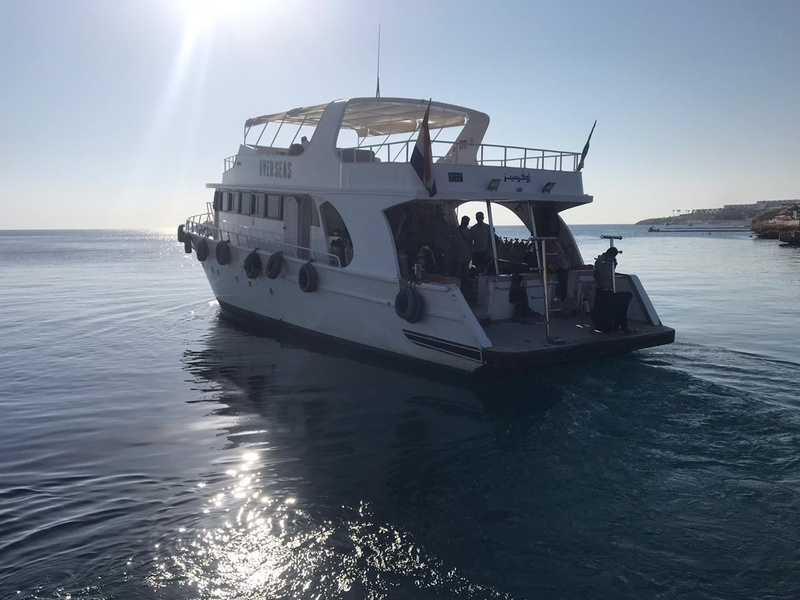 reef oasis blue bay Resort Dive Center Overview
With the combined experience of over 20 years in the Diving field, Reef Oasis Dive Club is ready to offer you only A-Class - top-notch Quality Scuba Diving and teach beginners all the wide range of the available PADI Courses in the wonderful waters of the Red Sea city of Sharm El Sheikh.
Read more about the Reef Oasis Dive Club.
REEF OASIS DIVE CLUB FEATURES
Free trial dive
Guided diving
Padi courses
Snorkeling trips
Free Nitrox
2 beautiful and famous house reefs: Temple and Far Garden
Complimentary transfers between hotels in Sharm and the dive centers
Other Information

---
Practical Information
Electricity: 220 V
Time zone: UTC+2
Languages: Arabic & English
Accept Credit Cards?: Cash & Credit Card (Mastercard & Visa)
Underwater Gallery

---