Destination: Philippines
San Vicente, Malitbog, Southern Leyte, Philippines 6603 | Room only + 2 dives from $85++ ppn

---
Treasure Bay Dive Resort Quick Pitch
Treasure Bay Dive Resort is a spacious and modern diving facility for scuba diving, PADI dive courses, resort accommodation, whale shark tour and fun diving in Southern Leyte, Philippines.
Treasure Bay Dive Resort Quick Stat
Dive Center: On-site
Amenities: AC, restaurant, bar, laundry area, massage
WiFi: Yes, free
Nearest International Airport: Mactan Cebu International Airport
How to Get There
Treasure Bay Dive Resort is located in barangay San Vicente in the municipality of Malitbog. Guests can fly in from Manila to Tacloban Airport.
Dive Overview
The Province of Southern Leyte lies between Bohol, Cebu, Surigao and Leyte. The area around Sogod Bay has more than 20 outstanding scuba diving sites, the few are considered the best in Eastern Visayas region or in the Philippines like the famous Napantao Wall in the municipality of San Francisco.
Accommodations
Types of Rooms, Amenities and Photos

---

Treasure Bay Dive Resort Room Overview
Treasure Bay Dive Resort has deluxe air conditioned rooms to offer, with amenities that include cable TV, refrigerator minibar, bathroom en suite (with hot & cold shower). Outside the rooms, there is a spacious terrace that you can see the beautiful view of Sogod Bay, witness the amazing sunrise and feel the ocean breeze.
Resort Facilities

---

Treasure Bay Dive Resort Features
Restaurant
Bar
Free internet
Reading books
Cable television
Laundry area
Massage, manicure and pedicure
TReasure Bay Dive Resort Food & Drinks
The restaurant is open daily from 7:00 AM to 9:00 PM. Menu is available on site in affordable price and also has few dishes for vegetarian.
The in house bar is open from 5:00 PM to 10:00 PM. It is well stocked with variety of red and white wines, vodka, cocktails, soft drinks and cold bear. They also offer fresh juices for those who does not like alcoholic beverages.

TREASURE BAY DIVE RESORT Activities
Explore Southern Leyte on four wheels vehicle or motor bike
Explore caves or waterfalls
Visit remote beaches
Mountain trekking
Package & Rates
The actual rates are based in PHP. The starting price indicated above may vary based on the current exchange rate.

---
Jump to:
Room Rates
Price rate for each room is about 2,500 PHP for 24 hours. Rates are subject to change without any further notice.
Dive Center Rates
| | |
| --- | --- |
| Dive | Rate |
| Boat dive with own diving equipment (per dive, includes MPA fee, snacks and light lunch) | ₱1,350.00 |
| Boat dive without diving equipment (per dive, includes MPA fee, snacks and light lunch) | ₱1,600.00 |
| Shore dive with own diving equipment (per dive, includes MPA fee, snacks and light lunch) | ₱1,150.00 |
| Shore dive without diving equipment (per dive, includes MPA fee, snacks and light lunch) | ₱1,400.00 |
| Whale Shark Tour (includes light lunch and snacks on the boat, free snorkeling equipment, interaction fee, conservation fee and the whale shark spotters) | ₱3,600.00 |
Can't find the information you need?
For more information on other packages, availability or any other inquiries, drop us an email at bookings@bluewaterdivetravel.com or call us at 310-915-6677 and we will gladly help you plan your dream dive vacation!
Dive Information & Itineraries

---
Sogod Bay Dive Sites
Sogod Bay is one of the most biologically diverse regions within the Philippines. The bay itself is colonised by hundreds, if not thousands of unique and bizarre marine creatures, just waiting to be discovered. The bay is composed of a multitude of outstanding diving sites, fringed by wonderfully diverse and stunning coral reefs, many of which are exceptional for "macro diving". With so much to offer to the marine enthusiast, Sogod Bay makes it impossible not to fall in love with diving all over again, generating a new found excitement in even the most seasoned divers.
Napantao Marine Protected Area - Napantao MPA have two incredible vertical walls (Toshi and Rio's Wall) one descend to 60 meters depth. The walls is decorated with soft corals, gorgonians sea fan and bushy black corals. At the top of the wall you can see a wide variety of fish species such as anthias, drummers and of course the resident whitetip sharks. On the northern side is a fringing reefs that consist of more than 50 species of hard corals that was perfect places for both new and experienced divers. This site is often visited by pelagic animals such as sharks, rays and manta. Other interesting species that probably seen during the dive are frogfishes, pygmy seahorse, flatworms, nudibranchs and sea slugs. Sometimes offers a great drift diving experience.
Sta. Paz Ghost Town - These muck dive site has an spectacular diving. Fabulous vertical wall down to 35 meters depth, wide variety of fishes and surprising macro critters all make the Ghost Town a great spot for divers, whether your expert or just beginner. Southern part is sandy area a perfect place to spot Mimic octopus, blue spotted ribbon-tail ray, flounder, dragonets and arminid nudibranchs. We cannot assure you that you will see all of the mentioned species but surely you will see few of it.
Limasawa Island - This dive site is not only famous for being a pelgrimage site for Roman Catholic Religion and Bat Sanctuary. But also well known by its underwater scenery. The two famous dive sites, Adrian's Cove and Zack's Cove is both inside the joint San Agustin - Lugsongan Marine Protected Area. The steep vertical walls starts from 20 meters depth down to 50 meters. Because its beyond the maximum depth for those who has an entry level certification we recommend other dive site within the MPA.
San Antonio Fish Sanctuary - These Fish Sanctuary was established for more than 20 years. Three years ago the sandy area was restored using branching acropora corals. The coral restoration was funded by the Provincial Government of Southern Leyte. Approximately 1,000 pieces of branching acropora corals tied in bamboo stick. Besides of having a nice fringing reef it offer also a Wall dive down to 30 meters depth. Resident turtle.
San Isidro Fish Sanctuary - It is made of a nice fringing coral reefs that provides great exploration opportunities for new divers and to all experience level. It is also a great place for fish spotters and coral reef lovers.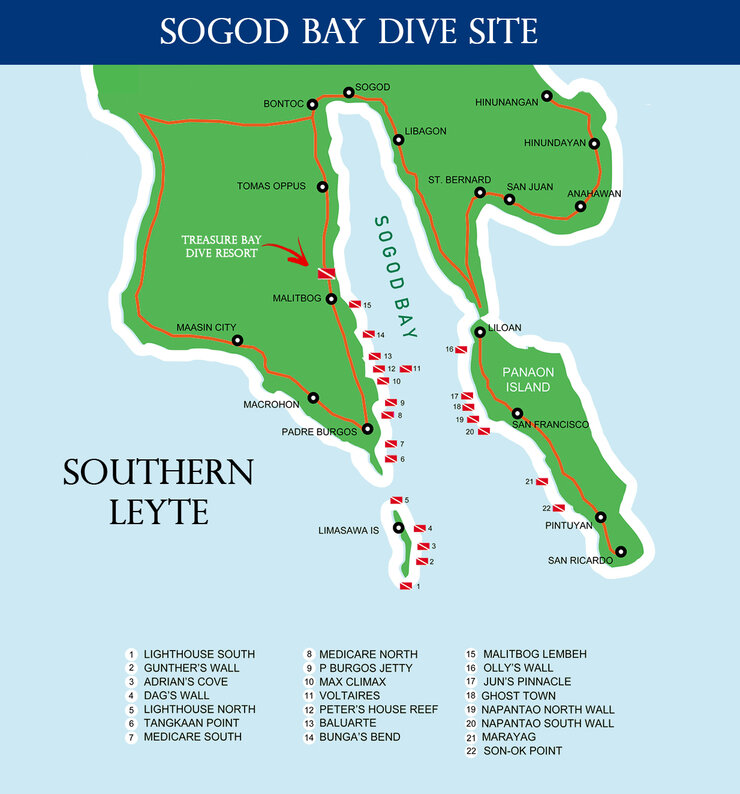 Whale Shark Tour
Whale shark is the largest fish in the sea, reaching a length of more than 40 feet and weigh in up to 60 tons. They characteristically known by their flattened head, blunt snout above its mouth with a short barbels protruding from its nostrils. The body have numerous white spots over grey to brown background.
They are known to migrate in a long distance to search for their favorite meal and to breed. To see close and swimming with them in their natural habitat is an experience that is worth chasing.
The town of Pintuyan is one of well-known destination for swimming with whale shark in the Philippines. Same as anywhere, the sighting is not 100% guaranteed, even the whole 3 hours of searching, but don't worry because the spotter is professional of their assigned work. They say it's rare that one left the area without having seen even one whale shark.
If you want to experience watching a free-swimming gentle giant the best month to sign-in is in the month of October to May. In Pintuyan the water visibility is better than any whale shark destination around Philippines.
The municipal tourisms office of Pintuyan discourages their visitors to feed the whale shark. All visitors who wish to swim with the whale shark are given a short briefing about how to responsibly interact and some safety precaution. After the briefing the hunt start, local spotters board their paddle boat to look for the whale shark shadow underwater and dorsal fins that emerged at the surface.
Dive Center Information

---

Treasure Bay Dive Center Overview
Upon arrival at the dive center, a miscellaneous dive crate is allocated to each diver for personal dive gear. If you have no diving gear, the friendly staff will help you find your size before the dive. All dive gear is marked with your name, helping the boat crew to identify everyone's gear so that they can set up your kit at the start of each day. The dive equipment for rent on site Includes Aqua Lung BCD, Regulator, Wetsuits, Fins, Botties, Compass, Dive Computer and more. All dives are limited to 30 meters depth and 60 minutes underwater time for safety, but there is no need to worry about missing anything, as the best parts of the wonderful coral reef are in shallows anyway. The dive guide to divers ratio is 1:6 but for newly divers it should be less than 6 divers.
Other Information

---
Practical Information
Electricity: 220V
Time zone: UTC+8
Languages: Tagalog & English
Underwater Gallery

---
Coming soon!