Destination: Bahamas
Itineraries: Bahamas (6 nights) | From $166++/night

---
Blackbeard's Cruises Quick Pitch
Blackbeard's Cruises offers great value dive liveaboard for through two sailboats: The Morning Star and Sea Explorer, each one accommodating up to 22 divers in fully air-conditioned cabins. The perfect solution to fulfill your passion for diving in the Bahamas without breaking the bank!
Why You'll LIke Blackbeard's Cruises
Only $995 per week for up to 19 dives: great overall value for money!
All meals, snacks, and beverages (including beer, wine, and rum punch!)
Fully air-conditioned dormitory style cabins
Over 35 years of experience diving in the Bahamas
Liveaboard Location
Embarkation and disembarkation are from Nassau. The nearest airport is Nassau International Airport (NAS).
Dive Overview
Blackbeard's Cruises offers liveaboard scuba diving vacations to the Bahamas Out Islands. Experience the Caribbean's largest variety of diving including shark dives, walls, high-speed drift dives including the Washing Machine, night dives, blue holes and the beautiful coral reefs of the Exumas Land & Sea Park.
[Read More: Bahamas Dive Travel Guide]
This Great Video Will Show You What It's Like to Dive with Blackbeard's Cruises!
Accommodations
Types of Cabins, Amenities and Photos

---
Blackbeard's Cruises Accommodation Overview
The three dormitory style cabins with shared baths and shower accommodate 6-8 guests in each. Bunk beds have privacy curtains and personal space to store your belongings.
What to Expect
Sleeping Cabins 1-4 upper and lower bunks are single bunks with curtains for privacy. There is more privacy here but less space. 5 and 6 upper and lower bunks are double bunks meant for two people to share. This is typically where couples are housed. 7, 8 and 9 upper and lower bunks are in the main salon. These bunks are double wide but usually only sleep single passengers. There is less privacy here but more room. Think camping on the high seas only better!

Blackbeard's Cruises Cabin Details
BERTHS #1-2 are upper and lower berths. Ideal for single travelers. Accommodates 4 singles.
BERTHS #3-4 are upper and lower berths. Ideal for single travelers. Accommodates 4 singles.
BERTH #5 is an upper and lower double berth that accommodates 2 couples. These berths offer the most privacy for couples.
BERTH # 6 is an upper and lower double berth that accommodates 2 couples. These berths offer the most privacy for couples.
BERTH # 7-9 are 6 double berths in the main salon and galley area. These berths provide accommodations for couples or singles. These are the least private accommodations, however, berths are the most spacious for single passengers.
General Facilities

---
Blackbeard's Cruises Boat Features
Fishing gear
Free freshly cooked meals 3x daily and free beverages
Dorm-style bunks with AC below deck
Showers
Kitchen (galley)
Dive equipment rental available
Diving courses available (from Beginner to Advanced & Specialty Courses)
Dedicated rinse tank for cameras & 1 tender
Schedule & Rates
Blackbeard's Cruises Liveaboard Rates & Schedule

---
Morning Star's Schedule, Rates & Availabilty
Prices are in USD, per person. Prices are in USD, per person.
See also: Inclusions & Exclusions Back to Menu Other Options
Sea Explorer's SCHEDULE, RATES & AVAILABILTY
Prices are in USD, per person. Additional port fee of USD 135.
INCLUSIONS
Bunk accommodations
Up to 19 dives including night dives
All meals and snacks served picnic-style
Beverages including juices, soda, beer, wine and rum punch
Tank, weights and weight belts
EXCLUSIONS
Fees and taxes
Rental gear
Scuba instruction
Crew gratuity
Transfers to and from airport
Dive and snorkel gear (available for rent)
Spending money on port night (Thursday)
Pre or post hotel stays
Airfare to Nassau
Dive Information & Itineraries

---
Typical Blackbeard's Cruises Schedule & Itinerary
Blackbeard's 7-day dive trips shove off at 3 pm each Saturday. All passengers disembark by 9 am on the following Friday. Please keep in mind that there is no set itinerary. The leader will take you to go where conditions and weather are the best to offer you an adventure of a lifetime!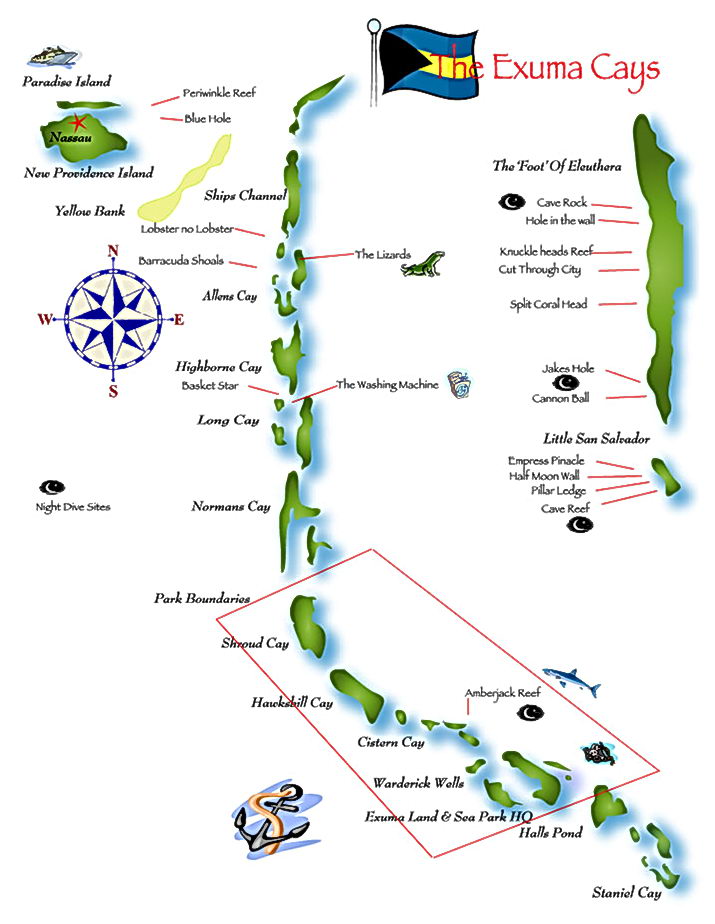 Dive Overview
You'll be diving up and down the Exuma Sound, an abyss that drops over 4,000 feet to the ocean floor! The Exuma Cays are known for their wonderful reef dives due to the protection they receive from the Land and Sea Park sanctions. You might dive Eleuthera but that is also weather dependent. Our specific itinerary varies with the winds to obtain maximum visibility for diving. The depths normally range from 20′ to 120′. There are swift drifts between the cays as well as a blue hole that divers will love.
What to Expect During the Dives
Experience a variety of scuba diving like no other place in the Caribbean. The variety of dive sites in the Exuma Cays is truly unique and offer opportunities not available elsewhere and they can only be reached on a liveaboard. Each week we offer a great variety of diving including thrilling shark feeding dives, walls that begin as shallow as 40′ and slope over the edge where large pelagics are frequently seen, exhilarating high speed drift dives through the cuts of the cays, blue holes which are banked by patch reefs with huge schools of fish as well as other wonderful sites.
Shark Diving with Blackbeard's Cruises
The trips to the Exumas, Exuma Cays and Eleuthera's Split Coral Head allow Blackbeard's divers the chance to check off items found on their must-do list – to swim and observe sharks. The most common type of shark encountered on these dives are the Caribbean reef shark and the nurse shark which usually rests on the sandy bottoms. Underwater photographers can capture many close up images.
If Blackbeard's divers are lucky, the shark gods bestow appearances by hammerheads, lemon sharks, tiger sharks, bull sharks, whale sharks and the black nose shark.
A highlight of the trip is a passive feed, where divers can observe sharks and their behaviors. Afterward, a popular activity is the search for the ultimate souvenir – a shark's tooth.
Check Out This Awesome Night Dive Video!
Other Information

---
Boat Specifications
Year Built: 1979
Year Renovated: 2018
Sailing Rig: Sloop
Length: 65 feet
Beam: 19 feet
Draft: 6 feet
Cruising speed: 7 knots
Engines: 137 HP Ford Leyman
Generator: Isuzu 35KW
Air Compressors: Yes
Water Capacity: 635 gallons
Water Maker Capacity: 10 gallons/hour
Fuel Capacity: 510 gallons
Tenders: 1-12 ft inflatable
Sail area: 1,700 sqft
Dive Compressor: 17 cu ft/min
Maximum guests: 22
Cabins: 18
Underwater Gallery

---