Destination: Indonesia
North, Central & South Komodo (2-5 nights) | From $270++/night

---
Dragon Dive Komodo Quick Pitch
Dragon Dive LB's Shenron is a Phinisi boat: a traditional Indonesia wooden sailing ship built in 2017. The liveaboard offers 3, 4 or 5 scuba diving day safaris to Komodo National Park, catering to a maximum of 12 guests.
Why You'll Like Dragon Dive Komodo
Offers short cruises
Ultra comfort at affordable price
Full board accommodation
1:4 guide to diver ratio
Location
All trips depart from Labuan Bajo.
Dive Overview
There is an amazing and huge variety of fishes, breathtaking and untouched coral reefs, big fishes hunting actions, and pelagic fishes at nearly every dive site around the Komodo National park. You will also be able to observe numerous whitetip and blacktip reef sharks and with a little bit of luck, you can encounter bigger sharks like the Grey Shark and the Hammerhead Sharks!
You will be able to dive remote dive sites that daily trips can't reach. You will discover the beauty of the South of Komodo and its legendary dive sites such as 3 sisters, and hopefully, meet the Blue Whales sometimes spotted from the boat in South Komodo!
[See: Komodo Dive Travel Guide]
Accommodations
Types of Cabins, Amenities and Photos

---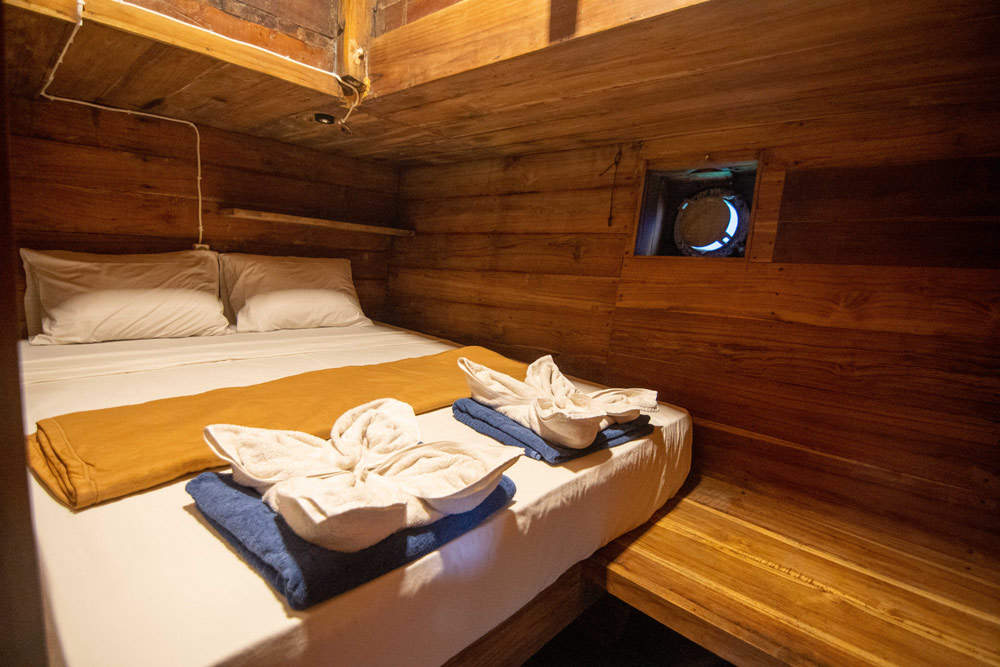 Dragon Dive Komodo Accommodation Overview
The boat has 2 double cabins with private bathroom and balcony situated on the upper deck, plus 4 double beds in a dorm setup with shared bathroom on the lower deck.
General Facilities

---
briefing cabin (L) & sundeck (R)
Dragon Dive Komodo Boat Features
Open dining room
Relaxing top sundeck
Air compressors BAUER Poseidon 200 & Coltri 270
2 Speedboats
New closed briefing cabin
2 extra outdoor desks for chill out
Food & Drinks Aboard the shenron
The amazing chef will prepare Indonesian and international cuisine, made onboard daily.
Schedule & Rates

---
Prices are in USD, per person and are based on the lowest priced cabin. Port and park fees are not included. Full charter is also available, contact us for details.
[See also: Inclusions & Exclusions]
Inclusions
Meals, coffee, and snacks between dives

Dive guides
Excursions in Rinca
Exclusions
Hotel or Airport transfers to Dragon Dive Komodo Labuan Bajo not included but can be arranged
Aircraft tickets
Visas, airport charges and extra luggage
Cancellation, diving, travel and repatriation insurance are not included
Soft drinks, alcoholic drinks
Staff tips (allow 25 USD per participant)
The reusable aluminum containers and mugs available must remain on board
National park fee (Rp 275,000 -Mon to Saturday & Rp 350,000 – Sunday & Public Holiday)
Komodo rangers & Trekking fees will have to paid on RINCA island directly (Rp 125,000/pax)
Basic equipment (BCD, reg, wetsuit, mask, fins, weights, tank)
Dive courses
Rates & Availability
For more information on the rates and on availability email us at info@bluewaterdivetravel.com or call us at +1-310-915-6677 and we will gladly help you plan your dream dive vacation!
Dive Information & Destinations

---
Trip Overview
You will find an impressive and immense variety of fishes, absolutely fascinating and garnished reefs, as well as all kinds of predators such as groupers, karangs, tunas or reef sharks. From time to time pelagics such as the famous Mola Mola can be seen in the north of Komodo Park.
All this undersea life will make absolutely incredible scuba diving memories. With a little luck, you can also come across grey sharks and hammerhead sharks!
One of the main reasons for coming to Komodo is the annual abundance of Manta Rays that will daily perform ballets in front of you.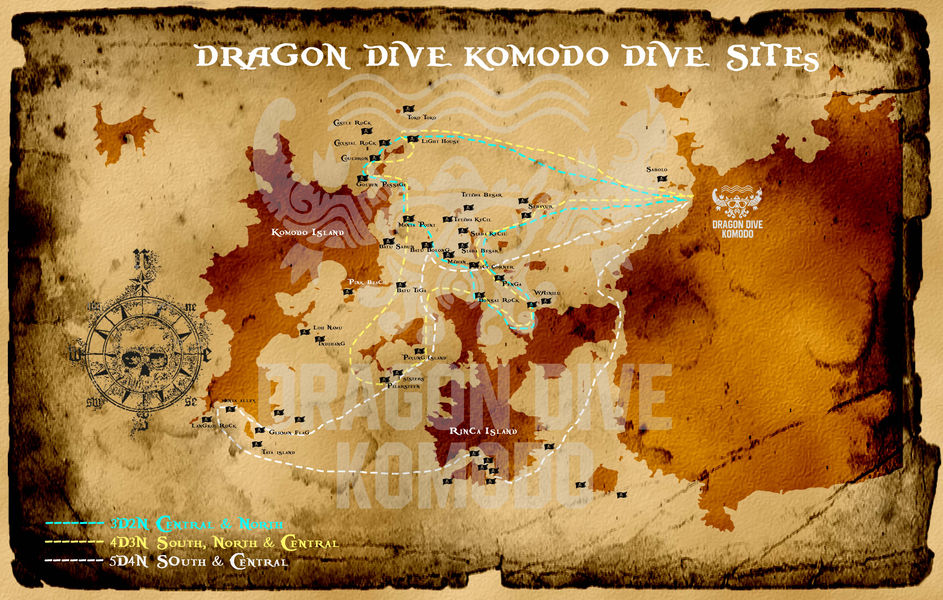 3 Days / 2 Nights 9 Dives, Central, North & Trekking Komodo Itinerary
Day 1: 2 dives Central + Night Dive
Day 2: Trekking in Rinca + 2 dives Central & Night Dive
Day 3: 3 dives on North Side: Crystal Rock, Castle Rock & Cauldron
End of Dive 2PM
4 Days / 3 nights 12 Dives, Central, South & North, rinca & Trekking padar Itinerary
Day 1: 3 Dives & Night Dive
Day 2: Hiking in Rinca + 2 Dives
Day 3: Hiking in Padar + 2 dives & Night Dive
Day 4: 3 dives on North Side: Crystal Rock, Castle rock & Cauldron
End Of Dive 2PM
5 days / 4 Nights 15 Dives, South Komodo & Padar Itinerary
Day 1: Departure from Labuan Bajo around 8/9:00am, 2 dives & 1 night dive
Day 2: 3 Dives in South Rinca
Day 3: Cruise to South Komodo (following meteo), 1 or 2 dives on Manta Alley + 1 Night Dive
Day 4: 1 dive around South Komodo , 2 Dives in Padar (ex: Three Sisters, Pilaarsteen (Stone Pillar), Secret Garden), Trekking on Padar.
Day 5: 1 Dive in Padar Padar, 2 dives in Central Komodo (ex: Batu Bolong & Siaba Kecil) Return to Labuan Bajo around 5/6:00 PM.
Total of 15 dives with 2 night dives.
Other Information

---
Boat Specifications
Length: 24 Meters
Width: 4.5 Meters
Materials: Ironwood Hool & Teak wood
Capacity: 120 Tons
Building Year: 2017 (modified in July 2019)
Speed: Up to 12 Knots/Hour
Engines: 6 Cylinder Mitshubishi & 4 Cylinder backup
Backup Electricity Battery Solar Panel 12V
Fresh Water: 6,000 Liter
Navigation: GPS, Compass
Communication: VHF Radio
Compressors: BAUER Poseidon 200 & Coltri 270
Practical Information
Time Zone: UTC+8
Local Currency: Indonesian Rupiah (IDR)
Language: English, German, French, Spanish, and Indonesian
Electricity: 220 Volt
Underwater Gallery

---