ferox liveaboard, colombia
Malpelo Island and Gorgona (4 - 11 nights) | From $400++/night

---
THE FEROX quick pitch
A former ice class Swedish Navy Ship (Mine Layer), the Ferox is not your typical liveaboard. Selected after a worldwide search, this 11mm steel hull vessel is run by the Colombia Dive Adventures and is one of the most robust liveaboards on the water. The Ferox is powered by twin Scania engines, ensuring fuel consumption is both reliable and environmentally friendly.
why you'll like the ferox
One of the most robust liveaboards on the water
Environmentally friendly due to low fuel consumption
Itineraries exploring Malpelo Island, where one can encounter hammerheads, silkys, eagle rays, and more!
Location
Colombia Dive Adventures offers private transport from Cali (CLO) to Buenaventura which takes approximately 3 hours. From there, guests are taken to the Ferox where they will participate in vessel safety drills.
Dive Overview
Malpelo Island, or the Malpelo Fauna and Flora Sanctuary, lying over 300 miles off the coast of Columbia, is unique to other islands in the Eastern Pacific. First of all, it is only eight square kilometers. Barren and nearly vertical cliffs of the island expose the summit of the three-hundred-kilometer-long volcanic ridge rising from the ocean floor at a depth of nearly 3 kilometers.
With such a small island size and the entire ocean abyss encircling, the concentration of pelagic life in Malpelo waters is enormous. Scuba diving in Galapagos and Socorro (Revillagigedo) archipelagos pale in comparison. Even Cocos Island, solitary but still a larger island, does not have the geological advantage of Malpelo. Malpelo was designated a UNESCO World Heritage Site in 2006.
[See: Malpelo Island Dive Travel Guide]
Accommodations
Types of Cabins, Amenities and Photos

---
the ferox Cabin Overview
The Ferox can comfortably accommodate up to 12 guests in its 10 cabins. 2 Queen Bed Cabins, 2 Full Bed Cabins, and 6 Single Bed Cabins are located on either the Main Deck or Lower Deck. All cabins are private, come complete with an ensuite bathroom, and are fully air-conditioned.
Single Bed Cabins
General Facilities

---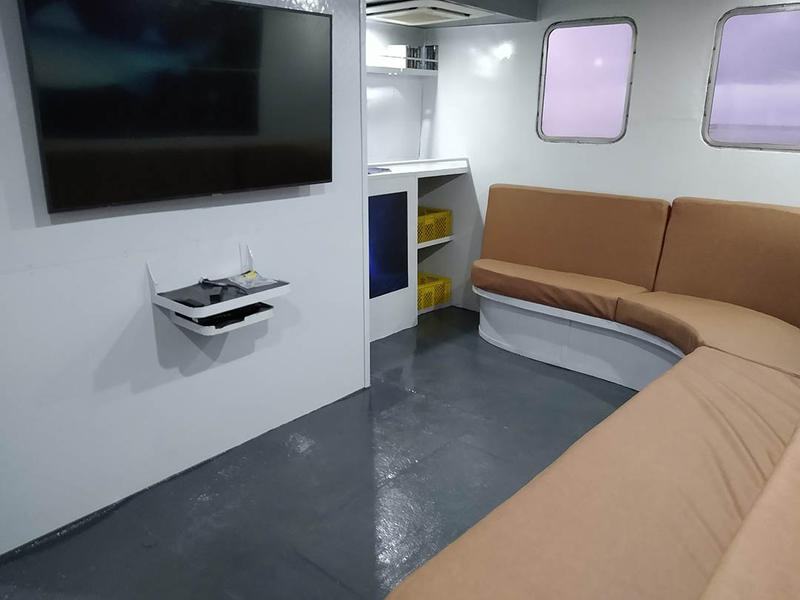 the ferox Boat Features
Sun deck
Indoor Saloon
Bar
Audio & Video Entertainment
the ferox Dive Facilities
Nuvair 26 High Pressure Air Compressor (20HP)

Nuvair LP420 Nitrox Generator
Nuvair Minitech MCH 16 High Pressure Air Compressor (7.5 HP)
Cascade system made up of 14 HP cylinders
2 x self righting Rigid Inflatable Boats
Food & Drinks Aboard the ferox
A variety of Western and local food is served buffet-style aboard the Ferox. The kitchen crew are also more than willing to accommodate any dietary restrictions as long as they are given advance notice. Snack, soft drinks, and alcoholic drinks are also available.
Schedule, RATES & Availability
The Ferox Schedule & Rates

---
cabin rates
Prices are per person in USD.
| | | | | |
| --- | --- | --- | --- | --- |
| Cabin Type | 4N in Gorgona | 9N in Malpelo | 10N in Malpelo | 11N in Malpelo |
| Queen Room | $1,700.00 | $5,150.00 | $5,450.00 | $5,750.00 |
| Full Cabin | $1,700.00 | $5,350.00 | $5,650.00 | $5,950.00 |
| Single Cabin A | $1,640.00 | $5,050.00 | $5,350.00 | $5,650.00 |
| Single Cabin B | $1,600.00 | $4,950.00 | $5,250.00 | $5,550.00 |
| Single Cabin Main Deck Portside | $1,150.00 | $4,900.00 | $5,200.00 | $5,500.00 |
| Single Cabin Main Deck STBD | $1,500.00 | $5,200.00 | $5,500.00 | $5,800.00 |
Inclusions
All meals, snacks, and non- alcoholic beverages including fresh fruit juices and of course Colombian coffee

Transfer from Intercontinental Cali to Buenaventura and back to Cali
Experienced Dive Guides
NITROX fills
Usage of Personal Locator Beacon (McMurdo S10) during the dives
Usage of Surface Marker Buoy during the dives
Malpelo: 3 dives per day with exception of last day, which is limited to 2 dives (night dives are not permitted)
Gorgona: 3 dives per day and for certified divers additional night dives
Exclusions
National Park fees ($118.000 COP per diver per day at Malpelo. Approximately $34 USD per diver per day at Malpelo subjet to exchange rate)

Alcoholic beverages are available at reasonable prices (please note that guests are restricted from bringing their own alcohol, if guests have a special request, we will do our best to accommodate, please advise at time of reservation)
Satellite phone communication is offered at USD 5 per minute (there is no Internet available on the boat)
Crew gratuities if guests find the service deserving
Rental equipment and courses (see price list below)
RAtes & Availability
For more information on rates and availability email us at info@bluewaterdivetravel.com or call us at +1-310-915-6677 and we will gladly help you plan your dream dive vacation!
Dive Information & Itineraries

---
DIVING IN MALPELO
Unbelievable, period. The best way to describe Malpelo is not through individual stories about individual dive sites, because Malpelo is one big dive site. You can encounter many animals pretty much anywhere around the island. We're talking about a genuinely wild place and truly wild animals. No sitings are guaranteed, but the chances of unique encounters are very, very good. If your first trip is Malpelo, you will have serious problems finding your next destination. Most other places will look dull and boring. That is how some divers feel after diving Cocos, and how many feel after Malpelo.
To dive at Malpelo, you should have at minimum AOW certification and have experience with dive 60-130ft. You should also be comfortable with your ability to handle strong current, surge, high swells and live entries to an immediate negative descent. This is because most of the dive sites do not allow for anchorage or moorings, and many of them are small underwater pinnacles. With the speed of the currents in the area, if you linger at the surface to tinker with your gear, or if you have equalization problems that slow your descent, you will likely get blown off the dive site and end up drifting in open water until the skiff can retrieve you. The group cannot split to wait for you in that current. Nitrox is also a must as dive groups must descend and ascend together, so you if your group is on nitrox you will need to be as well. On top of that, Eastern Pacific diving without nitrox is just not a good use of hard-earned money since there is so much to see on every dive. if you don't have your nitrox certification before your trip, let the liveaboard know and they can arrange to certify you onboard.
In open ocean diving your safety sausage should be big - about six feet. A smaller one might be obscured by the waves, and once deployed your next stop might be Australia.
Overall, you also need to stay very conservative in Malpelo because the nearest decompression chamber does not exist - plain and simple.
For your dive gear, you'll want fins that perform well in currents and the rest of your gear to be as streamlined as possible. Some divers have recommended long stiff fins like the Cressi Gara, which are clumsy in the panga but indispensable in currents. Whale sharks do not pose for photos so you'll need to exert a lot of effort in swimming next to them.
Since there is not much coral around, damaging the reef with long fins is not a huge concern, but divers should still be aware of sea life around them. When diving shallows near the wall, divers shouldn't brace themselves against the rocks. In high swells, it is safer (and more fun) to move with the water. The same rule applies when taking photos in the grotto - do not grab the rocks. There are plenty of nasty eels in Malpelo. Free swimming morays are a trademark at Malpelo and lots of fun to watch.
For exposure protection, a 7mm wetsuit, hood and gloves are recommended. Though surface water temps can reach the 70s (F), below the shallow thermocline the temperature can quickly drop. Drysuits are discouraged due to the additional drag in currents and surge.
sample itinerary
DAY 1: WELCOME ABOARD
Private transport from Cali to Buenaventura (approximately 3 hours). Upon arrival in Buenaventura guests will be transported to the at anchor Ferox. Guests will participate in vessel safety drills.
DAY 2: TRANSIT TO MALPELO
General Dive Briefing / National Park Briefing / Equipment Set Up.
DAY 3: ARRIVE TO MALPELO
We arrive at Malpelo, after a dive briefing and safety checks, we will begin dive operations.
DAYS 3-8: DIVING DAYS
The number of days may vary depending on the dates chosen: 3 dives a day.
DAY 9: RETURN DAY
Two dives before returning to Buenaventura.
DAY 10: TRANSIT TO BUENAVENTURA
Crossing day.
DAY 11: END OF THE TRIP
Arrival at the port of Buenaventura after approximately 30 hours of navigation. Private transportation to Cali.
Other Information

---
Boat Specifications
Year built: 1991
Year renovated: 2017
Length: 31m
Width: 7m
Engines: 2x SCANIA DS11 57M22U 230 Kw / 308 HP@ 1800 rpm
Max guests: 12
Number of cabins: 8
Number of bathrooms: 8
Generator: Diesel
Tenders: 2 AVON SR 6 & 1 DELTA
Compressors: Nuvair 26
Nitrox Membrane: Nuvair LP420
Practical Information
Time Zone: UTC-6
Local Currency: Colombian Pesos
Language Spoken: English & Spanish
Electricity: 110 V
Payment Onboard: Cash (COP, USD or EUR)
Underwater Gallery

---