Destination: Indonesia
Bunaken, Lembeh, Buyat Bay, Togian Islands, Tompotika, Sangihe Islands, Halmahera (5- 11 Nights) | From $260++/night

---
klm sunshine Quick Pitch
Explore some of the more remote dive spots in North Sulawesi with KLM Sunshine. This three-deck traditional Indonesian phinisi offers multi-day diving safaris in the most interesting areas. With an experienced and dedicated team dedicated, KLM Sunshine embarks to find new and exciting dive sites.
KLM Sunshine is operated by Blue Bay Divers. Check out their dive resort here...
Dive Overview
KLM Sunshine offers multi-dive safaris to Bunaken, Lembeh, and other areas in North Sulawesi. The islands around Bunaken offer some of the best coral reef diving in Southeast Asia, with large numbers of schooling fish racing by on most dives. Bunaken is primarily wall diving. Some walls have a visible bottom below recreational dive limits while others have no visible bottom. There are almost always currents, creating anything from a very mild drift dive to undiveable and dangerous conditions. Because of this, there are dives to suit divers of all skill levels. Some of the best critter diving in the world is nearby in Lembeh Strait. Underwater photographers flock here from all over the world to see a myriad of critters, frogfish, pipefish, nudibranchs, seahorses, juvenile fish, and other exotic animals.
[See: Lembeh Dive Travel Guide & Manado and Bunaken Dive Travel Guide]
Check out this amazing video!
Accommodations
Types of Cabins, Amenities and Photos

---
klm sunshine Overview
Guests can choose between the Double Cabins or the Owner's Cabin aboard the KLM Sunshine. The two Double Cabins and the Owner's Cabin are located on the lower deck, while the other two Double Cabins are located on the upper deck. All the cabins are air-conditioned, and a maximum of 8 - 10 divers can be accommodated onboard. Each cabin also has its own bathroom, shower, and toilet.
General Facilities

---
klm sunshine Boat Features
Sun deck
Spacious Chillout Area for relaxation and briefings
Restaurant
Diving platform
Charging station for dive equipment
Dive boat
klm sunshine Liveaboard Deck Plan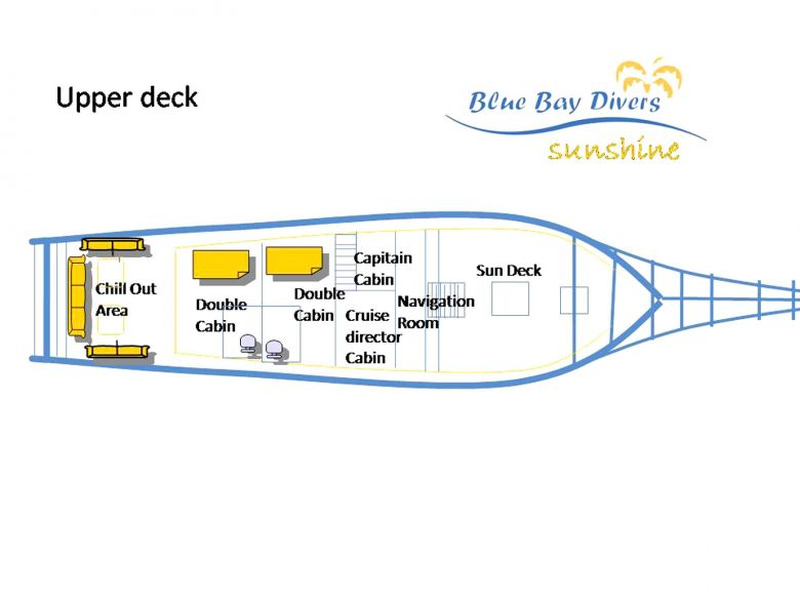 Schedule, Rates & Availability
KLM Sunshine Schedule & Rates

---
Rates are per person in USD. Prices do not include the following mandatory extra costs: port clearance (€100), conservation (€50), and nitrox (€100).
Looking for a land option? Check out the Blue Bay Diver Dive Resort.
[See also: Inclusions & Exclusions]
Inclusions
Accommodation onboard
Fullboard & drinks available
3 Dives per day
Exclusions
Port clearance
Conservation fee
Nitrox

Please be aware that the national park and harbor fees can be changed by the local government, harbor officials or national

park authorities without any advance notice prior to the trip.

In the case that the price of oil goes through the roof,

KLM Sunshine and Blue Bay Divers reserves the right to charge guests a fuel surcharge.
RATES & AVAILABILITY
For more information on departure dates that are not listed and availability please email us at info@bluewaterdivetravel.com or call us at +1-310-915-6677 and we will gladly help you plan your dream dive vacation!
Dive Information & Itineraries

---
lembeh strait and bunaken tour
Bunaken - Whether you are interested in shoals of fish or muckdiving, this tour will get you started. We bring you the steep walls of Bunaken, shoals of fish off Manado Tua, show you the barracudas and hammerhead sharks off the islands of Montehage and Nain. You'll see the black sandy soils of Popoo and Bethlehem, head for Manado dive sites with us before heading back to Sahaung via Tanjung Tarabitan and Gangga/Lihaga. Depending on your wishes this tour can be longer or shorter.
Lembeh - Black sand bottom and critter at Lembeh or corals like before Lion Head, Batu Punteng, Batu Kapal, or Angels Window. Whatever your special interest, this tour has it all. You can also dive with us at night and early in the morning or go south of Lembeh on a wreck exploration tour – if the weather allows, you can also go to the open sea… You could combine this tour with the Bunaken tour, this trip takes six to seven days. So you could conquer two territories without resort hopping.
Tompotika Central Sulawesi
Tompotika is THE new Dive Area in Central Sulawesi at the Moment.
The Tompotika Dive Sites are located on the east coast of Central Sulawesi at the tip of the Balantak Peninsula, Pulau Dua. The nearest airport is Luwuk and can be reached by domestic flights from Manado or Makassar. We are happy to help you with the booking of the flights.
KLM Sunshine cruises into this region in the months of July and August. Before and after the Tompotika Tours, our Vessel will cruise from Bangka – via Lembeh Strait, Gorontalo, Una Una, and the Togian Islands to Pagimana. These Cruises offer a high variation in diving, including Lembeh Strait and Togian Islands.
The trips for Tompotika then start from Pagimana and already offer unique dives and also above water scenery on the way to the Tompotika region. The dive sites in the region are mostly rocky reefs that concentrate a rich marine life. The reefs are dry or large rocks covered with a very dense fixed fauna: black coral bushes, gorgonians, and extremely colored soft corals where the fish abound.
Along the coast are "muck" dives. On the sand or on dashing reefs, these dives are conducive to the discovery of the macro creatures that made the reputation of Sulawesi, such as frogfish, ghost fish, mimetic octopus to name a few. The dry and rocky peaks offer dives more exposed to currents, with many schools of fish and pelagic.
Sangihe-Archipel-Tour
The islands of Biaro, Tagulandang, Siau, and Mahengetang form the Sangihe archipelago, some 200 kilometers north of Sahaung. Since the sea can be very rough here, this tour depends on weather and waves.
Biaro Island - The first in the chain of islands, recognizable by a shiny 200-meter cliff in the south. A large flooded depression opening to the sea on the western side forms a sheltered spot. The sunken rock needles "Bomb Rock" and "Zaccharias Rock" in the north of the island show amazing coral growth, and "Kalokoki" is a gently sloping reef with incredibly colorful soft corals.
Ruang and Tagulandang Island - These two islands offer several good dive sites. Around the two lava rivers off Ruang there are large schools of fish; black lava rocks form an impressive contrast to the colorful marine life. Siau Island: At night you might see the crater of Karangetang volcano glowing, it is one of the most active volcanoes in Indonesia. Therefore it can be that you hear a slight rumbling while diving – then the volcano rumbles again. The underwater biotope here is as diverse as on the steep wall off Batu Lehi, which also has a hot spring on the beach.
Mahangetang - These small islands have an underwater volcano that reaches over 500 meters deep to just below the surface. Another large volcano forms the southern end of Sangihe Island. Diving here is simply stunning due to the island's remoteness and visibility in crystal clear waters of up to 40 meters.
Halmahera-Tour
Halmahera, the largest island of the Moluccas, lies in the middle of the coral triangle between the famous diving areas of North Sulawesi and Raja Ampat. The dive sites off Halmahera are considered untouched by diving tourism.
The tours with KLM Sunshine take you via Lembeh, the islands of Tifure and Bacan Labuha to the Nappo Atoll. We continue on to Siko Island via Taneti (Aquator Point and Manta Bay) to Lata Lata and Dragon Rock.
The Halmahera Walking Shark, Mantas, Baracuda schools, white and blacktip reef sharks, but also dwarf seahorses of the species Denise, Pontohi and Bargibanti, which was only discovered in 2013, await you on this tour. You can dive with us into untouched reefs and intact coral gardens.
Other Information

---
Boat Specifications
Length: 30.75m
Breadth: 25.50m
Engine: Mercedes OM423, 470 hps
Generators: two with 50 kW and one with 15 kW
Compressors: two Bauer Poseidon and one Nitrox system
Tanks: 30 Nitrox Tanks
Navigation: Echolot, GPS, Radar, Radio
Satellite phone: ISAT phone Pro
Search and Rescue Transmitter: TRON AIS-SART
Life raft: for 10 persons
Lifebelts: 6
Life Jackets: 20
Satellite Communicator: Garmin Inreach SE®+ with Protegear Vesseltrack
Practical Information
Time Zone: UTC+8 & UTC+9
Local Currency: IDR (Indonesian Rupiah)
Language Spoken: Indonesian & English
Electricity: 220V
Payment Onboard: Cash (USD, EUR, or IND)
Underwater Gallery

---
Coming Soon!