Destination: seychelles
Outer Atolls and Aldabra (14 Nights) | From $1,031++/night

---
maya's dugong Quick Pitch
Originally built for research purposes, this versatile vessel can be utilized for a variety of different maritime needs, making it perfect for planning a scuba diver's ideal vacation. With large deck space areas and modern equipment, this hybrid vessel can handle a variety of tasks at the open sea. Maya's Dugong is efficient and economical, boasting a powerful lifting capacity. This fantastic vessel is also are managed by Silhouette Cruises.
Why You'll Like the maya's dugong
Versatile vessel that will be sure meet the diver's every need
Large deck areas for relaxation and activities
Crew focused on service and hospitality
Explore some of the best diving in the Indian Ocean
Sea & sports activities as well as land excursions
Dive Overview
Seychelles offers some of the best diving in the Indian Ocean. The Outer Islands consist of 74 coral atolls and reef islands. The three inner islands of Mahé, Praslin and La Digue are where most of the tourism and scuba diving industry is located. Wreck dives are available in some areas, while wall dives, drop-off dives and drift diving opportunities might only be found on the islands to the south.
[See: Seychelles Dive Travel Guide]
Accommodations
Types of Cabins, Amenities and Photos

---
maya's dugong Overview
Maya's Dugong offers guests a total of seven en-suite cabins that can be separated into two categories: the Commander Cabins and the Explorer Cabins. There are three Commander Cabins located on the Upper and Mid-Decks, while the four Explorer Cabins are located on the Lower-Deck. All cabins are fully air-conditioned and come complete with reading lights and storage. A maximum of 22 guests can be accommodated comfortably onboard.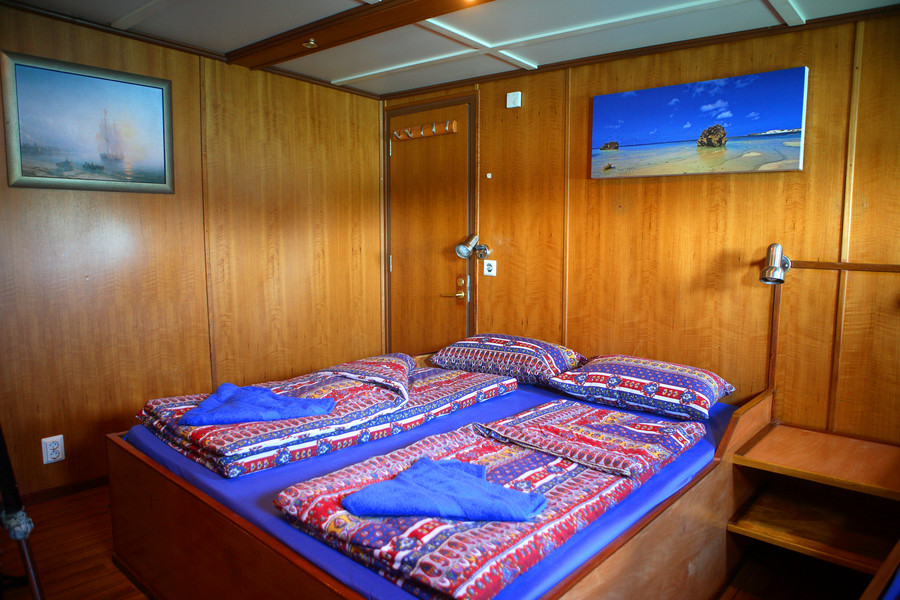 Commander Cabin
General Facilities

---
maya's dugong Boat Features
Spacious upper deck
Outdoor dining area
Fully air-conditioned dining room and saloon

Flat-screen TV in the Dining Salon/Lounge

DVD player & Stereo

Games, cards, small library

Ice Machine

Laundry

Dive tender
Food & Drinks Aboard maya's dugong
Meals on Maya's Dugong are full board with chefs preparing mouth-watering meals that are an enticing blend of authentic Indian Ocean cuisine and traditional European flavors. Beverages such as water, coffee, and tea are served with all meals, with other beverages available onboard for an extra charge. Afternoon coffee and tea are also included, as well as cake.
Schedule & Rates
Maya's Dugong Schedule & Rates

---
All rates are in USD. For more information regarding FIT or charter bookings, please contact us.


Rates & Availability
For more information on rates and availability email us at info@bluewaterdivetravel.com or call us at +1-310-915-6677 and we will gladly help you plan your dream dive vacation!
Dive Information & Itineraries

---
Aldabra expedition
Aldabra has inspired ancient explorers, some of the world's most famous scientists and the modern travellers of today. The name itself is a mystery, believed to be a word of Arabic origin but with any number of theories about its actual meaning, which could be 'green' or 'door-knocker' or possibly the navigational star Aldebaran.
Indeed, it seems there has always been a mythical aura attached to the name of the most far-flung and isolated of all the islands of the Seychelles archipelago. The giant tortoises on the island form by far the world's largest population and the marine life is prolific. The last surviving flightless bird of the Indian Ocean, the Aldabra Rail, is found only here as are many other unique land birds and it is a vital breeding ground for turtles and seabirds.
Charles Darwin himself, whose work in the Galapagos is largely responsible for the archipelago's esteemed status as naturalist's paradise, recognized Aldabra's unique natural properties, as well as being the only other place in the world aside from the Galapagos where giant tortoises could be found naturally. He also recommended to British authorities that they ensure the atoll would be protected from exploitation or development.
Despite its status as one of the world's most strictly protected natural wonders, travel to Aldabra is still – and will likely always be - incredibly difficult due to its extreme isolation. With expedition vessel MV Maya's Dugong, operated by Silhouette Cruises, one of the most recognized names in live-aboard cruising in the Seychelles, a handful of visitors will be able to experience the atoll of Aldabra and its fascinating sights and treasures as part of an in-depth eco-tourism and diving expedition
Other Information

---
maya's dugong Boat Specifications
Built: 1996 (RenovatedL 2005 & 2007)
Length: 43m
Dimensions: 43m x 8.5m x4m
Hull Construction: Welded steel hull - Aluminium superstructure.
Displacement: 375 tons
Primary Propulsion: Diesel B&W 600hp
Secondary Propulsion: Aquamaster 200hp
Generators: 1x Iveco ifo 65 KVA, 1x Perkins 65 KVA, 1x Mercedes 145 KVA, 380v x 3 / 220v / 110v

Cruising speed:

8NM

Maximum speed:

10NM

Diesel capacity:

70,000L
Fresh water capacity: 20,000L
Practical Information
Time Zone: UTC+5
Local Currency: MVR (Maldivian Rufiyaa)
Language Spoken: English
Payment Onboard: Cash (EUR/USD)
Underwater Gallery

---
Coming Soon!