Destination: Indonesia
Desa Tukad Dabu, Tulamben, Bali, Indonesia | Room + breakfast only + 2 dives from $100/ppn

---
Scuba Seraya Resort Quick Pitch
A cluster of 12 luxurious bungalows lies on Bali's north-east coast, wedged between the sparkling waters of unspoiled Muntig bay and the holy mountain, Gunung Agung. Scuba Seraya Resort is sprawled amongst lush tropical gardens on its private beach. Scuba Seraya Resort is now widely regarded as one of NE – Bali's best-run dive centers. Being a PADI resort association member, safety and quality are of prime concern. If you look for individual attention, no groups, unhurried service and very small classes, Scuba Seraya Resort and Scuba Seraya Dive are just your ticket! Easy beach entries and the resorts purpose-built fast dive boat assure a totally relaxed way of diving.
Quick Information
No of Rooms: 12
Dive Center: On-site
Amenities: AC, ensuite bathrooms, island adventures, massage treatments, nitrox, babysitting available
Internet: Paid Wi-Fi available
Nearest Airport: Ngurah Rai Airport (150 minutes by car)
Airport shuttle: Yes
How to Get There
The resort is located around 2.5 hours driving from Ngurah Rai International Airport and they offer airport transfers. Contact us for more info.
Dive Overview
Bali has dive sites to accommodate every type of diver. Best to visit between full and new moons when there is less tide swing = less current = better visibility.
Check Out This Great Video!
Accommodations
Types of Rooms, Amenities and Photos

---
Scuba Seraya Resort Room Overview
The resort has 12 bungalows, with Villa Ocean View or Maisonette Garden View options.
Villa Ocean View
Veranda facing the sea, double beds only, armoire, sofa, table and chair, reading lights. Private garden with kitchenette (bar and small refrigerator), plunge – tub, Bale Bengong (Balinese style day bed) facing the sea. Semi-outdoor bathroom, direct access to garden or bedroom, hot shower and hairdryer.
Maisonette Garden View
Partial sea and volcano view, with double or twin beds, armoire, table and chair, reading lights, veranda with sofa facing the garden. Semi-outdoor bathroom, hot shower and hairdryer.
Resort Facilities

---
Scuba Seraya Resort Features
Paid Wi-Fi Available
Restaurant
Coffee shop
Outdoor swimming pool
Air Conditioning
Free Parking
Airport Transportation
Free Breakfast
Laundry Service
Massages
Dive Center
Scuba Seraya Resort Food & Drinks
At Scuba Seraya Resort, Dining is an experience; their modern kitchen prepares a tasty array of International and Asian fare served in the relaxed atmosphere of our stylish open plan restaurant, or al fresco on the beach-side deck.
Scuba Seraya Resort Activities
Diving
Island Adventures
Massages
Packages & Rates

---
RATES & AVAILABILITY
For more information on rates, availability and to book, drop us an email at bookings@bluewaterdivetravel.com or call us today at 310-915-6677. We are always glad to help!
Dive Information & Itineraries

---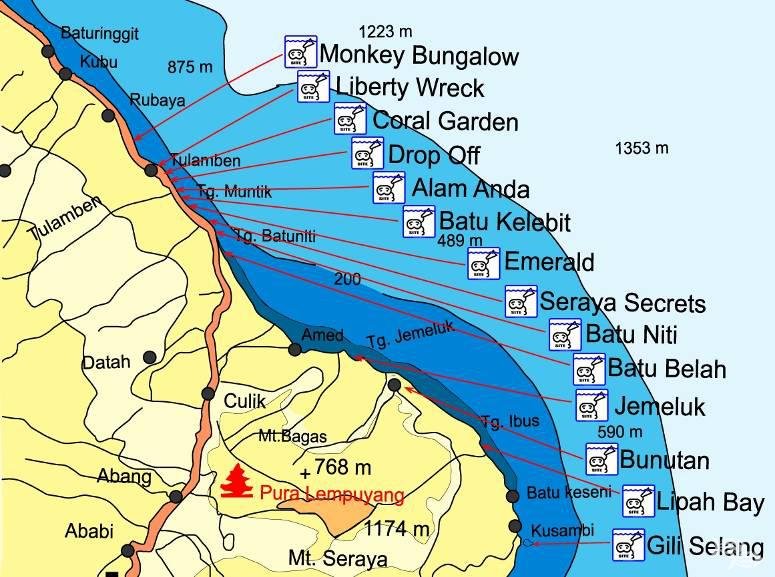 Tulamben Dive Sites
Liberty Shipwreck - This is, without a doubt, 'the mother' of all Tulamben dives and the reason why many divers come to Bali. You enter the water wading across a beach of boulders, which can be a bit tricky when the surf is up. Your guide will assist you. As you swim out towards the wreck, about 50m offshore, boulders and gravel give way to a sandy bottom. You will instantly be surrounded by rather aggressive but harmless goat fish looking for handouts. Don't pay them any attention and continue over the sandy bottom; you will probably pass a large field of garden eels just as the wreck comes into view. Lying on her side at a 45-degree angle parallel to shore, what you will see first is her port side, much of which is now covered by sand. Your guide will probably lead you on a 'grand tour', taking in the entire wreck with her 120m length and 17m beam, usually beginning at her stern heading towards the bow on the deeper (approximately 25m) side, returning over the broken up center part at an average depth of 15m.
Coral Garden - In case your flight to Bali necessitated you to transfer at Singapore's Changi airport and you admired the various beautiful marine aquariums there, finding yourself submerged at 'Coral Garden' will feel like a déjà vu. So much perfection, you will think, had to be done by a creator, intent on showcasing within the confines of a miniature reef (it starts a mere 10m or less offshore, is perhaps 50m wide and 200m long, dropping into a sandy slope at all but 12m depth) everything reefs of the south-western Pacific had on offer. The interaction of healthy soft and hard corals form a stunningly colorful backdrop to all sorts of marine life: hovering small groups of Eye-patch Butterfly fish, Angel fish in all their varieties, Snappers, Coral trout, Lion fish, Puffer- and Anemone fish and Sea perch are just a few to name; look up and you may see a vicious looking but harmless Giant Trevally cruise bye, look closer into niches and crannies, and you may find yourself gazing into a pair of Octopus eyes, and to top it all off, chances that one of
several resident Black tip reef sharks (totally harmless) shows up to check you out are very real.
Drop Off - At the eastern end of Tulamben Bay, a Hindu Temple perches on a cliff of sharp, black volcanic rock that drops into the sea to form a rocky reef-top that parallels the shore from whence 3 solid coral growth 'spurs' or fingers descend to well below 70m depth. The western side of the spur facing Tulamben bay forms what is known as 'The Wall'; a sheer vertical drop of 30m and more. Life forms here are essentially the same you would find on the wreck, albeit in less concentration due to much more open space. Fish congregations would increase in density on the outer reaches of the three spurs where currents bring higher concentrations of nutrients.
Alamanda - Underwater, it is an extension of the 'Drop Off' area and quite similar, although the seascape changes with the drop somewhat steeper, and on its eastern side, huge columns rise towards the surface, forming spectacular crevasses and swim-throughs. Many table coral flourish here, some large ones are standing alone and protrude into the current. But make no mistake; their structure is as brittle as Venetian glass art; watch your turns so your fins won't accidentally break them. Fish life is very similar to the one at the 'Drop Off'. This is the spot where you may also see the rather rare spotted Barramundi cod. Alam Anda is also the home of a fully grown Napoleon wrasse (Cheilinus undulatus). Australians call him the Maori wrasse. It is the largest reef fish anywhere, growing to more than two meters long and two hundred kilograms in weight. Despite safety in size, this fellow is very shy and rarely seen, and if so only for a short while when he would dive deep quickly. Two juveniles appear less bothered by divers. A fully grown Potato grouper is usually found hanging around a large cavern at 35m.
Amed Dive Sites
Jemeluk - Jemeluk Bay, a large sandy cove with a village and many fishing boats has two sites, both of them widely known and considered the 'Amed classics'. To the west is a very large reef formation, who's top extends 200 and more meters offshore, where it will gradually descend, the drop getting steeper and steeper as you go east, eventually tumbling into a vertical wall that bottoms out at 45m and rivals the one at the 'Drop Off'. It is often swept by a mild to medium current, picking up somewhat in speed around waxing and full moon. But this is not a problem; as this site can only be accessed by boat anyway, have the skipper follow you and enjoy the ride. Another benefit of the current is that this site sports some of the best visibility in the Tulamben-Amed area, often in excess of 30m. A healthy number of timid white- and black tip reef shark patrol this area, as well as at least one full grown Napoleon wrasse and a number of Humphead parrot fish. At its eastern end, just before it gives way to the sandy bottom of the bay, a deep V is shaped out of the wall, both sides thickly overgrown with a profusion of soft and hard coral, the bottom turning into a 45 degree gradient sand slope at almost 50m depth, the top giving way to the reef flat at 12m at a sharp 90 degrees angle.
Gili Selang - This dive is quite manageable and may well turn out to be an experience of a lifetime, as you would drift from a north-Bali typical reef environment with inhabitants that
include black tip, white tip and grey reef shark into the realm of pelagics that often includes dolphins, hammerhead shark, tuna and mackerel – even Tiger sharks have been sighted here – and back into an east-Bali typical reef flat at the speed of an urban commuter train that regulars have named the 'Selang Express'.
Lipah Bay - This site is popularly known as the 'Japanese Wreck' in the diving community. A relatively small steel shipwreck, that appears to be a tug, had sunk in this picturesque bay about 3 km to the east of Jemeluk, at a time not remembered. The fact that this site is easily accessible from the shore (park your car on the roadside, gear up, walk down a couple of stairs, wade across the stony beach, submerge and there you are) and that the wreck rests in very shallow water (5m to 12m), makes this an easy dive. It is also a popular destination for snorkelers. Not much, in fact, nothing at all, is known of this wreck and how it got here. It may just as well be Japanese; an almost intact squat type toilet on its port side would speak for that. Amazingly for a wreck this easily accessible and shallow, the prop has survived and produces a beautiful, heavily encrusted silhouette. Due to its small size, the wreck is quickly explored, and divers would continue down the sandy slope dotted by many large, beautiful Gorgonian sea fans (look out for those Pygmy seahorses), purple, white, yellow, red; each one a great photography object by itself.
Seraya Secret Dive Sites
This is one of the latest 'discoveries' among the Tulamben area's dive sites. Feel free to ask us to know more about this dive site.
[Read More: Bali Dive Travel Guide]
Dive Center Information

---
Scuba Seraya Dive Center Overview
Scuba Seraya Resort is now widely regarded as one of NE – Bali's best-run dive centers. Being a PADI resort association member, safety and quality are of prime concern. If you look for individual attention, no groups, unhurried service and very small classes, Scuba Seraya Resort and Scuba Seraya Dive are just your ticket! Easy beach entries and the resorts purpose-built fast dive boat assure a totally relaxed way of diving. There is a great variety of "critters" just in front of the resort. Besides all the known Tulamben and Amed dive-sites, we have explored and found many as yet unknown sites in the close vicinity as well as further afield. As PADI IRRA member, Scuba Seraya Resort offers all PADI Dive Courses.
Underwater Gallery

---