Destination: Sipadan
Wisma Sabah, Jalan Tun Razak Kota Kinabalu, Sabah 88000, Malaysia | Full-board + 3 dives from $233++/ppn

---
Seaventures Dive Rig Quick Pitch
Sipadan-Mabul Resort presents a new floating village, consisting of stilited wooden bungalows and breathtaking beauty.
Quick Information
No of Rooms: 25
Dive Center: On-site
Amenities: AC, sundeck, bar, conference area, live music, games room
WiFi: Yes,free
Nearest International Airport: Kota Kinabalu International Airport
Airport shuttle: Yes, free
How to Get There
Seaventures is located just 26k by boat from the port of Semporna in Sabah, near the islands of Mabul, Kapalai, and Sipadan. Standard transfers to Seaventures are scheduled for 10:00am depart Tawau Airport to Semporna, and 2:00pm depart the rig. If your flight or travel times do not fall within this time period and you want to organize another transfer to Seaventures, this can be done. Other scheduled transfers are based on a minimum 2 person or single supplement surcharge for a single traveler. Please note that from Semporna town, transfers to Seaventures Dive Rig can take up to one hour to reach the rig, weather and sea depending. It is likely to take longer in rough sea conditions.
Dive Overview
Featuring their unique elevator system, Seaventures allows divers to slide directly into the water to the flourishing reef below the rig. In the thriving waters surrounding the rig and the nearby islands, Seaventures allows divers to choose from a number of site options and excursions, including rig diving, wreck diving, muck diving, and drop-offs.
Accommodations
Types of Rooms, Amenities and Photos

---
Seaventures Dive Rig Accommodation Overview
Seaventures accommodation is simple and basic but has everything you need to make your stay comfortable and help you to get the most out of your diving. All cabins are serviced daily by house-keeping, with fresh towels and bedding and come equipped with air-conditioning.
deluxe Room
The Deluxe Room is an upgrade from the Standard twin or double-bed room. This spacious cabin comes with a sitting area, and equipped with satellite TV. Perfect for those who enjoy quiet time after a day of diving.
standard room
Perfect for pairs, the twin and double rooms mean you can settle in to cosy ensuite cabins reminiscent of Seaventures as a working accommodation rig. Furnished with clean, fresh bedding and towels, remote controlled air conditioning, hot water showers and housekeeping, what more do you really need?
Dorm Room
Ideal for the budget conscious, the dorm cabins house up to four people and are well-equipped with the basic comfort of bunk beds with clean, fresh bedding, air-conditioning, personal lockers and housekeeping. Enjoy warm showers after chilly dives in our dorm-guest only communal bathroom which accommodates six individual private stalls.
Resort Facilities

---
Seaventures Dive Rig Features
Restaurant
Open-air deck
Room air-conditioning
Free Internet
Free high speed Internet (Public Wifi)
Technical and specialty training available
Airport transportation
On-site movie room
Karaoke lounge and bar
Pool tables
Table tennis
Souvenir shop
Camera room for UW housing
Seaventures Dive Rig Food & Drinks
The restaurant is located on the open deck and offers delicious food and beverages - buffet style. Fresh coconuts are available.
Packages & Rates
The actual rates are based in MYR. The starting price indicated above may vary based on the current exchange rate.

---
Dive Packages 2023
Sipadan diving permit is guaranteed on minimum 3 nights stay in standard room, subject to occupancy and permit availability on the date inquired. Requests for any extra Sipadan diving permit besides the guaranteed will be subject to availability. No pre-booking of permit allowed.
Upgrade from Standard to Deluxe Room 1 is MYR 250.00 per night. Upgrade to Deluxe 2 or 3 is at MYR 200.00 per night. Only 3 Deluxe rooms available.
Rates are valid until 31st Dec 2023.
Option

Standard Room

(based on twin sharing)

Dormitory

(based on per person)

Diver

Non-Diver

Diver

Non-Diver

3 Days/2 Nights

-
-

MYR 1850

MYR 1510

4 Days/3 Nights

MYR 3600

MYR 2910

MYR 2650

MYR 2150

5 Days/4 Nights

MYR 4350

MYR 3510

MYR 3450
MYR 2790

6 Days/5 Nights

MYR 5150

MYR 4150

-
-

Additional Night

MYR 860
MYR 680

MYR 800

MYR 640
Inclusions
Scheduled Return transfers min. 2 persons
3 Daily-boat dives after course days
Unlimited optional house-reef dives (for divers only)
Accommodation
Full-board meals
Exclusions
Equipment rental. Dive Computer are mandatory hence it is compulsory for divers without one to rent a computer
Sipadan permit fee (charged at MYR 140 per person)
Any other items not mentioned
Important Notes
Minimum stay for dormitory room is TWO (2) nights
NO SIPADAN GUARANTEED for dormitory stay
Payment for equipment rental, permit and other miscellaneous charges will be collected upon check-out
Single room occupancy is an additional 50% of the package price
Boat and land transfers are included, but based on minimum two persons on all transfers. Otherwise a single supplement transfer surcharge applies
Can't find the information you need?
Drop us an email at bookings@bluewaterdivetravel.com or call us at 310-915-6677 and we will gladly help you plan your dream dive vacation!
Dive Information

---
Dive Overview
Seaventures Dive Rig is one of the most unique resorts in the world, and also the most unique dive platform in the world. Diving is a singular experience here – simply get up, gear up and jump off the Rig to dive the house reef underneath. There are always boat dives out to the neighbouring islands (Mabul, Kapalai) and other nearby dive sites.
Sipadan and its surrounding islands are an ideal place to learn how to dive or for experienced divers to explore the local marine life including – but not limited to – giant clams, hawksbill turtles, napoleon wrasse and endless species of sharks, jacks and barracudas. Furthermore, there are many types of Sipadan diving experiences to choose from, such as drop-offs, muck diving, rig diving and wreck diving.
The Seaventures House Reef is famous for its sunken wrecks, cage swim throughs and artificial bungalows with bridges that make up the reefs. The dive site is ideal for night dives where you will find weird and wonderful creatures sleeping in the wrecks and hiding in the reefs, or just out for an evening of hunting and feeding.
For afternoons when you aren't diving Sipadan, Mabul or Kapalai, take a dive under the rig and explore the fascinating structures, swim-throughs and corals that can be found there.
The reef is also home to many sea fans and the dive team are often out to search the fans for the ever-elusive pygmy seahorse and other critter delights ready to show you. An orientation from the dive team when you arrive isn't just about showing you your way around the reef, it's also about giving you a sneak peek at the kinds of things you can expect from your dives throughout your stay with Seaventures.
Venture out from under the rig a short distance and take a look at the sandy bottoms and gatherings of corals to see what you can find there. You will be sure to find various species of colourful Nudibranchs, a favourite for most underwater to photograph. Other than that, look for the giant moray eel, crocodile fish, ornate ghost pipefish and frog fish. Have a look around and you might even meet the giant grouper swimming about the pillars.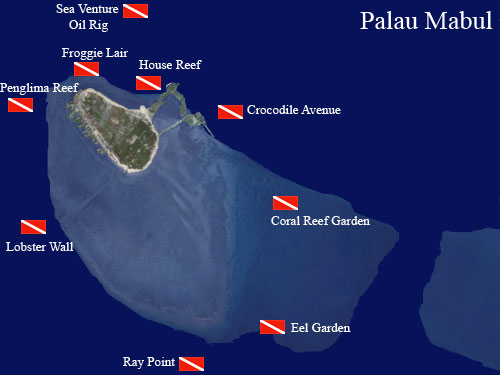 Dive Center Information

---
Seaventures Dive Center Overview
Seaventures is a PADI 5* IDC Resort offering technical diving such as cave diving at the infamous Sipadan's Turtle Tomb. The course director also offers dive courses up to PADI Instructor Devellopment Courses and Tec Instructor Courses (Tec 40, Tec 45, Tec 50, Tec Deep, etc).
Underwater Gallery

---
Coming Soon!