Destination: Bahamas
Exuma Cays, West End Northern Adventure & Tiger Beach (7-10 Nights) | From $370++/night

---
Bahamas Aggressor Quick Pitch
The intimate M/V Bahamas Aggressor, formerly known as the Carib Dancer, is a 30m, 14 passenger luxury yacht, perfectly suited for diving the Exumas and Cays of the Bahamas.
Learn more about the Aggressor Fleet.
Dive Overview
Scuba divers travel to find three things: dramatic walls, lush coral reefs and exciting animal encounters - and the Bahamas Out Islands offer all this! Warm, turquoise crystal-clear waters and drop-offs close to shore make these islands a diver's dream. Mysterious blue holes and caverns, shipwrecks and vibrant living reefs, soaring wall dives and thrilling shark encounters all await both novice and experienced divers.
[See: Bahamas Dive Travel Guide and Tiger Beach Travel Guide]
Check Out This Great Video from The Bahamas Aggressor!
Accommodations
Types of Cabins, Amenities and Photos

---
Bahamas Aggressor Accommodation Details
Accommodations include 5 Deluxe cabins with a double and single berth and 1 Quad cabin with two sets of twin bunks. All staterooms have climate controls, are air-conditioned and fitted with private toilets, showers and sinks.
Bahamas Aggressor Cabin Details
Deluxe Stateroom (#2, 3, 4, 5, 6)
Double bed (lower) and twin bed (upper) bunk-style. All with private head and shower, port window, individual climate control, monitor with media player and hairdryer.
Quad Stateroom (#1)
With two sets of twin bunk-style beds. Private head and shower, port windows, individual climate control, monitor with media player and hairdryer.
General Facilities

---
Bahamas Aggressor Boat Features
Air-conditioned salon and dining area
Sundeck complete with a hot tub
Lounge and deck chairs
Stereo and CD player
Shaded wet bar and grill
Complete photo center
Digital video and still photo editing computer
Bahamas Aggressor Dive Facilities
Nitrox (unlimited Nitrox is $100 per week or $150 for 10-night trips)
Individual dive lockers
Camera table with low-pressure air hoses
Two hot, fresh water showers
Food & Drinks Aboard Bahamas Aggressor
The menu onboard is varied and plentiful, with a variety of American feasts, barbecues and local cuisine.
The Aggressor's selection includes fruit juices, soft drinks, iced water, iced tea, coffee, and a limited selection of local beer and wine, which are complimentary.
Due to the high duty charged on liquor, we suggest you bring your special brand from the U.S.
Bahamas Aggressor Liveaboard Deck Plan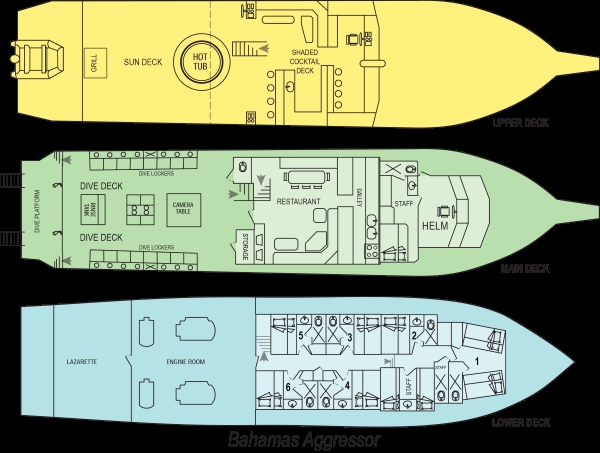 Schedule, Rates & Availability
Bahamas Aggressor Schedule & Rates

---
Prices are in USD, per person and are based on the lowest priced cabin. Port and park fees are not included.
[See also: Inclusions & Exclusions and Full Rates by Cabin Type]
Bahamas Aggressor Rates
| | | |
| --- | --- | --- |
| Date | Quad | Deluxe |
| January 1, 2021 - December 31, 2021 (10 nights) | $4,221 | $4,421 |
| January 2, 2021 - January 1, 2022 (7 nights) | $2,895 | $3,095 |
| January 1, 2022 - January 7, 2023 (7 nights) | $2,895 | $3,095 |
| January 1, 2022 - December 31, 2022 (10 nights) | $4,221 | $4,421 |
| January 7, 2023 - January 6, 2024 (7 nights) | $2,895 | $3,095 |
| January 6, 2024 - January 4, 2025 (7 nights) | $2,895 | $3,095 |
Inclusions
Accommodations aboard the yacht
All meals and snacks, non-alcoholic beverages, local beer and wine
Compressed air tanks, weights & belts
Diving
Exclusions
Airfare (international and domestic)
Insurance
Equipment rentals
Nitrox fills
Certification or specialty courses
Hotel stays/day rooms
Dinner on final evening
Crew gratuity
Mandatory: Port fees ($110 for 7-nights and $158 for 10-nights)
Airport transfers
RATES & AVAILABILITY
For more information on other departure dates, rates, and on availability email us at info@bluewaterdivetravel.com or call us at +1-310-915-6677 and we will gladly help you plan your dream dive vacation!
Dive Information & Destinations

---
The Bahamas Dive Overview
Sharks, Eagle Rays, Stingrays, Groupers, Walls and Reefs with abundant marine life and multiple macro critters
Water temperature: 78-84F, 25-28C (summer months) 75–80F, 24-27C (winter months, with possible 72F, 22C drop in January)
All dives from mothership
3-5 mm wetsuit recommended
Itinerary Overview
There are 3 itineraries offered: Exuma Cays Land & Sea Park, Best of the Bahamas & Tiger Beach (6-10 Nights).
Exuma Cays Land & Sea Park (7 & 10 NightS)
Throughout the week aboard the BAHAMAS AGGRESSOR, guests will depart Nassau to explore the dramatic walls, lush coral reefs and exciting animal encounters of the Exuma Cays Land and Sea Park. This protected area is one of the world's most successful marine parks with an area of 176 square miles consisting of an array of more than 350 small islands and cays. The crystal-clear tropical Atlantic pours over the deep cuts between the cays and constantly shifting sand bars. Waters are thick with coral reefs that are alive with every imaginable ocean critter from the living jewels – angelfish and butterfly fish – to the charismatic food-chain toppers like grouper and barracuda – right down to the tiniest living invertebrates. Night diving allows guests to experience an entirely different group of critters and bevy of behaviors not visible during the day.
West End Northern Adventure (7 Nights)
Here are the top dive sites that you can visit:
Hesperes: A shallow wreck covered with schools of Jacks, Snappers, lots of Angelfish, Eels, Groupers, sometimes Cobia, Nurse Sharks and Turtles. Also known as the Stingray Wreck because of the number of Stingrays you can see in the sandy areas around the wreck.
The Strip: A long strip of coral reef sitting in about 45 feet of water. Schooling Fish, Crabs, Eels and at night usually several Green or Hawksbill Turtles.
Moray Alley: A large patch reef where you can easily find Crabs, Lobsters, a variety of Marine Life including lots of Eels, mostly Spotted or Goldentail Eels.
Tuna Alley: A fantastic wall dive where we normally see larger marine life such as Mackerel, African Pompano and some Tuna.
Turtle Rocks: Shallow Reefs with Colorful Coral Heads. Here we can easily see lots of Groupers, Angelfish, Eels, Wrasses and even a Turtle or two in the later afternoon.
Sapona: The Sapona is a Wreck sitting off the coast South Bimini. A lot of the structure sits above the water and the underwater parts are covered with Marine Life. Easily see Gobies, Chubs, Grunts, Groupers, Chromis, Angelfish, Mackerel, Turtles and at night Squid and Octopus.
Bull Run: Three Very Large High Profile Colorful Coral Heads that are located to where there's a large sandy patch in the center almost like an arena. When swimming around the coral heads lots of Marine Life both large and small can be seen and photographed. We had Sharks mostly the Caribbean Reef Shark swam around us coming very close. When we do get a Bull Shark in the area for some reason the Reef Sharks don't hang around as much. With the Colorful Coral Heads, all the Marine Life and Sharks around, it's easy to spend the day at this one site.
Krispy Kreme: This wall dive earned its name the easy way it's just a Beautiful Wall Dive full of Marine Life. When divers first started coming to this site, after the dive most would say, 'that was Sweet" and Krispy Kreme was born.
Tiger Beach (7 & 10 Nights)
Visit the remote areas around the West End of Grand Bahama. These weeks are dedicated liveaboard weeks offering up to 5 dives per day. The West End area is rarely visited by guests and is home to many creatures – both large (sharks and dolphins) and small (grouper, snapper, assorted other reef fish). At least one afternoon during the trip will be dedicated to a dive at the area known as "Tiger Beach" where we will try to attract sharks using a "scent triangle" filled with bait. Both Caribbean Reef sharks, Lemon Sharks and Tiger sharks are known to frequent the area.
[See: Bahamas Dive Travel Guide]
Other Information

---
Boat Specifications
Year built: 2012
Length: 100 feet (30 meters)
Beam: 22 feet (6.7 metres)
Speed: 12-15 knots
Engine: Twin marine diesel engines
Generators: 110-208 ac voltage
Maximum guests: 14
Number of cabins: 6
Number of bathrooms: 9
Crew: 5
Tenders: RIB with Yamaha 40 hp
Watermaker: 5,000 litres per day
Practical Information
Time Zone: UTC-5
Local Currency: BSD (Bahamian Dollar)
Language Spoken: English
Electricity: 110v
Payment Onboard: Cash (USD), traveler's checks, Visa & MasterCard
Underwater Gallery

---