Destination: Philippines
Tubbataha, Apo Reef and Coron (6-7 Nights) | From $346++/night

---
Oceanic III Quick Pitch
Oceanic III will be ready to go for Tubbataha season starting March 13, 2019. There are 10 private cabins accommodating up to 21 passengers.
Dive Overview
Nutrient-rich open-ocean diving brings pelagics: sharks, mantas, dolphins, whales, and macro-critters.
[See: Tubbataha Dive Travel Guide, Puerto Galera Dive Travel Guide]
Accommodations
Types of Cabins, Amenities and Photos

---
Oceanic III Cabin Details
Economy Cabins: Cabins C1, C2, C3, located on the lower deck. They all have their own bathrooms, but they are across the hall. Cabin 3 can accommodate 3 pax.
Standard Cabins: Cabins A1, A2, A3, and A4, located on the middle deck. They are a bit bigger than the economy cabins and have ensuite bathrooms.
Deluxe Cabins: Cabins B1, B2, and B3, located on the middle deck. They are slightly bigger than the standard cabins, have ensuite bathrooms, and are the only cabins that have side-by-side beds instead of bunks. These beds can also be pushed together to create one large bed. Also have TV, DVD player, and Nespresso machine.
General Facilities

---
Oceanic III Boat Features
Entertainment center w/ TV and stereo
Hot and cold shower
4 open-rinse showers on deck
Library of books, magazines and DVDs
Bar
Nitrox available
Aluminum tanks
Dive tenders
Food & Drinks Aboard Oceanic III
Expertly prepared meals and snacks incorporating lots of fresh fruits, vegetables and a variety of proteins served with a local flare.
Oceanic III Liveaboard Deck Plan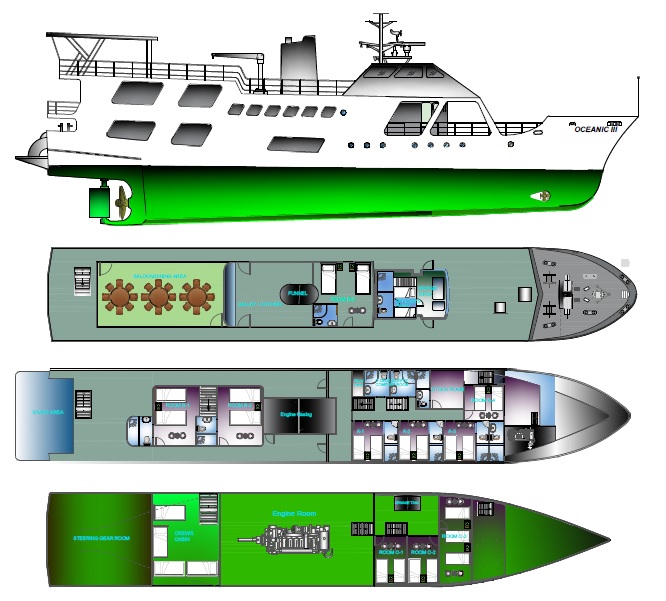 SCHEDULE, RATES & AVAILABILITY
Oceanic III Schedule & Rates

---
RATES & AVAILABILITY
For information on rates and availability email us at info@bluewaterdivetravel.com or call us at +1-310-915-6677 and we will gladly help you plan your dream dive vacation!
Dive Information & Itineraries

---
Tubbataha Itinerary (6 Nights)
A trip to Tubbataha National Park, a protected UNEXSO World Heritage site is a trip that will be remembered for a lifetime. Clear water, big animals, incomparable marine diversity and lush, healthy coral reefs are awe-inspiring.
Day 1: Arrival in Puerto Princesa. Check-in onboard
Briefing by Boat Manager/Dive Master
1800H Departure to Tubbataha Reef (ETD)
Accommodation and meals onboard Explorer
Day 2: North Tubbataha
Arrive at Bird Island, North Tubbataha
Dive Sites: Shark Airport, Washing Machine (Larry's Reef), Sea Fan Alley
Day 3: North Tubbataha
Whole Day Diving at North Tubbataha
Dive Sites: Ranger Station, Amos Rock
Early morning departure for Light House, South Tubbataha
Day 4: Arrive Lighthouse, South Tubbataha
Whole day diving at South Tubbataha
Dive Sites: Black Rock, North wall of South Atoll
Day 5: South Tubbataha
Whole day diving at South Tubbataha
Dive Sites: Light House, Delsan Wreck, Staghorn Point
Day 6: South or North Tubbataha
Day Diving only (2-3 dives)
Departure for Puerto Princesa City
Day 7: Arrival in Puerto Princesa City
Breakfast onboard
Transfer to Airport
Apo Reef-Puerto Galera-Isla Verde Itinerary (7 Nights)
Day 1
Boarding in Anilao, Pier (Anilao, Batangas)
1800H Departure to Apo Reef, Mindoro. (ETD)
Accommodation and meals onboard All Star Philippines
Day 2
Location: Apo Reef, Mindoro
Arrive Apo Reef at 0500H (ETA)
Dive site briefing, day diving only (3-4 dives)
Dive Sites: Hunter's Rock, Shark Ridge
Day 3
Location: Apo Reef, Mindoro
Whole day diving at Apo Reef (3-4 dives)
Dive sites: Apo 29, Binagaan Dropoff
Depart Apo Reef, Mindoro for Puerto Galera at 1900H (ETD)
Day 4
Location: Puerto Galera
Arrive at Puerto Galera
Dive Sites: Manila Channel, Sabang Point, Sabang
Wreck, The Hill
Day 5
Location: Puerto Galera
Whole day diving at Puerto Galera (4 dives including night dive)
Dive Sites: Alma Jane, Dungon Wall, Canyons, Ernie's Cave
Day 6
Location: Isla Verde
Early morning departure to Isla Verde
Whole day diving Isla Verde (4 dives including night dive)
Dive Sites: Blackfish Corner, Verde Island Dropoff
Day 7
Location: Puerto Galera
Day diving only (2-3 dives)
Evening departure for Anilao, Batangas
Day 8
Arrival in Anilao, Batangas
Breakfast onboard
Transfer to Airport
Other Information

---
boat specifications
Gross Tonnage/ Weight: 191.16
LOA: 33.31
Breadth: 6.2
Draft: 2.99
Main Engine: Yanmar
Year Built: 1979
Cruising Speed: 8-10 knots
Hull: Steel
Generators: 2 x Yanmar 125 KVA, 1 x Kubota 10 KVA
Water Capacity: 30 tons
Electricity: 220-110V- 60 htz
Minimum Capacity: 15 guests
Maximum Capacity: 28 guests
Practical Information
Time Zone: UTC+8
Local Currency: PHD (Philippines Peso)
Language Spoken: Filipino & English
Electricity: 220V
Payment Onboard: Cash
Underwater Gallery

---