Destination: Indonesia
Raja Ampat, Banda Sea, Alor and Komodo (7 & 11 nights) | From $430++/night

---
MV Samambaia Quick Pitch
M/V Samambaia is a new two-mast wooden Phinisi schooner sailing some of the most gorgeous diving areas of Indonesia. Climb aboard into sheer luxury and unparalleled comfort: the focus is guests' utter satisfaction.
Dive Overview
Indonesia is known as a top destination for divers. It is even said that after you have made your first dive in Indonesia, your diving life will never be the same again. Any expectations and wishes can be fulfilled: from very small critters to giant pelagics, Indonesian waters, situated all around the "Ring of Fire", offer probably the richest marine biodiversity in the world.
[See: Komodo Dive Travel Guide, Ambon & Alor Dive Travel Guide & Raja Ampat Travel Guide]
Check Out This Great Video from MV Samambaia!
Accommodations
Types of Cabins, Amenities and Photos

---
MV Samambaia Accommodation Details
With an overall length of 40 meters (130 feet) and a beam of 9 meters (29 feet), and catering to only 14 guests, the Samambaia offers 7 tastefully decorated staterooms: 2 double cabins, 2 convertible cabins (double or twin) and 2 twin cabins on the lower deck, plus a beautiful 160 sq.ft. Master Cabin with stunning 180° sea views on the main deck. Each stateroom has a private en-suite bathroom, under bed storage, wardrobes and individually controlled AC.
Convertible Cabin (LEFT) and Double Cabin (RIGHT)
Twin Bed Cabin (LEFT) and Master Cabin (RIGHT)
General Facilities

---
MV Samambaia Boat Features
Restaurant
Shaded sundeck
Comfortable loungers
Onboard masseuse
Camera room with separate camera workstations
MV Samambaia Dive Facilities
Huge diving deck with two hot water showers
Two 21-foot skiffs serve as tender-boats
Free Nitrox
Food & Drinks Aboard MV Samambaia
Guests are catered to with delicious and varied international cuisine prepared every day with locally sourced ingredients by the chef, and the galley includes fresh ice-cream and daily baked bread and pastries.
MV Samambaia Liveaboard Deck Plan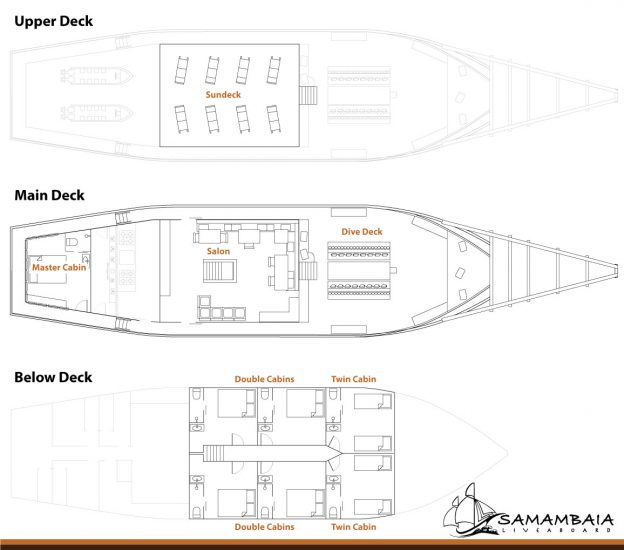 Schedule, Rates & Availability
MV Samambaia Schedule & Rates

---
Prices are in USD, per person and do not include fuel surcharge, port clearance, & national park fees.
[See also: Inclusions & Exclusions]
Inclusions
NITROX
Beers
Soft drinks
Juices
Italian Coffee; espresso, cappuccino, etc.
Premium Selections of Tea
Snacks
Weights & belts
Tanks (12 ltr)
Kayak ( inflatable )
Airport to harbor pickup (vice versa)
Exclusions
Mandatory: Port & park fees ($150-$175), fuel surcharge ($0-$250)
Domestic flights
Dive and travel insurance
Recommended tip: 20 USD/per day
Wine & spirits
Massage on board
Rental gear (dive comp, BCD, Regulator, wetsuit, fin, snorkel, mask and torch)
15 ltr tanks
Laundry
Wakeboard (free trial, then USD 25/30 minutes)
Flight Ticket or Hotel
RATES & AVAILABILITY
For more information on departure dates that are not listed and availability please email us at info@bluewaterdivetravel.com or call us at +1-310-915-6677 and we will gladly help you plan your dream dive vacation!
Dive Information & Itineraries

---
Raja Ampat Overview
Far to the wild eastern edge of the Indonesian archipelago, there is a region with thousands of islands offering as many sites for scuba diving right in the heart of the Coral Triangle. It's not a surprise that photographers and divers flock here from around the world to spend one or two weeks on a liveaboard diving trip, because is the only way to travel throughout this large geographic area with practically no development. You can be sure every effort will be rewarded: Raja Ampat homes more than 1400 species of fish and almost 600 different corals - 75 percent of all known coral species -, you'll have the chance to see more marine life in Raja Ampat than anywhere else on the planet, whatever it is: fish, coral, mollusks or invertebrates; Raja Ampat is certainly one of the best scuba diving destinations in the world.
Raja Ampat, literally "Four Kings", is formed by four main islands Waigeo, Batanta, Salawati and Misool and more than thousand sand and rock small islands, with the most different underwater morphologies: slopes, ridges, channels, caves, tunnels; and an astounding diversity of habitats,
each one with a different kind of diving experience: sandy bottoms as life-size aquarium, blue-water mangroves systems hosting pigmy seahorses and saltwater crocodiles at once, ideal calm sand flats as cleaning station for oceanic mantas, perfect murky and silt-ridden conditions for the muck diving lovers, a river-like saltwater channel of strong currents and great walls plentiful of invertebrates, Raja Ampat has everything a diver can want.
Divers generally enter this region via the airport at Sorong on the Indonesian province of West Papua. The first dive sites will often be around the island of Wai, only a two-hour boat run from Sorong, the quality of dives range from good to wonderful. Some dives are planned for slack tide, while occasionally the current can be challenging. Fortunately, the stronger currents also generally made for better visibility, blooming corals and greater fish activity. Best time to dive Raja Ampat is from October to April. Topside conditions at this time of year proved to be excellent. You could enjoy cruising in virtually flat calm seas, with only some rain showers punctuating warm, sunny days.
Komodo Overview
Established in 1980, Komodo National Park was designated a Biosphere Reserve under the UNESCO Man & Biosphere Program and became a World Heritage Site in 1991 and offers stunning dive opportunities. The Komodo National Park is composed by the two larger islands - Komodo and Rinca; and about 80 smaller islets. The park hosts one of the richest marine environments including coral reefs, mangroves, seagrass beds, seamounts and semi-enclosed bays where has been registered more than 1,000 species of fish, 260 species of reef-building coral and 70 species of sponges. Sea turtles and marine mammals live in the waters of Komodo, and passing whales are also spotted. If Komodo's underwater delights were not enough, there is also the 3 meters long lizard walking around Rinca, Nusa Kode and Komodo and looking like something coming straight from the age of the dinosaurs.
For many divers, Komodo offers the best diving in Indonesia and right up there with the leading dive destinations in the world. Komodo boasts stunning scenery both above and below water due to its unique volcanic geology. The Komodo archipelago is a dramatic hilly landscape of wild savannah and some patches of forest; blue lagoons; and white,
pink and red sandy beaches that host some of the most spectacular underwater scenery in the world. Komodo has a reputation for being a diving area for experienced divers. This is true, especially if you want to visit on Komodo by liveaboard.
Komodo has many dive sites with strong and sometimes unpredictable currents. Water temperatures change often and are sometimes far below the usual 28°C you will find in other parts of the Indonesian archipelago. In the southern area of Komodo National Park water temperatures may be as low as 21°C. We advise a 5-mm wetsuit before diving Komodo to avoid any cold dives! The Southern waters generally provide better visibility from December through April. Lower visibility occurs in the South during the dry season when oceanic up-welling and plankton blooms, attracts a wealth of marine life to Komodo, especially invertebrates. Highest temperatures in the south are during the rainy season. Komodo's Northern waters generally provide better visibility year round. Fish is abundant everywhere but the rocks and reefs in areas of stronger current provide the best chances of spotting the bigger fish, especially sharks and other pelagic species.
Banda Sea Overview
This journey cruises through a wide range of geological landscapes and formations of Indonesia, from volcanic islands to limestone pinnacles developed from ancient coral reefs. As we cruise along the natural migratory paths and playgrounds of marine mammals such as whales and dolphins, this trip is guaranteed to provide amazing diversity and beauty both above and below the water. The Banda Sea is blessed with some of the finest diving in the country. Banda Islands Banda had an important place in Indonesian and world history. Dominated by a 2.000 feet active volcano, for more than three hundred years these tiny islands were the center of wealth for the Dutch colonies. They were the only source of the rare spices of nutmeg and mace for centuries and the Dutch, after capturing them from the Portuguese, guarded them jealously from all comers including the English. For centuries, a kilo of these spices held more value than the same weight in gold. The old fort, the governor's house, the church, nutmeg plantations, are well worth visit and bring us back to the colonial era.
Let's not forget the diving, both Pulau Run and Pulau Ai have pristine clear waters, lovely walls and good fish life, we might go a bit deeper in search of more hammerheads, big fish can be seen here as well, napoleons, schools of black snappers, bumpheads, etc. The outer reefs of Bandaneira are full of marine fauna of all colors and shapes. Schooling fish gather and the macro life is rich. A really unique area is the dive under the pier of Bandaneira. The size of the mandarin fish are just out of this world and if you are looking for other critters, cockatoo wasp fish, flying gurnards, frogfish, juvenile barramundis, juvenile emperor angelfish, juvenile sweetlips. Of course, diving is our main focus and the dive site Lava Flow is not to be missed. Twenty years ago Gunung Api erupted and the lava poured into the ocean and in the short time since a hard coral garden grew which is unrivaled in the world. Table corals are over 5m width, staghorn corals as far as the eye can see and even endemic species found nowhere else is just a sample of what you can see here.
Gunung Api It's a volcano that's summit breaks the sea's surface by 800 feet yet which has its base on the seabed some 13.000 feet below. The island created by the volcano is 120 miles from the next nearest landfall and is therefore home to the reef fish that populate its steep drop-offs and walls, occasional visiting pelagics, and extraordinarily an uncountable population of banded and olive sea snakes. These marine reptiles have found a sanctuary here among the warm volcanic vents and reef fish that live in the area. It is truly a unique spot that never ceases to amaze divers. In some shots, there are over thirty snakes in the frame and they make inquisitive yet docile subjects. Lucipara In the north of Gunung Api is a remote archipelagic atoll named Lucipara.
These atolls are also surrounded by a seafloor that is 3.000 feet below and consisting of three large islands and a few tiny reefs that just break the surface. The islands offer vertical walls and visibility of over 120 feet with very mild currents. They are also home to a population of the large sponges. Some barrel sponges can swallow a diver in their orifice without difficulty. Wetar The west coast of Wetar boasts amazing dive sites with drop-offs, colorful reefs and abundant fish life. Here there is a good chance to see some pelagics. Mind your depth as you swim over the edge in deep blue water as we are many miles away from civilization! Along the north coast we have regular sightings of dolphins and whales, often just a few meters away from the dive site!
Alor Overview
Being remote and untouched the 18 islands of the Alor and Solor group are considered one of the best diving destinations in Asia. Tourism has not developed yet and only few divers have explored these waters. One of the very last traditional whale hunter communities on the planet still lives in this magical archipelago. The islands are from volcanic origin, which make for stunning scenery. The waters around the islands are known for their strong currents, particularly in the relatively narrow strait between Pantar and Alor and also between Lembata and Pantar. With each tide, large water masses are pushed through the straits causing strong upwellings. The straits in the area play an important role in the exchange of marine life between the Indian and Pacific Ocean. Each year whales and dolphins travel from the Pacific and Indian Ocean through the deep but narrow Nusa Tenggara island chain. The four island passages between Flores and Alor seem to be some of the richest in large marine life of all of Nusa Tenggara, and are especially abundant in whales and dolphins. The area is renowned for its large marine mammal migration and the whale watching in particular is breathtaking.
During the season, while cruising through the area, you can spot whales surfacing by their water spout. Because of this, coastal communities living along eastern Indonesia's marine migratory routes, especially in the villages of Lamalera and Lamakera have been hunting whales for centuries. Equipped with simple spears, they take only what their village needs to eat and barter just a bit in return for vegetables and rice.
In every cruise is also possible to visit the traditional whale-hunters villages. Alor is teeming with numerous dive sites that offer even the most seasoned of muck divers an experience they will never forget. So dust off those cameras and prepare to meet some weird creatures that in any other context could come from another planet: pegasus sea moths to mimic octopus; devilfish to ornate seahorses. Coral reefs are mostly found along the northern coast of the Solor and Alor island group with some coral reefs lining the channels in between major islands. The southern coastline of the islands, particularly on the island of Lembata, is lined with rocks and just little coral. The reefs also include rocky bottoms along the northwest tip of Alor starting in the strait between Alor and Pantar.
Basic Schedule Onboard
Per day will get up to 4 dives. and the ratio of Dive Guide and Guest is 1 : 4. The basic schedule onboard is as follows:
07:00 wake up call
07:30 light breakfast
08:00 1st DIVE
09:00 second breakfast
10:00 -10:30 2nd DIVE
12:00 lunch
15:00 3rd DIVE
16:00 coffee break (the kitchen will prepare some snacks)
18:00 or 19:00 sunset Dive or night Dive
20:00 Dinner
21:00 briefing
And…. Rest
Other Information

---
Boat Specifications
Maiden Voyage: November 2015
Type: Traditional two mast wooden Phinisi schooner
Total length: 40 m
Length over deck: 34 m
Beam: 9 m
Sails: 400 sqm
Cruising Speed: 10 knots
Main engine: Yanmar Marine Turbo, 500 HP
Generators: 2 x Mitsubishi 60 kWA, 1 x Yanmar 30 kWA, 1 x Mitsubishi 30kWA
Fuel capacity: 10,000 liter
Freshwater capacity: 12,000 liter
Watermakers: 2 x 5000 liter/day
Navigation & Communication: 2 x Garmin GPS, 2 x Furuno radar, 2 x Furuno depth sounder, VHF radios, SSB radio, AIS
Safety & Rescue: 2 x liferafts (45 pax capacity), 45 lifejackets, safety flares, Epirb, satellite phone, smoke detectors, fire extinguishers, fire hydrant
Diving: 2 x CAT 250 liter compressors, Atlas Copco Nitrox compressor, 32 x 12 liter and 6 x 15 liter aluminium tanks (DIN & yoke), 2 x 6,5 meter fiberglass tenders, 2 x 40 HP each
Practical Information
Time Zone: GMT+9
Local Currency: IDR (Indonesian Rupiah)
Languages Spoken: Indonesian, German, French and English
Electricity: 110v and 220v
Payment Onboard: The on-board currency is USD. Also accepts EUR, IDR and common credit cards (MasterCard and VISA) with a 3% surcharge.
Underwater Gallery

---
Coming Soon!