Destination: Solomon Islands

---
Bilikiki Liveaboard Quick Pitch
The MV Bilikiki has been operating in the Solomon Islands for 27 years and was the first full-service luxury dive liveaboard to dive the Solomon Islands. Featuring 10 air-conditioned cabins with en-suite bathrooms for up to 20 divers, 3 hearty meals served buffet-style daily and ample, MV Bilikiki is just what you need to have a great dive liveaboard vacation in the Solomon Islands!
Why You'll LIke Bilikiki Liveaboard
The 1st full-service luxury dive liveaboard in the Solomon Islands
Lots of space: 125-foot in length
Nitrox available
Rich variety of marine life
Liveaboard Locations
Embarkation and disembarkation are from the port near Honiara. Bilikiki provides transfers to and from Honiara airport (code: HIR). Fly via Fiji or east coast Australia.
Dive Overview
Sharks, mantas, dolphins, turtles, every tropical fish imaginable. Varied terrain including walls, reefs, passages, caverns and bommies.
[Read More: Solomon Islands Marine Life]
This Great Video Will Show You What It's Like to Dive with MV Bilikiki
Accommodations
Types of Cabins, Amenities and Photos

---
MV Bilikiki Accommodation Details
Number of cabins: 10 cabins for up to 20 divers
Cabin Types: 10 deluxe cabins (8 with a double bed below and a single above, 2 with twin beds - no bunk)
Air Conditioning: Yes.
En-Suite Bathroom: Yes, with shower, toilet and hand basin.
Cabins #3-#10 have a double bed + a single bunk (L) & Cabins #1 & #2 have two single beds (R)
General Facilities

---
MV Bilikiki Boat Features
Photo room, large camera tables and separate camera rinse
Large Screen Digital TV with USB port
Multi-format video/DVD system
Evening slide shows
Spacious sun deck
Food & Drinks: All-inclusive meals and snacks. 3 buffet-style meals daily.
Large dive deck
Shampoo and soap in all cabins and the dive deck showers. Hairdryers available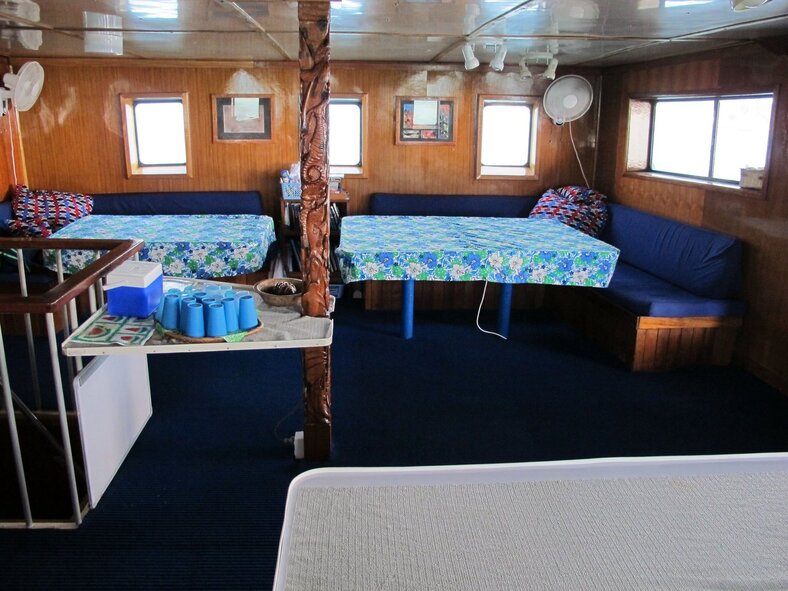 Deck Plan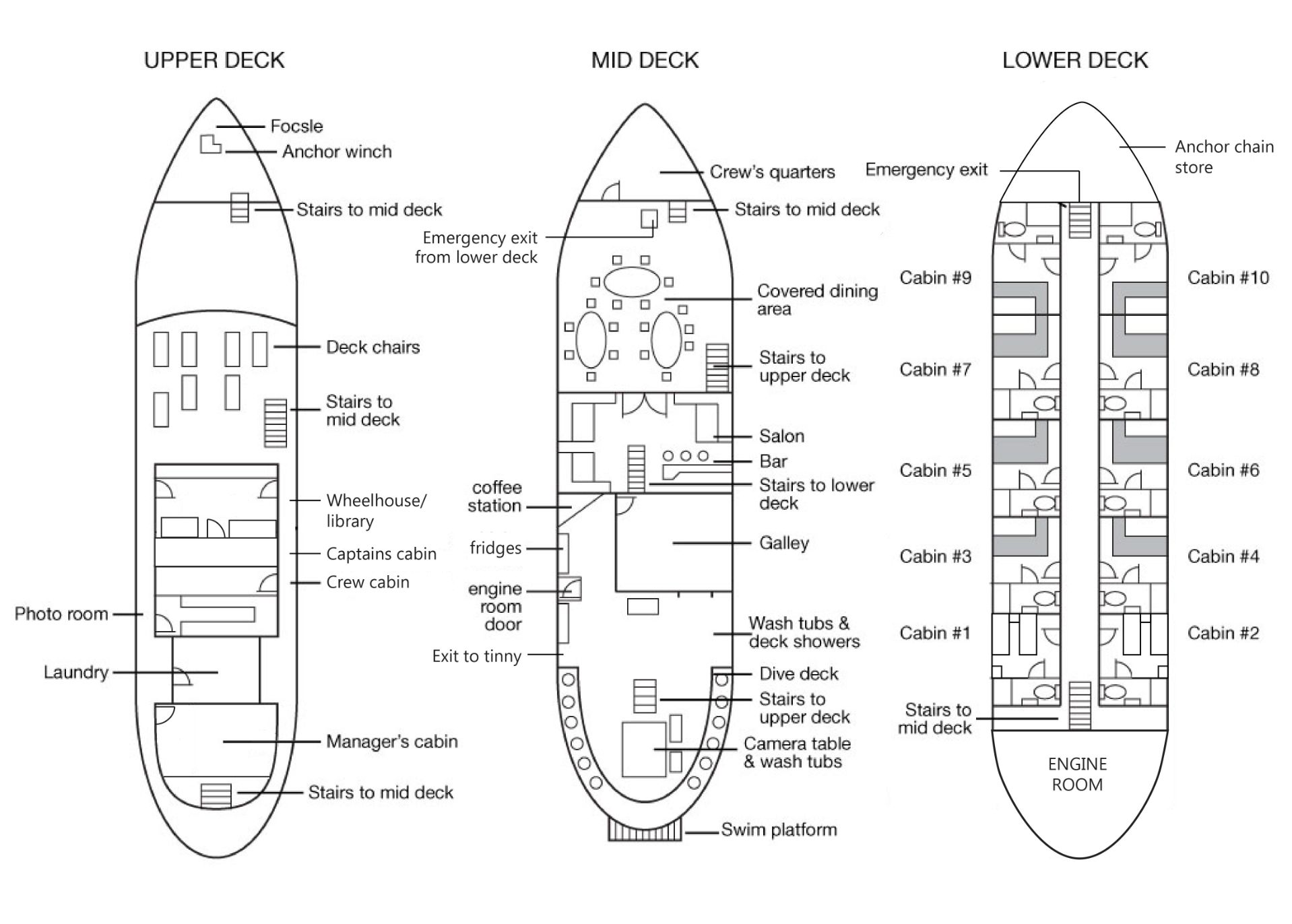 Schedule, Rates & Availability
Bilikiki Liveaboard Schedule & Rates

---
Prices are in USD, per person and do not include taxes.
[See also: Inclusions & Exclusions]
Inclusions
Hotel or airport transfers in Honiara (within 3 days of the trip)
Onboard accommodation, meals and snacks
Unlimited diving
Weights, belts, tanks and air fills
Exclusions
Bar drinks
Personal purchases
Divers Alert Network Evacuation Insurance
Nitrox (S20/per diving day, for certiified divers only)
Dive equipment rental
Mandatory: USD $25 per person a night tax payable before the trip
RATES & AVAILABILITY
For more information on other departure dates, rates, and on availability email us at info@bluewaterdivetravel.com or call us at +1-310-915-6677 and we will gladly help you plan your dream dive vacation!
Like the idea of a luxury liveaboard closer to home? Check out the Solmar V .
Dive Information & Itineraries

---
This Awesome Video Will Show You Why You Should Dive the Solomon Islands!
Typical Solomon Islands Itinerary with Bilikiki Liveaboards
There are no set itineraries, as there are so many dive sites in each area that we are able to go where the best diving is at any given time, and also cater to the type of diving that the guests on board prefer. In all cases rest assured that they will do their utmost to offer you the best diving available at the time.
MV Bilikiki dives primarily around 3 island groups: Florida Islands, Russell Islands, and Marovo Lagoon
in the New Georgia Group, each with a vast array of dive sites. They also dive an isolated island known as Mary Island.
The 7-night trips will generally dive Florida Islands, Russell Islands and Mary Island, while 10 night and longer trips will also travel to Marovo Lagoon area of the Western Province.
Typical Daily Schedule (Might Vary)
Breakfast is from 6:30-8am
Dive 1 briefing is at 7:45am
Snacks are offered after the first dive
Dive 2 briefing is at 10:45am
Lunch is after the first dive at 12:30pm
Dive 3 briefing is at 2pm
Snacks and fruits are offered between dives 3 & 4
6pm sunset nibbles (snacks) are offered on the sundeck.
7pm dinner
8pm night dive (dive 5)
What to See
The Solomon Island waters are very nutrient-rich, and they support the entire food chain from microscopic creatures to major predators. You can expect to see a variety of sharks, mantas, dolphins, and turtles, and barracuda in uncountable numbers. In shallower waters, you'll see almost every tropical imaginable, and some that will stretch your imagination.
[Read More: Solomon Islands Marine Life]
Other Information

---
Boat Specifications
Construction: Steel
Length: 125 ft
Beam: 24 ft
Voltages: 415 V three-phase, 240 V single-phase, 110 V charging outlets
Tonnage: 280
Main Engine: 350 HP 3406 Turbo Charged Caterpillar Diesel
Auxiliaries: 2 × 80 kW
Water capacity: 25000ltrs
Fuel capacity: 12000ltrs
Freshwater maker: 3000 ltrs a day
Practical Information
Time Zone: UTC+10 (PNG) & UTC+11 (Solomons)
Currency Accepted: USD or AUD (Other currencies might be accepted as long as it has been pre-arranged).
Language: English
Payment Onboard: Cash, Visa & MasterCard.